6 Underrated Trader Joe's Items You Need to Stop Overlooking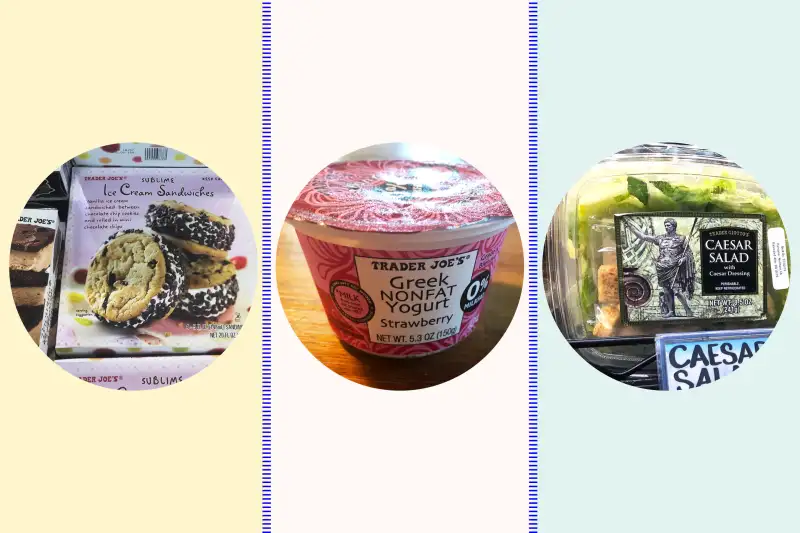 Photos by Mike Ayers for Money
At this point, you know Trader Joe's delivers on unique grocery items like "Everything But the Bagel" seasoning and Uncured Bacon Jam, while also delivering insanely low prices. But quietly lurking in the aisles are humble everyday staples that prove this brand can elevate on pretty much anything.
Here are 6 things Trader Joe's sells that are quiet and unassuming — but actually exceptional. (Prices may vary according to location.)
Yogurt
Photo by Mike Ayers for Money
Of the great Greek yogurt renaissance of the last several years, Chobani has been a go-to for me — you can typically get it at Target for 99 cents and it does the trick. Trader Joe's yogurt is the same price, but the consistency is a bit smoother, with an even distribution of flavor throughout. (In other words, you're not stirring for 30 seconds to make sure things are mixed.) And with the same flavors as the other big-name yogurt brands, you can't go wrong with the TJ versions — try and find a better store-brand yogurt, I dare you. Non-fat vanilla bean is a current favorite and will satiate anyone who's ever dreamt of eating ice cream for breakfast.
Pre-made salads
Photo by Mike Ayers for Money
It's my belief that lunch salads are one of the biggest rackets inflicted on modern-day workers — you want to eat healthy? Sure! OK, PAY US $15 FOR LETTUCE AND SOME STUFF BIRDS WOULD LOVE TO EAT TOO. Trader Joe's pre-made salads are a perfect size — you'll get filled up, but not too full. And they're all below $5; the Mexicali Salad on deck for me right now was a mere $4.69. In the salad world, that's practically free.
Grapefruit
Photo by Mike Ayers for Money
When you slice into a grapefruit, a major disappointment is to see a disproportionate rind-to-fruit ratio. Who wants just two tiny spoonfuls of fruit? My recent grapefruit purchases from Trader Joe's have been the exact opposite: super juicy and ultra fresh. What's also great about Trader Joe's is that they don't price your fruit by weighing it, so you're not paying for all sorts of stuff you won't eat (aka rind). My local Trader Joe's has regular grapefruits for $1.29 each, while the organic ones are $1.49. Novel idea: You feel like you're actually paying for fruit and not the case it comes in.
Chips
Photo by Mike Ayers for Money
Speaking of getting what you paid for — ever notice a bag of chips is about 92% air and 8% chips? Of course you have. Well, guess what? Trader Joe's chip bags are actually filled up a reasonable amount, so you're not spending money on air. All the standard chip flavors are available, from classic to barbecue — but salt & vinegar really stands out. Cooked kettle-style, the tang-to-salt balance is perfect; not overpowering but certainly still hits the inside of your cheeks like any good salt & vinegar chip should. So a handful of taste-tests don't rank these as high as other salt & vinegar chips — don't listen to them. Listen to me. At $1.99 a bag, you can't beat it.
Ground Turkey
Photo by Mike Ayers for Money
For the last several years, Taco Tuesday in my house has featured ground turkey from Whole Foods, which costs a minimum of $7 per pound. For the same weight, Trader Joe's ground turkey comes in at $2.79. Um, that's a more than 50% difference. With those savings, it's not hard to imagine Taco Tuesday becoming Taco Every Single Day Day.
Sublime Ice Cream Sandwiches
Photo by Mike Ayers for Money
There's a reason Trader Joe's frozen desserts are beloved: They're amazing and ultra original. But if you're obsessing over dark chocolate frozen bananas or cookie-crusted infused bon bons, you might overlook one of the simpler items in the freezer-case arsenal. The sublime ice cream sandwiches made of chocolate chip cookies and ice cream — and rolled in chocolate chips. Taking two dessert staples and mashing them into one? Your sweet tooth will cry tears of joy upon biting into these. They're a bit pricey at $4.49 for 4 — but as a recent Trader Joe's employee told me, "They're priceless." Hard agree.