The 10 Best Places to Live in the Northeast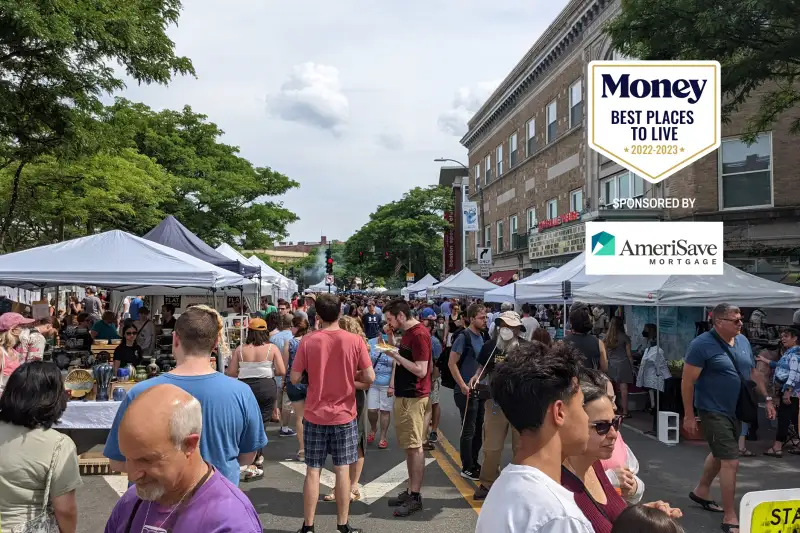 Courtesy of The Somerville Arts Council
In Somerville, Massachusetts, WTF takes on a different meaning: What the Fluff?
As in Marshmallow Fluff.
If the rumors are to be believed, a Somerville resident invented the creamy confection in the early 1900s. However, as Boston.com points out, the truth behind the oft-cited tidbit isn't so simple (similar marshmallow creams predate Fluff by decades). Still, that doesn't stop the bustling Boston suburb from throwing an entire festival dedicated to Fluff each year. The latest fest, which happened in September, featured Fluff-themed musical chairs, limbo, jousting and parkour.
Beyond Fluff, Somerville has a lot going for it. While the city is home to about 80,000 residents, don't let its headcount and penchant for corny festivals fool you. Somerville, which is located just northwest of Boston and bordering Cambridge, has a big city vibe. In fact, at about four square miles, Somerville is the most densely populated city in New England.
Even referring to Somerville as merely a Boston suburb partially blunts what makes it Money's pick for the best place to live in the Northeast (and No. 7 on our overall Best Places to Live list) — though its integration with one of the nation's most historic cities certainly doesn't hurt.
For this regional list, we focused on places with populations of at least 50,000 that were located in the nine Northeastern states as defined by the U.S. Census. Those states are Connecticut, Maine, Massachusetts, New Hampshire, New Jersey, New York, Pennsylvania, Rhode Island and Vermont.
We also limited the ranking to one place per county and two places per state.
As with our core Best Places to Live ranking, we collected approximately 350 pieces of data on each Northeastern place and grouped that information into nine primary ranking categories including cost of living, diversity, economic opportunity and more. (See our full Best Places methodology for more details.)
Middlesex, the county where Somerville is located, dominated the Northeastern contenders. In particular, Somerville stands out from the area for its quality of life, amenities, diversity and relative affordability.
That wasn't always the case. In decades past, locals referred to Somerville as Slummerville.
After careful planning from the local government and Harvard Kennedy School, the city now boasts thriving arts, food and brewery scenes and has taken on ambitious projects to expand its public transit system as well as its walkable and bikeable trails.
Local officials have implemented these changes with a focus on equity and inclusion. For example, the city recently created a Department of Racial and Social Justice — a branch of the mayor's office — to eliminate inequities in the community through local policing, public safety and other initiatives.
The tacky nickname thankfully fell off, too.
In addition to all the bragging rights above, Somerville is now one of the safest areas in the country, provides a well-rated school system and continues to attract top-tier college students from all over the globe due to its closeness to Tufts, Harvard and Massachusetts Institute of Technology.
While the Boston area isn't exactly known for its affordability, Somerville is notably less expensive and provides great value for the perks it offers.
According to Realtor.com, the median home price in Somerville is now $705,000 compared to Boston's $740,000. Data from Rent.com shows that Somerville renters are paying an average of $2,225 for a one-bedroom apartment, while a comparable place in Boston runs $3,734 on average.
The 10 best places to live in the Northeast
Somerville, Massachusetts
Jersey City, New Jersey
Abington, Pennsylvania
Nashua, New Hampshire
Brookline, Massachusetts
North Hempstead, New York
Parsippany-Troy Hills, New Jersey
Greenburgh, New York
Philadelphia, Pennsylvania
Portland, Maine
More from Money:
The 50 Best Places to Live in the U.S.
The 10 Best Places to Live in the Midwest