The Absolute Best Shark Tank Products, According to Amazon Reviewers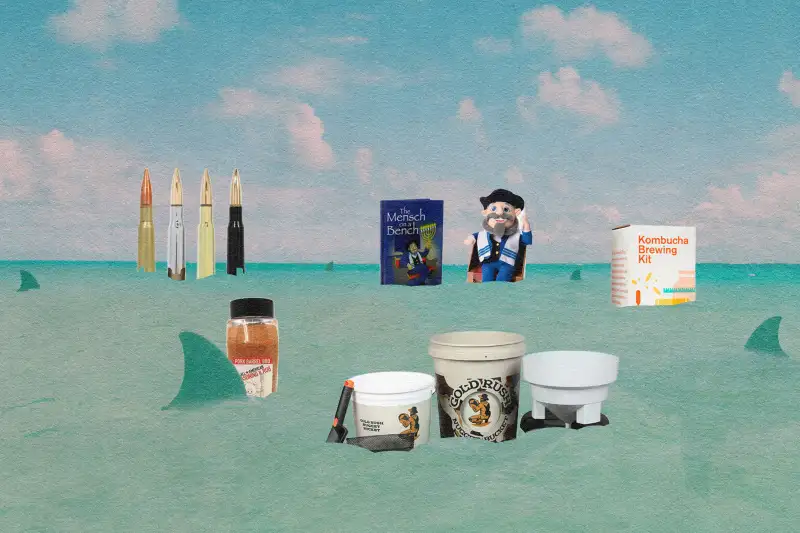 After 10 years, Shark Tank is still irresistible.
The beloved ABC series features a panel of "sharks" who are titans in their respective industries: Mark Cuban, Kevin O'Leary, Daymond John, Robert Herjavec, Lori Greiner, and Barbara Corcoran. Budding entrepreneurs pitch them products on the spot, and the sharks debate and choose whether to invest in the companies.
Part of the fun of watching Shark Tank is deciding for yourself which products click and which should be ditched.
So which items that managed to survive Shark Tank do people actually love? Some of them can be found on Amazon, which has collaborated with the series to feature products it helped launch. Here are the top 10 "as seen on Shark Tank" items with the highest star ratings.
The Pork Barrel BBQ "all-American" seasoning mix (with a 4.6 Amazon rating) can be used for much more than pork, though its name nods to a specific flavor. The gluten-, MSG-, and preservatives-free dry rub is handily applied to meats or fish before cooking, and according to the manufacturer, it imparts a "gourmet smoky flavor." One customer describes the taste as "savory and earthy in a good way."
File this one under: Products you never knew you needed. It might not have occurred to you that your glasses should (or could) be held by magnets, but ReadeREST has found a lot of fans. The magnetic holders can be discreetly attached to a shirt so you don't drop, lose, or scratch those precious frames and lenses. The twin pack comes with holders in stainless steel and gunmetal black. Customers rave—giving it a healthy 4.6 rating on Amazon—although some do note that the magnets may lose strength over time.
The title says it all with this charming Hanukkah-centric decorative item. The titular mensch can be removed from the bench, and he comes with his own educational hardcover book. (Note: He is not life-sized, as seen above.) It was "created by a Jewish father who wanted to teach his sons about the Jewish holiday while adding new traditions to the family," according to the product description on Amazon, where it has a 4.6 rating. Customers say kids love engaging with the toy. Move over, elf on a shelf.
Ever dropped your phone, keys, or makeup into that annoying gap next to your car seat? We've (almost) all done it. If you're the driver, it can be hazardous to root around in there, which was the inspiration for this Shark Tank item. The Drop Stop comes with a set of two fillers that help block that "annoying yet ever so dangerous gap between your car or truck seat and center console," according to the product description. The set of two fillers should work for most driver and passenger seats, and 5,028 customers give the product a 4.6 rating on Amazon.
Learning how to ride a bike is a challenge for any child, but it can also make parents plenty anxious, too. The Guardian Kids Bikes Ethos, which has a 4.7 Amazon rating, is constructed with a safer break system so that kids can stop more quickly. The bike comes in a variety of stylish color options meant to please both boys and girls, as well as different speeds. It does require light assembly, though you can pay extra for "expert" assembly.
Transport yourself to the 19th-century California Gold Rush with the Gold Rush Nugget Bucket, which provides the tools for panning for those special little nuggets wherever they may be found. The kit comes with buckets, screens, a patented funnel and bowl, instructions, pan, tweezers, black sand magnet, suction bottle, and vials. Boasting a 4.7 Amazon rating and recommended by the Gold Prospectors Association of America for all ages, the kit is praised by customers for its ease of use and family-friendly entertainment.
Kombucha has never been more popular, but those $3 or $4 bottles from the grocery store can quickly add up. So why not brew at home? The Kombucha Shop's starter kit has a 4.7 rating and comes with the basics that all beginners need for their healthful home brew, including kombucha cultures, a one-gallon jar, pH strips for testing acidity, and expert assistance to help you perfect that batch.
Need another excuse to celebrate spring? A pretty miniature cherry blossom literally pops out of the center of this ornate card from Lovepop. It's the brand's most popular offering and has a 4.8 Amazon rating. One perk is that the card is blank, aside from its gorgeous 3D design, so you can customize it for any special person in your life.
Some people make it their mission in life to be comfortable. This blanket is made for those people. The Comfy can actually pass for an item of clothing—think of it as a very oversized, supremely cozy hoodie. The one-size-fits-all blanket sweatshirt—which has a 4.8 rating on Amazon—can be thrown in the washer and dryer.
There's a certain militaristic cachet to this sleek chrome bottle opener that repurposes a machine gun bullet. But don't worry, it's disarmed: Bottle Breacher recycles fired chrome .50-caliber ammunition, and refashions it to help you open your beer. The openers are made in the U.S. by a veteran-owned and operated company, and some proceeds go back to active-duty and veteran nonprofit organizations. While the product only has 33 reviews on Amazon, it gets a sterling 4.9 rating, with customers raving about it as a unique gift item.
We've included affiliate links into this article. Click here to learn what those are.