Meet Lyft's CEO, a 35-Year-Old Introvert Who Celebrated Early Business Deals at Ikea's Food Court and Still Carpools to Work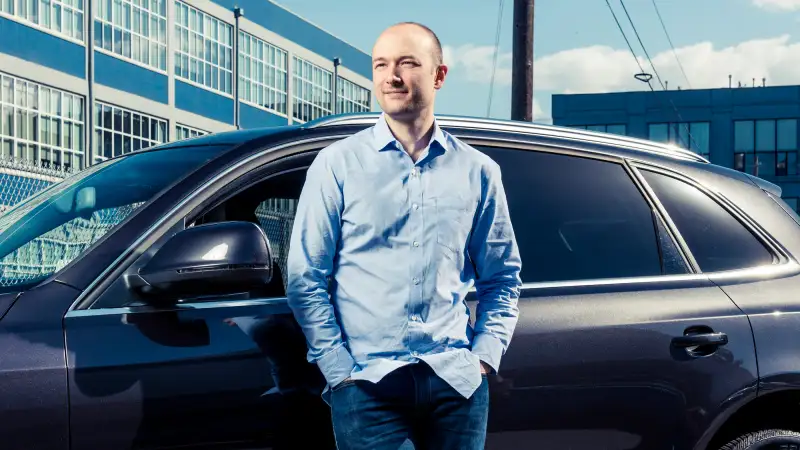 Lyft CEO Logan Green may not say a lot, but he has a lot on his mind.
The chief executive of the ride-hailing service is in a race to take the company public before its much bigger rival, Uber, gets there, reports The New York Times. Both companies filed paperwork for IPOs in December, though the process was delayed by the government shutdown, which prevented the Securities and Exchange Commission from reviewing their filings to list on the stock market.
Lyft's net worth was last valued at a robust $15.1 billion after a fresh $600 million round of funding in 2018. They surpassed 1 billion rides, becoming a healthy No. 2 to Uber—which still maintains its dominance in the ride-share space. But Lyft has plenty of catching up to do with its competitor: Uber has the potential to go public at a $120 billion valuation, and its IPO threatens to overshadow Lyft's.
An introvert in the driver's seat
For his part, the 35-year-old Green seems ready for the IPO, though he doesn't always look it. The Lyft CEO and cofounder has long kept out of the spotlight and reportedly prefers to let his right-hand man, 34-year-old Lyft president John Zimmer, do the talking.
"When some people first meet Logan they say, 'I don't fully understand Logan yet. I don't know what he's thinking,'" Zimmer told CNN. "It's just because he's an introvert and he's processing. He's trying to come up with the clearest, best answer that he can develop." Those misconceptions apparently extend to the offices of Lyft, where one new employee was told to give Green a specific time to speak in meetings because he won't interrupt or cut people off.
But behind the scenes, Green is no wallflower. "He is, like, extremely competitive," Zimmer told The New York Times in a 2017 interview. "He has been an activist."
In the same interview, Green expressed his admiration for ruthlessly ambitious leaders behind fellow tech companies, including Elon Musk of Tesla, Mark Zuckerberg of Facebook, and Jeff Bezos of Amazon. Those CEOs share not only big visions, but the ability to innovate while driving out competition. "A lot of other Silicon Valley companies are very scared to get their hands dirty with operations," Green said.
Inspiration in a traffic jam
Green is familiar with the elbow grease of operations. Long before founding Lyft, Green was born and raised in Culver City, California—part of the greater Los Angeles area—where he became familiar with the frustrations of the one-car-one-rider model, especially in the notoriously congested city. After studying business economics at University of California, Santa Barbara and graduating in 2006, he worked as the college's sustainability coordinator toying with ways to ease those problems. In 2007, he started Zimride, which provided students in Santa Barbara with long-distance carpool rides by matching them with other students.
Zimmer, who previously worked at Lehman Brothers in New York, came onboard as a partner and shared an apartment with Green in Palo Alto, California, in 2008. They celebrated closing deals in frugal fashion: by eating Swedish meatballs at Ikea. As smartphones and apps surged in popularity, Zimride morphed into Lyft in 2012, and began to pair passengers and drivers on the streets in real time. Lyft would quickly go up against Uber, which was a more luxury-oriented car-hailing service before pivoting in order to go head-to-head against its smaller counterpart.
Maintaining a five-star image
Then and now, Lyft has always seemed like the nice-guy alternative to Uber. In the early days, its cars were adorned with giant pink mustaches. While Uber has suffered publicity scandals in recent years, Lyft has remained mostly squeaky-clean. That image extends to Green himself, who carpools in a Nissan to work every day with Zimmer. (The two share a "100% bromance," according to one Lyft staffer.)
Amid Uber's controversy, Lyft has been able to propel itself forward. Its U.S. market share jumped from 20% to 35% in 2018. (Unlike the more global Uber, Lyft is only available in America and Toronto.)
Lyft takes a right turn
It remains to be seen how—and if—Green can bump Lyft up to Uber's weight class. If there is an answer, it's likely to come in a brand-new project. Lyft has made strong moves into self-driving cars, and also acquired Motivate, the largest bike-share operator in the U.S., giving it an edge in a crucial emerging business. Now Lyft's scooters quite literally litter the streets of Los Angeles, Green's old hometown.
"Every time we plan what we're doing next quarter, every time we plan out the next year, it's going to look like a different company," Green told CNN. "The number of elements that change every quarter, every year—it's mind-boggling how fast it's moving."