The 10 Best Bars to Watch the World Cup in America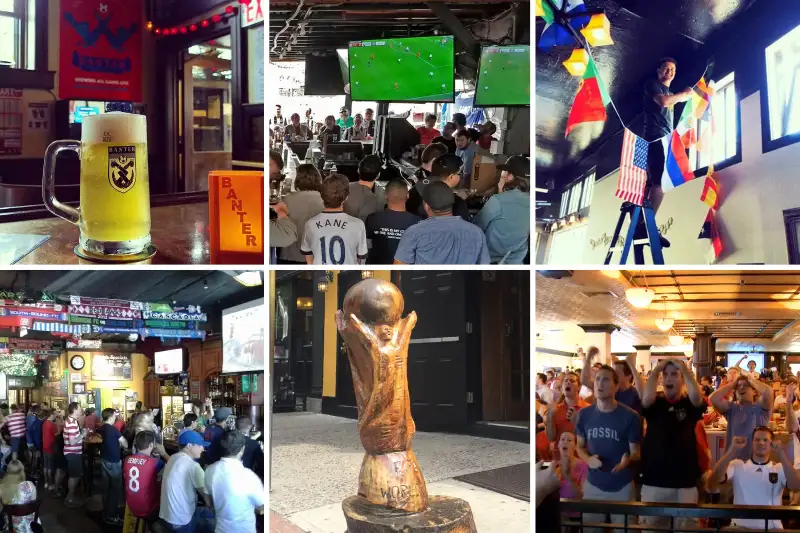 (clockwise from top left) courte
The United States may not have qualified for the World Cup this year, but soccer fans across the country are still gearing up for a party.
The 32 qualifying countries will vie for the World Cup trophy in 64 total games over the next month. Because of the time difference, many of the games will be broadcast live during the night and early morning here in the U.S. (depending on what time zone you live in).
Money partnered with Yelp to find the best possible venues to watch the World Cup this year. If you're near any of these bars and pubs, grab your jerseys, set your alarm and be prepared to wait in line for a chance to watch the World Cup alongside fellow football obsessives.
Here are the 10 best places to watch the 2018 Russia World Cup:
1. 4-4-2
Portland, Oregon
---
No matter what country you're rooting for, 4-4-2 will have a seat for you. Co-owner Vinny Talic says 4-4-2 is the only place where you'll hear conversations in four or five different languages simultaneously during World Cup season.
"You'll meet people from different nationalities, different countries. We get all kinds of people in here," Talic says. "All the other bars in town just happen to show soccer on game days, but we show it all."
The diverse crowd can expect a full schedule during the tournament, as 4-4-2 won't close anytime on the first Friday and Saturday the games begin. Patrons can fill out brackets before the World Cup, and enter them to win prizes such as gift cards and bar merchandise.
2. Amsterdam Tavern
St. Louis, Missouri
courtesy of Amsterdam Tavern
At the Amsterdam Tavern, you can try a custom Goal!! Den Ale this World Cup, brought to you by local brewery Civil Life Brewing Company. Another local brewery, Urban Chestnut, will has their own beer just for the bar's celebration: the Amsterdam Pils. Amsterdam will partner with many other local breweries, and showcasing some of the brews in its beer garden during the games.
Other than drinking the soccer-themed ales, Amsterdam Tavern will have Jägermeister shots for $3 throughout the games, plus free Jameson shots at around 6:15 p.m. everyday of the World Cup.
3. CommonWealth Cafe & Public House
Oakland, California
Northern California residents can find plenty of World Cup festivities over at CommonWealth Cafe & Public House, located in the "f--king heart" of Oakland, as described by owner Lizzie Alford. The locally owned restaurant will play 50 plus games all weekend, with lines starting well into the morning to get seats. The bar won't have special food promotions, but it will offer breakfast to patrons watching early morning games. The regular menu includes many traditional British items, including pork sausage scotch eggs for $8, lamb and cheddar shepherd's pie for $15 and Scottish-style sausage butties for $10.75.
The bar is also one of the only U.S. locations to serve London's Fuller's Brewery award-winning beer and Belhaven Scottish Ale, according to Alford. CommonWealth will also have six ciders on draft daily for a brew alternative.
4. Doyle's Public House
Tacoma, Washington
Located in the South Puget Sound region near Commencement Bay, Doyle's Public House will be playing every match live over the course of the four week tournament. The bar will be giving away scarves, soccer balls and shirts in numerous contests, plus tickets to Seattle Sounders soccer team games. Fans wearing team jerseys during the country's respective match will receive additional raffle entries for giveaways and prizes.
Doyle's will serve breakfast starting at 6 a.m. each match day. Menu options include the $11 Doyle's Breakfast, which includes two eggs, bacon, chicken apple sausage, home fries and an English muffin. The bar will also have an early morning Rise and Shine Happy Hour until 11 a.m. each weekday, where you can get cocktails such as the Buena Vista Style Irish Coffee made with Tullamore DEW Irish Whisky.
5. Mulligan's
Hoboken, New Jersey
Though Mulligan's is a traditional Irish pub, the bar's massive Danish, English, Croatian and Colombian following will be cheering on their teams alongside other fans this month, according to pub owner Paul Dawson. The bar will be open for every game, and imported drafts and pints linked to the countries that are playing will sell for just $3.
Mulligan's will offer Irish breakfast served all day for $10 and Dublin Fish & Chips for $10. Or, you could try one of their signature homemade pies, including the Cornish Pastie for $9 and Chicken Madras Soccer Pie for $10.
6. Banter
Brooklyn, New York
Brooklyn's Banter plans to show every World Cup game live, with thematic giveaways and deals depending on who is playing. $6 Frozen Stoli O Moscow Mules will be offered during the opening party when Russia plays Saudi Arabia, $7 Pisco Sours when Peru plays Denmark on June 16, and when Germany plays Mexico on June 17 patrons can get an $8 shot and a bratwurst combo.
Patrons can also try to fill up their "beer passport," or try a beer from almost every participating country that Banter will offer during the games, according to the owner. Drinkers that filled out their beer passports get a chance to win $100 bar tabs and other prizes.
7. Abbey Burger Bistro
Baltimore, Maryland
Abbey Burger Bistro is known for hosting watch parties for diehard Arsenal fans in Baltimore (who call themselves the Charm City Gooners), but during the World Cup the pub will welcome any and all fans to squeeze into two floors and watch their teams compete. The pub has an extensive European beer list, including English breweries such as Samuel Smith Old Brewery and Orkney Brewery. Abbey Burger Bistro is also known for it's unique burger selection, including the $11.50 Peanut Butter Burger and the $13 Spicy Korean Duck Burger with kimchi and gochujang-spiced duck.
8. Brauhaus Schmitz
Philadelphia, Pennsylvania
This German bar is going all out to celebrate Deutschland during this year's World Cup. The large, outdoor venue will sell $10 general admission tickets to Germany's three scheduled games on June 17th, June 23rd and June 27th on a first come, first serve basis. If you're a real German football fanatic, you can splurge on $60 VIP tickets, which include bottomless beer, two food tickets and seating in Brauhaus Schmitz's private beerhall with a 10 foot projector screen. VIP guests also get access to the bar's rooftop lounge.
Brauhaus Schmitz also has the largest German beer list in the country. Drafts include the traditional Hofbräu Maibock for $12 a liter, the refreshing Schöfferhofer Grapefruit Shandy for $12 a liter, and the full-bodied Schneider Weisse Mein Aventinus (TAP6) for $18 a liter. For more German fare, try a $38 sampling of the bar's many sausages, including the traditional bratwurst, the smoked bacon speckwurst, the cheesy käsewurst, or the smoked garlic kielbasa.
9. British Bulldog
Denver, Colorado
British Bulldog is throwing a World Cup block party by blocking off the surrounding streets and playing the opening ceremony and game on projection screens to celebrate the start of the competition.
The English pub has been playing Arsenal, Tottenham and Blackburn games throughout the year, while serving up food from the U.K. Enjoy traditional Fish & Chips for $12, or the Shepherd's Pie with lamb and brown gravy for $13.50. You can also get a taste of the middle east with the Pakistani dishes on the menu, including Peshawari Chicken for $11 and Punjabi wings for $12.50.
10. Trinity Hall Irish Pub
Dallas, Texas
Trinity Hall Irish Pub has been playing World cup games overnight for the past 16 years, according to store owner Marius Donnelly. Even though both U.S. and Ireland won't be playing in Russia this year, the bar will continue the tradition for all other matches during the four week period.
Trinity Hall Irish Pub will give early morning football fans its own complimentary coffee, that you can enjoy alongside a full Irish breakfast: a $14.95 feast that includes two eggs, bangers (Irish sausage), rashers (Irish bacon), black and white puddings, grilled tomato, potatoes, mushroom and toast.
Trinity Hall doesn't expect its crowd to be rowdy or belligerent; the bar encourages patrons to bring their whole family. The pub will also offer giveaways for local Dallas soccer games during the World Cup.
---
Methodology: This is a list of the best places for soccer fans in the US, according to Yelp. We identified businesses in the sports bar category with a significant number of reviews mentioning the words "soccer" and "World Cup," then ranked those spots using a number of factors including the total volume and ratings of reviews mentioning those keywords. Only one business per state was included to ensure geographic diversity of the list.