This Is the Best Airport in America — and 14 More That Excel at On-Time Departures, Price, and More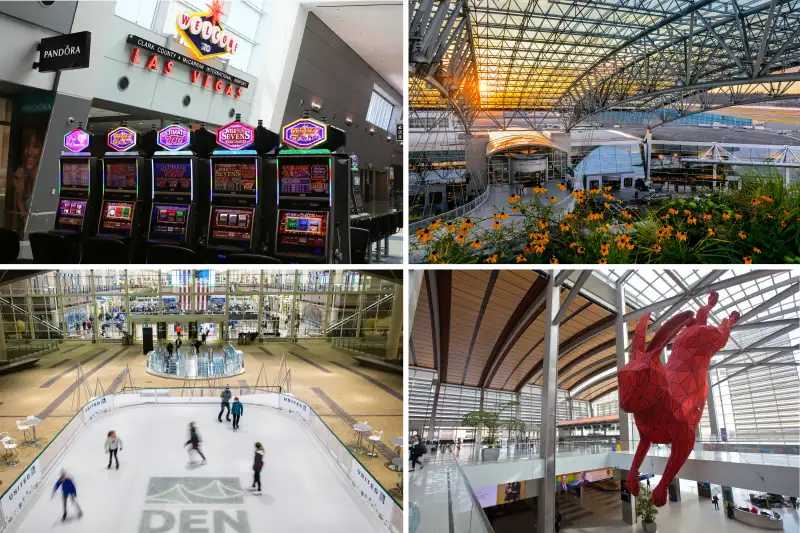 Some airports make travel headaches worse—but a few can help them disappear.
Navigating delays, massive terminals, or the sticker-shock of the food court is enough to annoy even the most capable fliers. Yet a few airports in the U.S. do an excellent job of making the flying process seamless.
To determine the best airport in the U.S., Money analyzed 1,425 data points for the 75 busiest airports in the U.S., according to the Bureau of Transportation Statistics. Customer experience and airport performance were weighed most heavily.
Criteria included customer satisfaction ratings for ease of access to the airport, check-in security, restaurants and bars, shopping, airport design, overall experience, and number of airlines served.
We also took into account the percentage of on-time departures, departure delays, cancellations, and year-over-year changes for these performance metrics, and looked at the average airfare price and year-over-year changes in airfare price.
Data providers Rome2Rio, FlightStats, Skytrax, Travel + Leisure, American Customer Satisfaction Index, U.S. Department of Transportation, J.D. Power, and the airlines.
Here are the top 15 airports in the U.S.
1. Portland International (PDX)
Portland, Oregon
-On-time departures: 83.45%
-Number of airlines served: 16
The Portland Airport is here to prove that catching a flight can actually be a pleasant experience.
Oregon's busiest transportation hub has a single-terminal layout, making it easy to navigate and providing access to its various forms of entertainment. There's a distillery room, mini theater, barbershop, and spa, plus a wide range of quality dining options. Airport food usually comes with sticker shock, but items here are offered at fair rates, since PDX sets prices to be comparable to what visitors would find outside the walls of the airport. Also, there's no sales tax because, well, it's Oregon.
Travel to and from downtown Portland costs only $2.50 via light-rail, and the airport itself is famously reliable. PDX had one of the lowest departure-delay rates on our list, with only 0.6% of flights canceled between January 2018 and October 2018, according to U.S. Department of Transportation data.
But locals don't need national accolades to appreciate what they have. PDX has garnered a fan following for its bright teal carpet featuring a pattern that looks like runway intersections as seen by air traffic controllers from the tower. Fans have reproduced this pattern in tattoos, clothing, even shoe insoles.
An airport this good could make even the most last-minute flier want to arrive three hours early.
2. Orlando International (MCO)
Orlando, Florida
-On-time departures: 77.20%
-Number of airlines served: 80
3. Long Beach Airport (LGB)
Long Beach, California
-On-time departures: 79.59%
-Number of airlines served: 5
4. Denver International (DEN)
Denver, Colorado
-On-time departures: 80.85%
-Number of airlines served: 23
5. Sacramento International (SMF)
Matthew Corley—Shutterstock
Sacramento, California
-On-time departures: 80.58%
- Number of airlines served: 12
6. Kahului Airport (OGG)
Kahului, Hawaii
-On-time departures: 89.23%
-Number of airlines served: 10
7. McCarran International (LAS)
Ronda Churchill—Ronda Churchill/for McCarran Int
Las Vegas, Nevada
-On-time departures: 76.73%
-Number of airlines served: 30
8. John Wayne Airport-Orange County (SNA)
Santa Ana, California
-On-time departures: 81.14%
-Number of airlines served: 7
9. Daniel K. Inouye International (HNL)
Honolulu, Hawaii
-On-time departures: 91.45%
-Number of airlines served: 26
10. Boise Air Terminal (BOI)
Boise, Idaho
-On-time departures: 85.72%
-Number of airlines served: 7
11. Ted Stevens Anchorage International (ANC)
Rocky Grimes—Shutterstock
Anchorage, Alaska
-On-time departures: 90.96%
-Number of airlines served: 20
12. Seattle/Tacoma International (SEA)
Seattle, Washington
-On-time departures: 83.37%
-Number of airlines served: 34
13. Los Angeles International (LAX)
Scott Stulberg—Getty Images
Los Angeles, California
-On-time departures: 74.07%
-Number of airlines served: 71
14. Tampa International (TPA)
Tampa, Florida
-On-time departures: 79.78%
-Number of airlines served: 18
15. San Francisco International (SFO)
Courtesy of San Francisco International Airport
San Francisco, California
-On-time departures: 78.87%
-Number of airlines served: 52