This Is the Best European Vacation Destination Right Now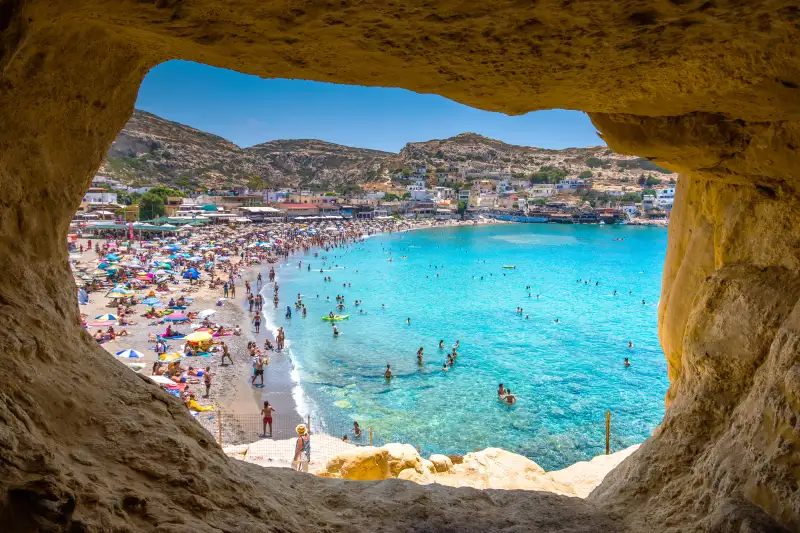 Georgios Tsichlis—Getty Images/iStockphoto
Average flight prices to Europe in the spring and summer months are lower than they've been in years, meaning there's no better time for a transatlantic vacation than right now.
But how do you choose among the Mediterranean beaches, the Scandinavian landscapes, or the majestic castles of eastern Europe?
It's easy — with our help.
To identify 2019's best and most affordable European destinations, Money tapped into its travel database of 150 popular cities (see our full Methodology for more information on the sources we used). We analyzed year-over-year changes for rates on travel, stay, and currency, looked at current price points for food and activities, and considered the most highly rated attractions.
Here are Money's top cities to visit in Europe right now.
Datawrapper (https://datawrapper.dwcdn.net/mHCWl/6/)
---
Crete, Greece
David C. Tomlinson—Getty Images/Lonely Planet Images
Cost of a week for two: $4,301
Average airfare: $1,106

The largest island in Greece, Crete is home to 162 beaches — more than any other destination on our global list. But scenic shores alone weren't what pushed it to the top of our European destination list, or helped it land at number eight on Money's annual Best in Travel list, for that matter.
Crete is also one of the few cities that saw year-over-year price improvements on both travel and stay. Flight prices to the Grecian island are down 9%, averaging $1,106 as of 2018, while hotel prices are down 1.5% to $202 per night, and Airbnb prices are down a larger 4% to about $95 a night.
Four main regions offer very different experiences, but thanks to Crete's relatively inexpensive transportation — roughly $1.50 per mile via taxi or $3 round trip via public transportation — visitors can easily see them all. Be sure to stop for local cheeses, dakos, and baklava along the way.
Prague, Czech Republic
KavalenkavaVolha—Getty Images
Cost of a week for two: $3,542
Average airfare: $928

Prague is perfect for taking in history on a budget. The ninth city on our international Best in Travel list this year, Prague — or Praha, as it's known locally — has taken first or second place on our best European cities list three years in a row. Its beautiful Gothic and medieval architecture give it the nickname "City of a Hundred Spires," and the Vltava River running through the city completes its perfectly picturesque look.
The city still uses the Czech Koruna (it hasn't adopted the European Euro yet, although it's been planning to for years), and the dollar goes further with a Koruna than it does with a Euro. That means you can enjoy more culture for less: A three-course meal in Prague costs $35, and a more casual meal can be had for a little over $6, according to cost of living data-provider Numbeo.
Go now, while the Koruna is still the national currency: prices to fly into Václav Havel Airport Prague were down 3% year over year as of 2018.
Reykjavik, Iceland
basiczto—Getty Images/iStockphoto
Cost of a week for two: $4,501
Average airfare: $488

If witnessing the majestic Northern Lights is on your bucket list, Reykjavik is a great place to start. Flights into the Keflavík International Airport were down an astounding 17.5% in 2018, costing around $488 — the lowest airfare of any European city on our overall ranking. And while Iceland is a fairly uninhabited country with a population around 338,349, Reykjavik itself is a tourist oasis, offering more tours, spas, and outdoor activities than any of the other Icelandic cities on our list, and is relatively safe according to Numbeo's crime rate index.
Wroclaw, Poland
Cost of a week for two: $3,178
Average airfare: $988

Wroclaw contains the charm of a small town with the accessibility and liveliness of a larger city, and it's the most inexpensive trip on this list. Among the European cities we analyzed, it tied for the cheapest hotel rates, averaging less than $100 a night. Taxis and public transportation both run cheap ($1 a mile or $1 for an average one-way ticket on public transportation), and you can do a meal, beer, and wine for under $15. It's not like you'll just enjoy a cheap trip with nothing to write home about, though — because it's a student city, home to a number of higher education institutions like Wroclaw University of Technology, it's bursting with culture and young life.
Flights into Wrocław Nicolaus Copernicus Airport, which are generally over $1,000, were down 8% in 2018 to a more modest $998.
Barcelona, Spain
Bernard Jaubert—Getty Images
Cost of a week for two: $3,782
Average airfare: $726

What doesn't Barcelona have to offer? A trip to this favored city in Spain provides plenty of notable architecture, food, wine, and beaches. And with hotels down 5% in 2018, this might be the perfect summer to take advantage of its numerous parks and outdoor art exhibits. Plan to take at least one tour of architect Antoni Gaudí's works — ideally including the Sagrada Familia — and end it with a bottle of local wine that will only run you about $6.
Bucharest, Romania
Cost of a week for two: $3,215
Average airfare: $933

A capital city in Eastern Europe, Bucharest is home to a number of Communist-era and wartime monuments (like the Palace of Parliament, the heaviest building in the world) as well as green parks, and the largest urban beach in Europe. It's considered one of the safest capitals in Europe — and a very affordable one to visit. The city of Bucharest scored better than any other city on this list in terms of pricing (the Money metric that considers everything from flights to the cost of a beer). It was fourth among the complete list of European cities.
Visit Old Town, where you can find pubs, an awe-inspiring bookstore called Carturesti Carusel, nearby hipster coffee shops, and much more.
Tbilisi, Georgia
Cost of a week for two: $3,352
Average airfare: $993

As the capital of Georgia, Tbilisi has the unique advantage of being positioned between Europe and Asia, which means it features influences from multiple rich cultures, as seen in the art, architecture, monuments, and food. The city takes "budget-friendly" to a new level: Visiting most historic sites will cost you very little (or nothing at all), and at $42 a night, Tbilisi has the lowest Airbnb rates on this list — second of all the European cities we looked into.
And the food is worth every inexpensive penny: A $20 bill will get you a three-course meal, ideally featuring pkhali, khachapuri, and khinkali.
Zadar, Croatia
Felix Walter—EyeEm/Getty Images
Cost of a week for two: $4,274
Average airfare: $1,125

North of Croatia's tourist-friendly cities of Dubrovnik, Split, and Hvar sits the under-the-radar gem of Zadar. The coastal city is full of beaches and history just like its southern neighbors, but its position between three national parks — Paklenica, Plitvice Lakes and Krka — and two major wine regions gives visitors a few added perks. Flights into Zadar Airport were down 14% in 2018 and and transportation is relatively inexpensive, which means easy access to all those green spaces and winery tours.
London, United Kingdom
Cost of a week for two: $4,839
Average airfare: $757

Looking for an action-packed vacation? Go to London. It features more restaurants, sights and landmarks, tours, and museums than any other city on this list, and the most nightlife options among our global list. From Shakespearean history to multicultural foods, courtesy of the various transplants who find themselves here, London offers a little something for everyone.
London made our list last year too, and as uncertainty grows around Brexit, the dollar has only gotten stronger. Flights were down 3% in 2018 to about $760.
Limerick, Ireland
Carl Bruemmer—Design Pics/Getty Images
Cost of a week for two: $3,478
Average airfare: $749

The landlocked city of Limerick sits on either bank of River Shannon, the longest river in Ireland. And that means plenty of opportunities to be surrounded by nature on foot, by wheel, or by water. In addition to being on ever history buff's bucket list (see: St. Mary's Cathedral), Limerick is much more affordable than its Irish neighbors, with hotels running about $140 a night and Airbnb options averaging $100 a night. Flights into Shannon Airport were also cheaper than most Irish destinations, down almost 10% to $750 in 2018.