These Are the Best Places to Go for Memorial Day Weekend — in Every Part of the Country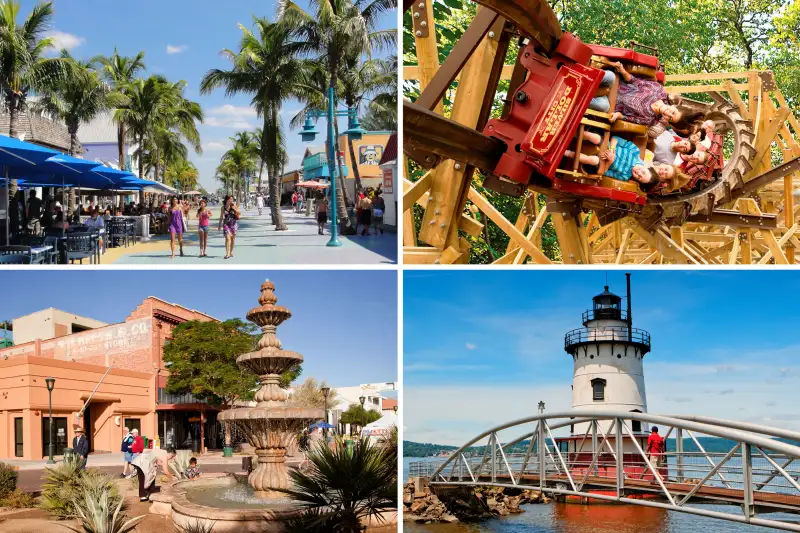 Calling all last-minute planners: This is your final chance to book a Memorial Day vacation.
The first major holiday weekend of the summer is only two weeks away and Money crunched the numbers to help you join the nearly 43 million Americans who plan on traveling this year — the most in any single year since 2005, according to the American Automobile Association.
But if you've felt like there's been too much rain to start thinking about summer, there's a good reason. Last year, the U.S. saw an average of 3 inches of rain in May, according to the National Centers for Environmental Information, kicking off a 12-month period that became the wettest in U.S. history. And with spring still technically in full bloom, planning a trip this month could be tricky.
That's why Money first decided to consider the cities with the best weather — the ten with the most number of clear days in every region, to be exact — based on data provided by Witlytic. To narrow down the best options from there, we weighed activities and costs specific to Memorial Day weekend most heavily, prioritizing hotel prices provided by Kayak and car rental prices from the nearest airport provided by Hipmunk. Flight prices (also provided by Kayak) were taken into account as well. And since Money ranks travel destinations based on value throughout the year, you can see our full list of stories here for more.
To kick off your summer season, here are the cities in each region with the highest chance of both clear skies and the best deals. And remember, prices are only going to go up over the next week, so consider booking ASAP. You've been warned.
If you live in the Midwest...go to Branson, Missouri
Mike Williams—Silver Dollar City
Cost of a three-day, three-night trip for two: $1,894
Number of clear days: 211
This Missouri city, a "cheerfully shameless tourist resort," according to Lonely Planet, has no shortage of things to do: plenty of theaters for comedy magic and country music fans and a highway strip jam-packed with hotels and museums.
But we also insist that you take advantage of the weather, which sits in the high 70s to mid 80s range in May. Go to the outdoor town square Concert Series at Branson Landing, for example, or rent a car for about $37 a day and visit Silver Dollar City amusement park and marvel at the Ozark Mountains.
If you live in the Northeast...go to Tarrytown, New York
Andria Patino—Corbis/Getty Images
Cost of a three-day, three-night trip for two: $1,605
Number of clear days: 213
About 25 miles up the Hudson River from Manhattan, and an average $280 flight into Westchester County Airport, the village of Tarrytown is the perfect summer weekend getaway for a northeastern vacationer. There's plenty of history, making way for tours and museums galore, and a great outdoor scene — especially compared to some of its northeastern neighbors.
Pierson Park sits on the water at one end of the Scenic Hudson RiverWalk path, with views of the Sleepy Hollow lighthouse, while the larger Lakes Park has fishing and kayaking. Just between the two, the Jazz Forum holds concerts in the summertime.
If you live in the South...go to Fort Myers Beach, Florida
Franken—ullstein bild/Getty Images
Cost of a three-day, three-night trip for two: $1,600
Number of clear days: 249
If you're in the south and looking for the right beach vacation for the long weekend, Fort Myers Beach might be the way to go. The town is located on the long and narrow Estero Island on the southwestern side of Florida, meaning most of it just...beach. Go dolphin watching or grab a $4 beer and choose your view: the one facing Florida or the one facing the Gulf of Mexico.
Visitors agree that you'd be just fine here without a car — the landscape and scene favors bikers and walkers (and why wouldn't it, when the weather's expected to be so pristine?). But if you do decide to rent a car (it'll run you about $30 a day), be sure to head north to the Great Calusa Blueway for 40 miles of kayak and canoe trails or hiking trails in neighboring islands.
If you live on the West Coast...go to Yuma, Arizona
Bildagentur-online/Schickert—Alamy
Cost of a three-day, three-night trip for two: $1,811
Number of clear days: 313
It might not be your typical west coast beach party, but with 313 clear days in the year, this Arizona city had more blue-skied days in a year than any of the hundreds of cities in our Best in Travel universe — about 20 days more Las Cruces, which had the best weather among our Best in Travel winners. In addition to the stellar weather, Yuma has a number of parks for fishing and picnicking, as well as the opportunity to spend a day floating down the Colorado River.
Visit one of the many date farm Tours, like the one at Martha's Gardens Medjool Date Farm, and be sure to try a date shake while you're there. Hotels are averaging $120 a night this year, and a car rental is about $19 a day — cheaper than any of the 50 cities Money analyzed.