10 Amazing Spring Vacations You Can Book Right Now — For Surprisingly Cheap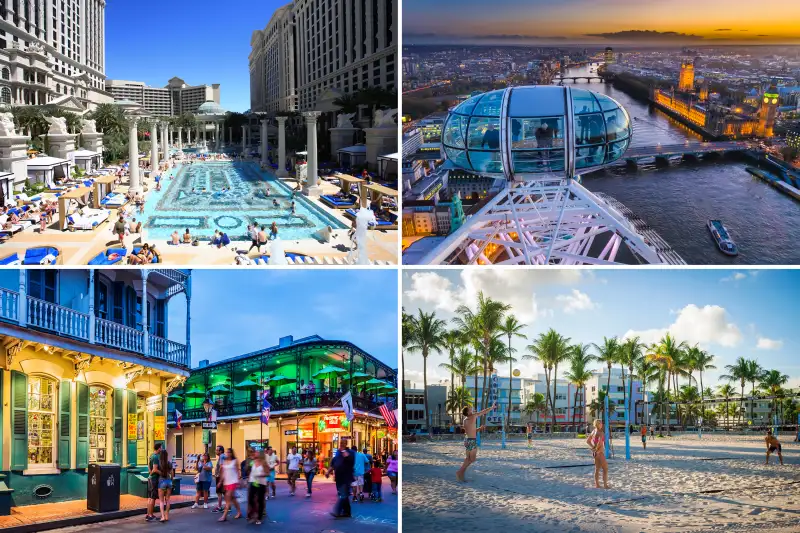 (clockwise from top left) Getty Images (2); Alamy (1); Getty Images (1)
If one too many snowstorms have you dying for a spring break getaway, Money has you covered.
To help you find out where everyone's headed for the upcoming holiday, Money rounded up the 10 most popular vacation spots in 2019. The list ranges from sandy beaches on the Pacific and Atlantic shores to noted foodie hotspots Tokyo and New Orleans.
The hottest spring break spots are calculated using data from travel booking site Hipmunk. To discover where travelers are heading, Hipmunk calculated which cities saw the most hotels booked for the month of March, based on reservations made from September 2018 through February 2019.
Hotel popularity is a better indicator of where travelers are going than airfare trends, since vacationers may journey to a city well outside the airport they fly into, according to Hipmunk travel trends expert Kelly Soderlund. This holds especially true during spring break, since many different beaches or resorts can surround the same airport.
"Fluctuations in hotel popularity are often more indicative of what's actually going on in the travel market," Soderlund tells Money.
That's not to say popular travel spots can't also have great deals. London, the 7th hottest spring break destination this year, saw a 20% year-over-year drop in flight prices—meaning now is the time to get a picture next to Big Ben if it's been on your bucket list.
If you'd rather party on the beach, flight prices to Honolulu—the 10th hottest destination—fell this year as well. And while Punta Cana and Playa Del Carmen in Cozumel aren't as popular this year—landing the 35th and 38th most-booked spots on this list, respectively—they're still great deals. Average spring break flights to Punta Cana are down $36 compared to 2018 prices, while average flights to Playa Del Carmen are down $98.
Here are the top 10 hottest spring break destinations in 2019, and how much you'll spend to get there.
1. Las Vegas
Median flight price: $345
Median spring break hotel price: $168
2. New York City
Median flight price: $293
Median spring break hotel price: $219
3. New Orleans
Median flight price: $425
Median spring break hotel price: $282
4. Miami Beach
Median flight price: $461
Median spring break hotel price: $294
5. Tokyo
Christopher Groenhout—Getty Images/Lonely Planet Images
Median flight price: $1,071
Median spring break hotel price: $167
6. Orlando
Paula Montenegro—Shutterstock
Median flight price: $341
Median spring break hotel price: $145
7. London
Pawel Libera—Getty Images
Median flight price: $558
Median spring break hotel price: $175
8. Los Angeles
Median flight price: $361
Median spring break hotel price: $204
9. San Francisco
Median flight price: $384
Median spring break hotel price: $233
10. Honolulu
Phillip B. Espinasse—Shutterstock
Median flight price: $711
Median spring break hotel price: $220