The Secret to Avoiding Checked Bag Fees Every Time You Fly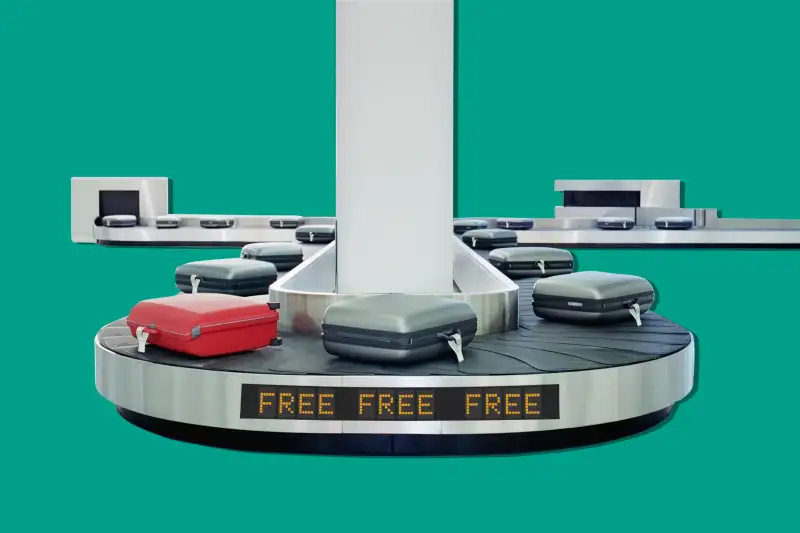 Gifts aren't the only thing to bust your budget this holiday season. Most major U.S. airlines have recently raised their checked bag fees, which means transporting presents home may cost a little bit more this year.
American Airlines baggage fees, JetBlue Airlines baggage fees, United Airlines baggage fees, and Delta baggage fees all increased around August and September. Southwest Airlines remains the only carrier to waive checked bag fees for the first two bags, a policy the company's CEO says is here to stay.
The hike in checked bag fees is in part due to rising fuel costs, but the baggage fee bump is also a result of industry wide "unbundling," the practice of charging more for flight amenities (such as overhead bin space or additional legroom) in order to counteract lower base fares. Most major airlines have introduced basic economy fares to compete with smaller, budget carriers, and raising these extra fees help offset costs.
Since this holiday season will be the first time many travelers will experience higher airline baggage fees, Money rounded up how to avoid checked bag fees for every major domestic carrier. Though each airline has specific guidelines, a few tips are universal: Being a member of an airline's rewards or frequent flyer program leads to lower overall fees, as does purchasing tickets outside of basic economy class.
Here's our guide to avoiding checked bag fees on major airlines in the U.S.
JetBlue Baggage Fees
JetBlue led the charge as the first major airline to raise checked bag fees back in August. The carrier raised baggage fees by $5, and the fee is now $30 for the first bag, and $40 for the second bag. Any additional bags will cost $150 each.
Fees for overweight bags (up to 99 pounds) and oversized bags also increased to $150 apiece, up from $100.
There's good news for JetBlue Plus credit card holders. The primary cardholder gets one free checked bag on JetBlue flights, and so do up to three companions if booked on the same reservation. Though the terms and conditions say you must purchase the flight ticket with the JetBlue Plus credit card, The Points Guy says you may be able to get your baggage fee waived simply by holding the card.
You can also get one or two free checked bags by purchasing the slightly more expensive Coach fare. Basic Blue fares do not include checked bags, but the next two more expensive tickets — Blue Plus and Blue Flex — waive fees for one and two checked bags, respectively. Splurge on the Mint premium cabin and your fare includes two checked bags.
Like other carriers, signing up for an airline's elite status often results in waived baggage fees. You can earn JetBlue's Mosaic status by earning 15,000 flight points in a calendar year, or 12,000 flight points over 30 trips.
Finally, active military personnel and their dependents traveling for leisure can also get fees waived for two bags up to 50 pounds.
Read the JetBlue website for more information.
American Airlines Baggage Fees
American Airlines raised checked bag fees by $5 per bag, and now charges $30 per bag for travelers in the U.S., Puerto Rico, the U.S. Virgin Islands, and the Caribbean for tickets purchased after September 21. The second checked bag fee also went up by $5, and each second bag costs $40.
Transpacific flights waive checked bag fees for two bags, while transatlantic tickets waive checked bag fees for one bag (unless you buy a basic economy ticket, in which case, the fee still stands).
Purchasing tickets outside of economy can waive your American Airlines checked bag fee. Premium economy and business class passengers get to bring two checked bags for free, while first class passengers on 3-cabin aircrafts get to bring three free checked bags. (Of course, the tradeoff is that these tickets are often much more expensive than economy fares.)
Holding American Airlines' co-branded credit card, AAdvantage, can also get your checked bag fees waived for you and up to four or eight traveling companions (depending on the type of card). The checked bag fee waiver only applies to domestic travel.
Reaching elite status can also waive checked bag fees when you earn enough AAdvantage frequent flyer miles.
Active U.S. military with family get 5 bags free of charge when traveling on orders, and active military with ID can get up to three 3 American Airlines bag fees waived on personal travel.
Read the American Airlines website for more information.
Delta Airlines Baggage Fees
Delta also raised checked bag fees by $5, and now charges $30 for the first checked bag under 50 pounds for passengers with economy seats. The airline increased prices for the second checked bag by $15 for travel within the U.S. and by $5 for travel to Central America and the Caribbean. Now a second checked bag on Delta will cost you $40.
If you're traveling from the U.S. to most other international countries, one or two 50-pound bags are still free to check. For passengers traveling in first class, Delta Premium Select, and Delta One, two bags of up to 70 pounds are free to any destination.
You can avoid paying baggage fees on Delta Airlines by paying for your flight with an eligible Delta SkyMiles Credit Card from American Express. You can get the first checked bag fee waived for both you and up to 8 traveling companions on the same reservation.
You can also sign up for Delta's Medallion program to get checked bag fees waived. Medallion status can be reached by spending money on Delta flights, or by spending enough money with a Delta SkyMiles credit card to earn status. (The Points Guy estimates you can earn Medallion status if you spend $60,000 in the year you sign up for the card.)
Finally, baggage fees are waived for active military passengers, and for any Delta passengers flying to El Salvador or Panama.
Read the Delta website for more information.
United Airlines Baggage Fees
United Airlines became the first legacy U.S. carrier to raise bag fees for tickets purchased after August 31. For flights in most U.S. territories, the Caribbean, and Central America, United Airlines checked bag fees are $30 for the first bag (an increase of $5), and $40 for the second bag. The second checked bag fee for flights to Canada is $50, while the second bag fee for flights to Mexico is now $55.
A third bag and any additional bags cost $150 each, while overweight bags (up to 70 pounds) cost $100. To figure out exactly how much you'll pay, United Airlines has a checked bag fee calculator you can use based on your travel origin and destination.
Premium tickets in first class and business class can get you two or three free bags up to 70 pounds. Active military personnel traveling for leisure, as well as their family members, can also check up to three bags weighing 70 pounds without baggage fees.
If you pay for your ticket using one of four United Airlines credit cards — the United Explorer Card, the United MileagePlus Explorer Business Card, the United MileagePlus Club Card and the United MileagePlus Club Business Card — you can get up to two baggage fees waived for the primary cardholder and one companion. One caveat: The card must be valid at check-in (so you can't buy your tickets using the card only to cancel it soon after).
Finally, getting elite status on United Airlines' MileagePlus program can result in as many as three checked baggage fees waived.
Read United Airlines' website for more information.
Alaska Airlines Baggage Fees
There's one fee hike holdout. Alaska Airlines has kept its checked bag fee to $25 for the first and second bags. Additional bags, overweight bags, and oversized bags cost $75 a pop.
Traveling wholly in the state of Alaska gets you two checked bags for free, as does flying first class or being an active military member on orders.
Holding elite status on American Airlines' AAdvantage frequent flyer program also waives two checked bag fees on Alaska Airlines. Holding an Alaska Airlines Visa Signature credit card, or having status on Alaska Airlines' own mileage plan also gets you one to two baggage fees waived.
Read more on Alaska Airlines' website.
Spirit Airlines Baggage Fees
Spirit Airlines checked bag fees can reach up to a whopping $65, depending on when you decide you want to check your luggage. Even a carry-on bigger than a purse or a small backpack can cost you.
Since Spirit Airlines sells itself on being a bare-bones, budget airline, there aren't many ways to avoid checked bag fees. The airline recommends paying for your bag right as you book your ticket, as the checked bag fees get pricier after you book. If you're a frequent flyer, you can also consider enrolling in Spirit Airlines' $9 Fare Club for an annual fee of $59.99, and receive discounts of up to 50% off baggage fees.
Active military get two checked bags for free, as well as a free carry-on bag, if they come to the airport with a U.S. military ID (this policy does not apply for family members).
Read Spirit Airlines' website for more information.
Frontier Airlines Baggage Fees
For tickets purchased after September 12, Frontier Airlines' checked bag fee costs $25 to $30 if you purchase the bag add-on while booking. Even a carry-on bag will cost you $30 to $35 while booking online, and all baggage fees get more expensive if you purchase bags after you book your flight, or through a site other than the carrier's homepage. Baggage fees also vary depending on the time of year you are traveling.
Frontier Airlines may have the most difficult-to-avoid baggage fees. Military members can score free carry-on bags and checked luggage, but the policy does not extend to family members. The airline's EarlyReturns frequent flyer program gets you one free carry-on bag, while bundling all your fees, such as seat selection and priority boarding, may also get you a free checked and carry-on bag.
Read Frontier Airlines' website for more information.
Hawaiian Airlines Baggage Fees
North American flights and flights within Hawaii cost $25 for the first checked bag and $35 for the second checked bag when flying on Hawaiian Airlines. International and first class passengers get two checked bag fees waived.
Membership to the HawaiianMiles frequent flyer program results in reduced fare on up to three checked bags, and baggage fee costs get cheaper as you rise up the elite status ladder. Holding one of Hawaiian Airlines' credit cards gets you one free checked bag (though the carrier increased annual fees for the World Elite MasterCard earlier this year).
First class and international travelers get two checked bags free of charge, as do active military personnel on leisure travel.
One fun perk: Hawaiian Airlines will allow you to bring one pre-packaged box of papayas or pineapples back from Hawaii free of charge, so long as the fruit is under 10 pounds.