Spirit Airlines Is Actually…Good?! Here's Why the Budget Carrier Deserves a Second Look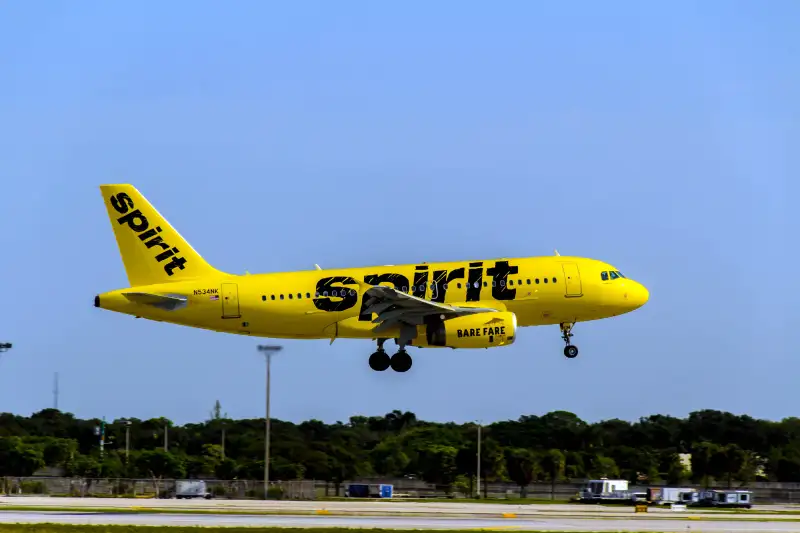 Courtesy of Spirit Airlines
If you've counted Spirit out as an affordable airline, now might be the time to reconsider.
The budget airline was the most-improved carrier in Money's Best in Travel ranking this year — thanks, in large part, to notable improvements in reliability between 2017 and 2018.
Of the eight major domestic airlines MONEY ranked, Spirit saw the most improvement in performance compared to the previous year, according to flight data from the Department of Transportation. Between January 2018 and October 2018, 81% of Spirit's flights arrived at their destinations on time, up from 76% through the same time period in 2017. Only 1.1% of Spirit's flights were cancelled — a big difference from its 3.8% cancellation rate the year prior, while about 18.1% of Spirit's flights were delayed — down from 20.6% in 2017. (Read our full methodology here.)
What accounts for this change? It's not necessarily a fluke. In fact, the airline's performance has been improving steadily since 2016, when former board member Robert Fornaro took over as CEO and made timeliness a priority, according to The Miami Herald. In December 2018, former CFO Ted Christie took over as CEO, saying Spirit's message was all about being a "high-quality low-fare airline."
Admittedly, Spirit did have room for improvement. The airline had the highest percentage of cancelled flights and among the greatest share of delays in the first three quarters of 2017.
But Spirit didn't only beat its prior performance — it also rose to surpass other major carriers like American Airlines and United Airlines in 2018. Of the eight major airlines we looked at, only Delta and Alaska Airlines had a better on-time arrival rate and lower share of delayed or cancelled flights in 2018, according to DOT data.
Of course, a happy Spirit traveler is one willing to make a few concessions for a cheap flight. In a survey of Travel + Leisure readers, Spirit Airlines scored low in categories like food, customer service and cabin comfort. You still might get bumped from a flight — in fact, of the eight major airlines we considered, Spirit had the highest rate of passengers denied boarding involuntarily, with 1,846 passengers bumped between April 2017 and April 2018 (out of 23.8 million who boarded). And since Spirit is a leader in "unbundling" their extras and amenities, fees for large carry-ons or heavy baggage can rack up. It pays to travel light.
While the travelers who reap the biggest benefits from Spirit's low fares are those who leave their bags at home, passengers who do bring suitcases can rest assured that their luggage will most likely arrive on time. In addition to arrival and departure improvements, Spirit also had the lowest reports of mishandled baggage, according to DOT data.
While Spirit's reliability improvements are its most notable changes in recent years, a savvy traveler shouldn't discount the airline's most famous selling point: its low fare. The average price of a coach flight on Spirit is $255, according to Rome2Rio — that's more than $100 below average and more affordable than every major airline Money analyzed. Now travelers can start getting to their destinations on time — while still remaining budget-conscious.