You Can Rent the Spice Girls' Tour Bus for Just $128 a Night. Here's What It Really Looks Like Inside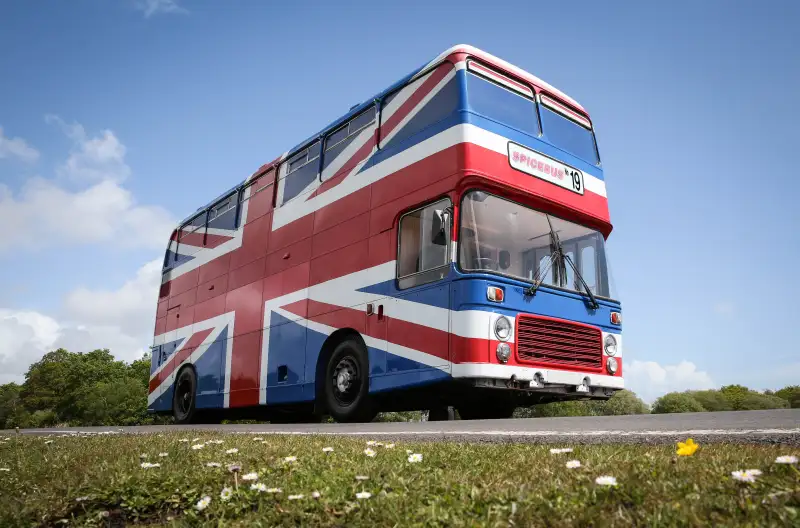 Two decades after the Spice Girls made their feature film debut in 1997's Spice World, the group's Union Jack-adorned tour bus has returned to London — this time as an Airbnb. The double-decker Spice Bus sleeps up to three and will be available to rent for two dates only at £99, or about $128 USD, per night.
Unlike in Spice World, the bus's real interior is not a magically large, metal-lined space decorated with bean bag chairs, balloons and an indoor swing set. Rather, the bus, listed on Airbnb as "The original Spice Bus from 1997 movie Spice World," looks a little more like a traditional apartment featuring two beds, Union Jack-patterned furniture, zebra-print carpet and a neon sign that says "girl power." A video of the bus shared by Airbnb shows hints of nostalgic '90s memorabilia, like disco balls and a basket full of scrunchies.
"When we first got the Spice Bus it was a complete shell," says Suzanne Godley, the Airbnb's host, in the video. "We got to transform it into such a [homey] space and incorporate so many aspects of the girls."
If a stay in the Spice Bus sounds like your dream vacation, you might be in for some stiff competition. The bus, which will remain stationary in London's Wembley Park neighborhood, will only be available to book for two nights, Friday, June 14 and Saturday, June 15 — dates that coincide with the end of the Spice Girls' reunion tour run at the nearby Wembley Stadium.
U.S. fans hoping to snag the exclusive spot should prepare for a long night: the reservations will become available to book on May 22 at 8 a.m. BST. That's 3 a.m. to fans on America's East coast, 2 a.m. in Central Time and 12 a.m. in Pacific Time.
See photos from inside the Spice Bus below: