These Are the 8 Best Beaches to Visit this Summer, Based on Activities, Hotel Costs, and Airfare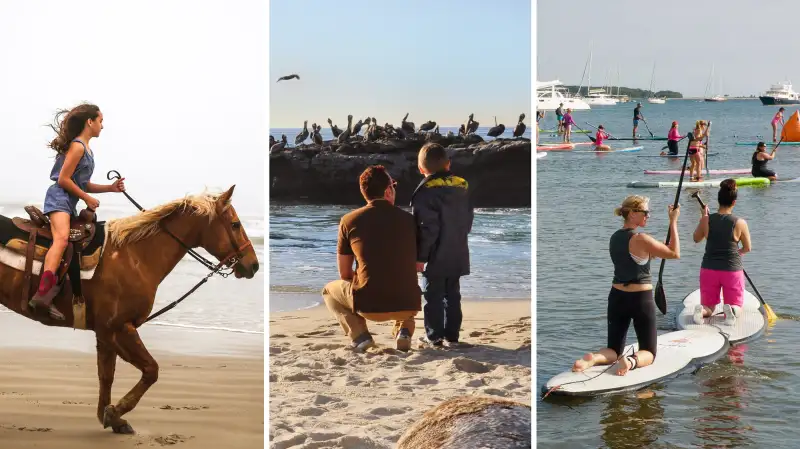 (L-R) Courtesy of Visit Corpus Christi; Courtesy of Lisa Field—San Diego Tourism Authority; Steven A. Henry—Getty Images
Dust off your swimsuit and dig out your beach towel, because the definitive list of best beach vacations is here.
At Money, we know that summer fun comes with a price. So we crunched the numbers to find the best beach destinations for your dollar. From the sandy shores of Virginia all the way to California, these villages, towns, and cities offer a winning combination of activities and affordability — with, of course, beautiful nearby beaches.
Check out our ranking, complete with airfare and hotel prices, and see if your favorite summer destination made the list.
8. Corpus Christi, TX
Courtesy of Visit Corpus Christi
Average airfare: $442
Average hotel night: $174
Cost of a long weekend for two: $1,871
Everything's bigger in Texas — including the shoreline. From Water's Edge Park, which overlooks the turquoise waters of McGee Beach, to the long stretch of sandy shores along Mustang Island State Park ($5 per person; free for children under 12), the Gulf Coast city of Corpus Christi is home to almost 40 beaches, according to Witlytic. When you're not taking in everything else the city has to offer — including more than 100 restaurants and 35 bars with four or more stars on Yelp — you can walk along the city's downtown seawall, ride the waves at J.P. Luby Surf Park or settle in at one of the city's many campsites (there are 45, according to Witlytic). And while flights to Corpus Christi International Airport can get pricey, your dollar goes far once you're in the city. The average cost of a three-course meal for two is $35, according to Numbeo, making it one of the most affordable nights out on our list.
7. Virginia Beach, VA
Average airfare: $358
Average hotel night: $233
Cost of a long weekend for two: $2,038
Enjoying the surf on Virginia Beach's classic coastline just got a little easier: the average cost of a flight into nearby Norfolk and Newport airports dropped nearly 13% between 2017 and 2018, according to Kayak. For loyal vacationers and newbies, that's a welcome discount on access to the seaside city's free three miles of sandy beaches — not to mention its 475 top-rated restaurants and nearly 80 high-ranking bars, according to Yelp. While you're taking a break from the beach, snap a picture in front of the town's landmark Neptune statue, spot some seahorses at the Virginia Aquarium and Marine Science Center or admire the view from the nearby Cape Henry Lighthouse.
6. Ponce Inlet, FL
Average airfare: $241
Average hotel night: $154
Cost of a long weekend for two: $1,481
Ponce Inlet might not have the name recognition of neighboring Daytona Beach, but the small oceanfront Florida town has plenty to offer — at a price that won't break the bank. With the cost of hotel rooms down 7.8%, according to Kayak, and vacation home prices down 24% between 2017 and 2018, according to AirDNA, the seaside town of just under 3,000 offers visitors quieter beaches than those to the north, with Daytona's entertainment options 30 minutes away. While in Ponce Inlet, stop by the Ponce de Leon Inlet Lighthouse & Museum or walk along the boardwalk-covered jetty for a clear view of the ocean.
5. Cape May, NJ
Average airfare: $358
Average hotel night: $313
Cost of a long weekend for two: $2,234
Don't cruise past Exit Zero: There's more to the last town on the New Jersey Turnpike than its nickname suggests. A seaside city in southern New Jersey, Cape May has apparently been a tourism hot spot since the Victorian era, according to the city's website. Staying in one of the grand turn-of-the-century hotels costs $313 per night (per Kayak), but visitors can get a significant discount by opting to stay in a vacation home for an average $216 per night, according to AirDNA. A three-day beach pass costs $12, while a week pass is $18. Free activities abound, like touring the Cape May Brewing Company, climbing the 199-step lighthouse or visiting the Cape May County Zoo. At the end of the day, swing by Sunset Beach on the bay (no pass required) to spot the remains of the SS Atlantis, a nearly 100-year-old concrete shipwreck, and a waterfront sunset.
4. Sag Harbor, NY
Steven A. Henry—Getty Images
Average airfare: $292
Average hotel night: $281
Cost of a long weekend for two: $2,002
Ever dreamed of escaping to the Hamptons? Now's your chance. With average airfare to nearby Long Island and New Haven airports down 20.2% and hotel prices down 41.6% between 2017 and 2018, visiting Sag Harbor just got a lot more affordable. A little over 2,000 people live in this Long Island village, though that number swells in the busy summer months. Soak up the rays at Foster Memorial Beach or watch the boats off the coast of Haven Beach. Afterwards, take a walk down Main Street, where you can grab dinner, coffee or a souvenir, or drive over the bridge and take the ferry to Shelter Island, where even more beaches await, for $1 per passenger, with additional fares for cyclists, motorcycle riders, and vehicles.
3. Jekyll Island, GA
Marc Romanelli—Getty Images
Average airfare: $300
Average hotel night: $242
Cost of a long weekend for two: $1,874
This idyllic Georgia island took the top spot on Money's 2019 Best in Travel list for a reason: the seven-mile-long getaway is covered in nature trails and picturesque beaches. From Driftwood Beach to St. Andrews Beach Park, it might be hard to choose just one, but luckily, there's no need to stay in one place. The 14-mile Jekyll Island Bike Trail makes it easy to see the whole island. The price is right, too. Flight prices went down 13.8% between 2017 and 2018 according to Kayak, and vacation rentals decreased 9.9% in the same period, according to AirDNA. Plus, with an average of 221 clear days per year, there's an excellent chance the weather will be on your side.
2. San Diego, CA
Courtesy of Lisa Field—San Diego Tourism Authority
Average airfare: $300
Average hotel night: $243
Cost of a long weekend for two: $1,944
With San Diego's average of 263 clear days per year, visitors could easily spend their entire vacation outdoors. But beyond the city's lauded beaches (there are 31 beaches in San Diego with four or more stars on Yelp), there are plenty of activities in the bustling seaside city home to 1.4 million people. Take in the sights at Sunset Cliffs Natural Park, ride the Giant Dipper roller coaster at Belmont Park, catch a glimpse of a new baby sloth at the award-winning zoo — or spend your afternoon in the surf, of course. Luckily for travelers, it's gotten cheaper to visit: Flight prices dropped 6.3% between 2017 and 2018, while the average stay in a vacation rental fell 2.1%.
1. Glen Arbor, MI
Average airfare: $492
Average hotel night: $155
Cost of a long weekend for two: $1,995
Surprise! The best beach for your buck isn't on an island (or an ocean), but along the scenic shores of Lake Michigan. Glen Arbor, a tiny township on the sandy northwestern side of Michigan's lower peninsula, comes alive with hikers, campers, and visiting sunbathers every summer. Known for its paddleboard-friendly waters, rolling dunes and woodsy hikes, Glen Arbor isn't a newcomer to accolades: it was also one of Money's 2018 Best in Travel picks. Outdoorsy points of interest include the Dune Climb, Glen Lake, and all the activities at Sleeping Bear Dunes National Lakeshore. Plus, hotel prices are among the lowest on our list, while average flight prices are down 4.8% from last year, making it easy to see why Glen Arbor is a Money favorite.
---
Methodology
To find the beach destinations that deliver the best value, Money considered more than 17,000 data points for more than 300 of the most popular destinations in the U.S. We ranked the eight that scored highest on overall cost factors, including the price of airfare, lodging, and food, as well as the biggest year-over-year price drops. We also considered things to do, placing the greatest weight on the number and quality of the beaches each city offered, as well as other tourist activities and experience factors like low crime rates and pleasant weather. Only one beach per state was included in the ranking. All-in pricing estimates the total cost of a three-day, three-night vacation at the destination, based on average cost of round-trip airfare and hotel stay, provided by Kayak, cost of renting a car, provided by Witlytic, as well as food and drink expenses, provided by Numbeo.