15 Trader Joe's Items That Everyone Should Obsess Over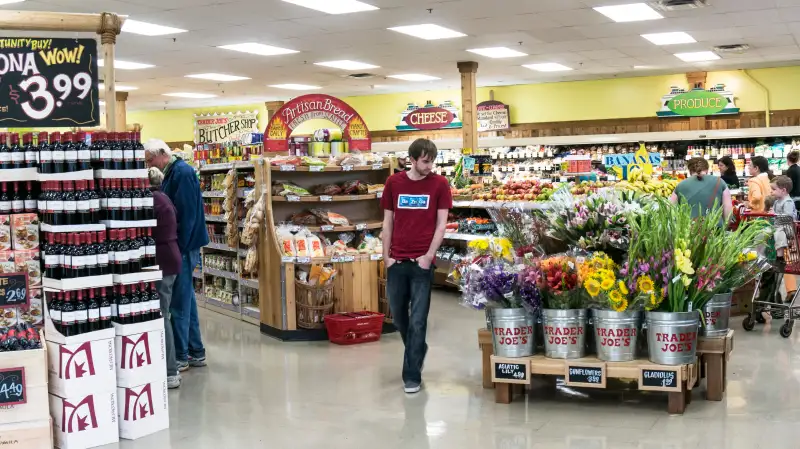 Trader Joe's has built an empire on house-brand products that are tasty and affordable, but some products stand out more than others.
Money's staff happens to include quite a few Trader Joe's aficionados, so we came together to decide which TJ's products fit our mandate, delivering high quality for a solid price. Some of these products are a better deal than what you'd find at other grocery stores; other items are foods that are difficult to make at home but can be purchased inexpensively at Trader Joe's. (And a few are just too delicious not to buy.)
Here are Money's staff picks for the best Trader Joe's products.
---
Bay Blend Dark Roast Coffee
Price: $12.99
I've fancied myself a coffee snob for years, but this phenomenal dark roast, which takes its inspiration from the Bay Area, flew under my radar. When I finally discovered it, I swore off Starbucks pre-packaged for good — at $4 for 12 ounces, this is the best coffee for your buck, hands down. — Mike Ayers
---
Italian Tomato Paste
Price: $1.29
We've all been there: A recipe calls for a tablespoon or two of tomato paste, so you open a fresh can and vow to use the rest of it soon. Inevitably, you find it in the back of your fridge three weeks later and wish that you just threw it out because, at the end of the day, it was only 50 cents. Tomato paste in a tube may sound weird, but it has changed my cooking game. You can keep it in the fridge for weeks and use just the amount you need with no guilt. — Sophia Rosenbaum
---
Restaurant Style White Corn Tortilla Chips
Price: $1.99
Made from actual tortillas, these are sturdier than other corn chips and have a great crunch. The lime adds zing without being overwhelming. And they don't break apart in the bag as often, so you get more for your money. — Maria Carmicino
---
Deli Style Spicy Brown Mustard
Price: $1.29
My family hits Trader Joe's regularly for a few household staples that are low price and high quality, including the house brand yogurt, extra virgin olive oil, and spicy brown mustard. The latter is tangy and sweet — perfect on a ham sandwich or a hot dog — and only costs around $1 a bottle. — Brad Tuttle
---
Candles
Price: Varies
I know what you're thinking — "Candles? From Trader Joe's?" — but hear me out. I've bought two of them, one Vanilla Pumpkin scented and the other Cedar Balsam, and both were incredible. The 5.7-ounce candles were ridiculously cheap at only $4 apiece, lasted for hours and made my house smell wonderful. Plus they come in sleek metal containers that look nice sitting on the shelf. — Julia Glum
---
Pomegranate Seeds
Price: $3.49
I love to cook (and to entertain), but I'm also kind of lazy. So I'm often looking for simple ways to make food stand out. One of my favorite tricks, stolen from a friend: Buy the TJ's pre-separated pomegranate seeds, and use them liberally in a salad. They give the greens a bright visual pop, but help me avoid the messy pomegranate-deconstructing process. Meanwhile, the touch of sweetness pairs nicely with the lemon vinaigrette, which I do make from scratch. — Rachel F. Elson
---
Gone Bananas
Price: $1.99
Sure, I am definitely capable of cutting up bananas, dipping them in chocolate and freezing them myself. But why would I do all that work when I can just buy them from Trader Joe's? I always try to have a box of these stashed in my freezer — they keep forever, and they're perfect for whenever I get a late-night craving for something sweet. — JG
---
Beer
Price: Varies
Everyone knows about Two-Buck Chuck, but if hops and grains are more your speed, you can actually find some decent prices on beer. Take for example Red Stripe, which is $7.99 for a six-pack at Trader Joe's. The price at a comparable grocery chain in New York City? $10.99. There's no reason to spend that much on a commercial beer, even if it is brewed in Jamaica.
Trader Joe's selection isn't going to impress a beer snob, but the store does stock craft brews, and its own private-label beers can be good deals. Just be careful with those house brands—some of them are great finds, but others *cough* Boatswain Double IPA *cough* are terrible. — Matt Bemer
---
Just Mango Slices
Price: $3.29
I'm trying to overcome a serious gummy bear addiction using TJ's dried mango slices. They're sweet, chewy, healthier than gummy bears (right?) — and at less than $3 a bag, these are cheaper than Whole Foods. Win-win-win. — Kaitlin Mulhere
---
Cranberry or Herbed Chevre
Price: $2.99
Trader Joe's has epic cheese sales — I've gotten giant hunks of cranberry goat cheese for about $4 around the holidays. If you've never made (or, um, eaten) a party-sized cheese board by yourself, you haven't lived. — Kristen Bahler
---
Maitre Pierre Tarte D'Alsace
Price: Varies
TheMaitre Pierre Tarte D'Alsace is a sweet and savory treat, a cross between a flatbread and a flaky pastry. It only takes 10 minutes to get crispy and golden brown in the oven, and it tastes almost like a sophisticated French grilled cheese, with ham, gruyere cheese and caramelized onions. The best part: It only costs $5. You can eat a whole one yourself, or share with a friend. — Alix Langone
---
Speculoos Cookie Butter
Price: $3.69
Trader Joe's cookie butter is a peanut butter substitute of sorts that our kids love (and our kids aren't allowed to bring peanut butter to school for allergy reasons). This is a spread that is made from Speculoos cookies. — Paul J. Lim
---
Vegetable Masala Burger
Price: $2.49
I grew up eating South Asian food, so I'm critical of grocery store "Indian" products that hardly taste like the real thing. Trader Joe's is an exception: Its products usually taste authentic across the board. This veggie burger is my personal favorite — it's cheap and easy to prep; it makes for a quick snack; and even thought it's called a "burger," you can eat it with just hot sauce or chutney. — Allana Akhtar
---
Dorot Gardens Chopped Basil (Frozen)
Price: Varies
I enjoy cooking from scratch, but it's hard to find the time. So "homemade with shortcuts" is my mantra. This package of frozen chopped-basil cubes (20 total) fits the bill perfectly when I make pasta sauce or soup. Plus, it's way cheaper than buying a bunch of fresh basil and having most of it go to waste. — MC
---
Gluten-Free Oatmeal
Price: $3.99
Gluten-free food, unfortunately and unfairly, tends to be way more expensive than gluten-y food. Trader Joe's has the best price for the most amount of food; its family-size bag of oatmeal lasts me six months. And I definitely appreciate its prices. — Julia Bohan