Is Ring the Best Video Doorbell? Here's What Experts and Thousands of Reviewers Say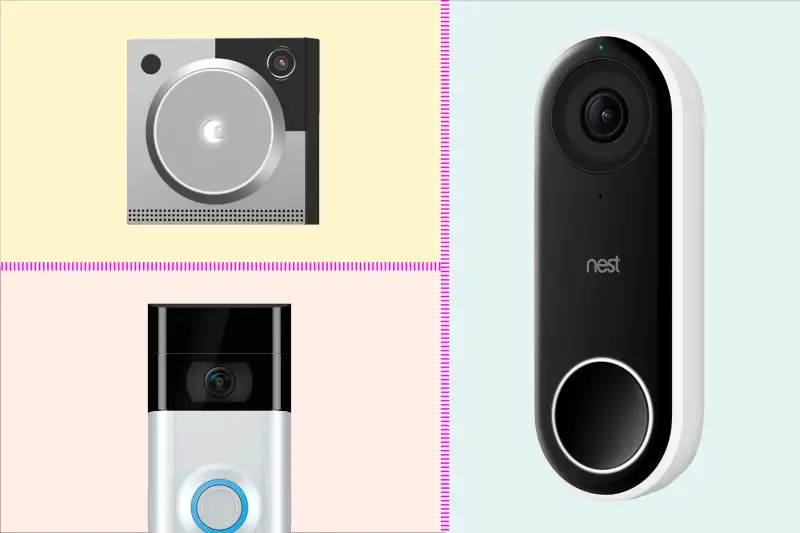 Courtesy of Amazon and Walmart
One of the more promising smart home devices on the market today is the video doorbell, including the popular Ring doorbell. Unlike, say, a water filter that will tell you when you need to swap out the filter cartridge, or even a programmable pressure cooker that lets you cook dinner from your phone, a video doorbell is something you'll probably make use of several times a week.
But should you buy a Ring doorbell, or a video doorbell from another brand? What kinds of features should you be looking for in a video doorbell? Here's what you need to know.
The Best Video Doorbell Depends On Your Needs
Video doorbells can tell you who's on your front step without you having to open the door — or even get up or be home, for that matter. What's more, they offer an enhanced degree of home security, thanks to app-enabled motion sensor alerts and the ability to view video in real time over your smartphone. With a monthly subscription, you can also access cloud-based data storage.
There are a number of different brands of video doorbells out there, and the feedback of both professional and regular-people online reviewers suggests they can vary widely in terms of features and quality. If you're looking the for best video doorbell, here's what some reviewers say are the products to consider.
Perhaps the best known in the category is the Ring video doorbell, which is compatible with Amazon's Alexa personal assistant or with If This Then That (a.k.a. IFTTT) for voice control.
Ring, which launched in 2013 as a crowdfunded startup and Shark Tank contender, was bought by Amazon last year. The original inaugural Ring video doorbell is very popular, with more than 23,000 five-star reviews on Amazon. The original Ring doorbell is Amazon's top-seller in the category, with a list price of $99.99, and it's a good pick for people who just want a "basic" video doorbell.
As technology has advanced, though, Ring has been able to build on its original model by improving on video and audio quality in its newer (and more expensive) models. The tech experts at the Wirecutter liked the Ring Video Doorbell 2 ($199) for its enhanced (1080p, versus 720p for the original Ring Video Doorbell) recording resolution, while Consumer Reports rated it "very good" for its response time in delivering you a live feed of who's at your door. The Ring Doorbell 2 can run on either a battery or be hardwired into your existing doorbell wiring.
In addition to the cost of the device itself, you should consider also the cost of a subscription when choosing a video doorbell. Without a subscription to its cloud-based data storage, your Ring doorbell will still work to tell you who's at the door and give you real-time video monitoring. But if you want to record video — say, if you want to be able to catch a porch pirate in the act or have video evidence in case of a burglary — you'll need to pay for a monthly subscription. Prices start at $3 a month (or $30 a year) for the basic plan, which gives you access to 60 days' worth of monitoring. For $10 a month (or $100 annually), you can get real-time professional monitoring in addition to that.
Another video doorbell model with a good reputation is the Ring Doorbell Pro. Just be warned that this video doorbell must be hardwired. (There's no battery option.) In its Ring doorbell review, Wirecutter dubbed the Ring Video Doorbell Pro "also great."
The Pro, which also has 1080p video resolution, is smaller in size and higher in price ($249) than the Ring Doorbell 2; it also is the only Ring video doorbell to be an "editor's pick" on PCMag.com's roundup of video doorbells. (PCMag also says it's not really hard to install the device yourself, provided your home has existing doorbell wiring.)
Aside from the Ring doorbell family, another video doorbell line that gets kudos from reviewers and users is the Nest Hello. Unlike the Ring doorbells, the Nest is compatible with Google's smart home infrastructure as well as IFTTT, and has Bluetooth connectivity in addition to WiFi.
On the down side, some users report that it can be a challenge getting the Nest Hello to play nicely with Alexa and Amazon devices, although Google has a tutorial here.
Consumer Reports reserved their highest praise for the Nest Hello, and Wirecutter says it's great for home security, although all the bells and whistles (and costs) might be a bit much for somebody who just wants a basic doorbell with video monitoring. At roughly $200, it's about the same price to purchase as the Ring Doorbell 2. Pricing for video data storage is a little different, though, and quite a bit more expensive: It has sophisticated facial recognition and offers 24/7 constant recording, but prices start at $5 a month for five days' worth of recordings, and climb up to $30 a month for access to a month's worth of recordings.
Yet another video doorbell option — and PCMag's top choice in its recent roundup — is the August Doorbell Cam Pro. It's also right around that $200 price point and gives you access to the last 24 hours of saved video history as part of its free basic plan. Upgraded subscriptions offering access to 15 or 30 days cost $2.99 and $4.99 a month, respectively. The August Home Doorbell Cam Pro also has color night-vision and is compatible with Alexa (although not IFTTT, the review notes).
There's a lot to consider when determining the best video doorbell for your needs, but the growing sophistication and ease of use make these devices likely to become more mainstream in the future. That's great news for anybody who's had the doorbell ring at an inopportune moment.
We've included affiliate links into this article. Click here to learn what those are.