Here Are Amazon's Best Deals on Tech Accessories — With Great Reviews and Prices Under $10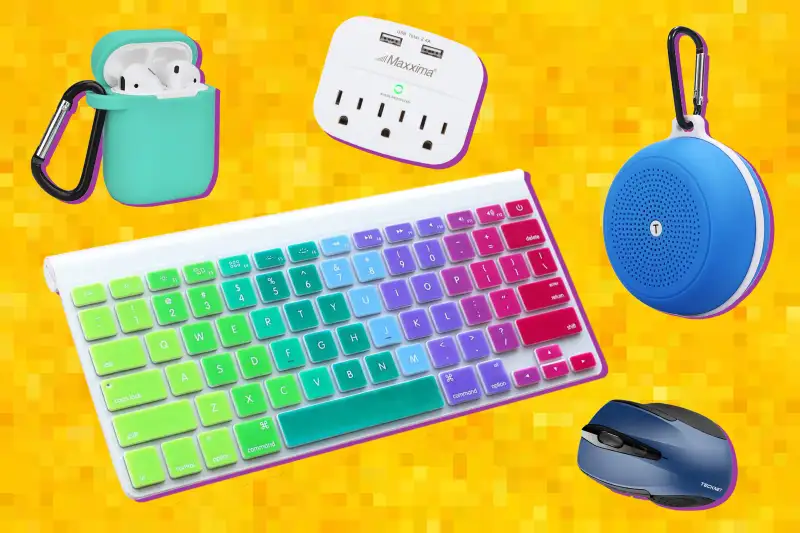 (products) Courtesy of Amazon; Getty Images
Buying super-cheap tech accessories can feel great, so long as the products don't die after just a few uses. So we went looking through Amazon's legendary "Bargain Finds" section for tech deals that are good values and should hold up over time. That is, we specifically sought cases, cables, chargers, and other tech accessories (even a Bluetooth speaker!) that cost $10 or less and have user reviews of four stars or higher.
Just keep in mind, Amazon Bargain Finds products tend to sell out frequently and prices can fluctuate, so if you see a great tech deal on an item you need, grab it. And like other Amazon deals in the Bargain Finds section, the trade-off for low prices is sometimes longer shipping times (although several on this list are eligible for free two-day or even overnight Prime shipping).
All Amazon prices below were current as of publication, rounded to the nearest dollar, inclusive of any shipping costs.
Now you don't have to trade off charging more than one device on a long car ride. Nearly 2,000 reviewers chimed in to give this charger a 4.4-star rating.
More than 6,400 reviewers gave this Tecknet wireless mouse an impressive 4.2 stars. Pick from black, gray, blue or purple (or red, for an extra $1).
Most of the tech deals in Amazon's Bargain Finds section are generic or lesser-known brands. So we were excited to see this three-foot charger cable in here from Anker, one of the better-quality brands in this category.
This palm-sized Bluetooth speaker has a handy clip to hang it from your backpack strap or even your keychain — yes, it's that tiny.
If you have serious devices, you need a serious surge protector. This one has three outlets and two USB ports, and costs $9.99 with free shipping (so long as you're a Prime member or your total Amazon order is at least $25).
Apple AirPods are expensive — starting at a whopping $159 per pair. This shock-resistant silicone skin isn't expensive at all, but it will protect your AirPods charging case from drops. An attached clip makes it easier for you to keep tabs on them.
Because sometimes you don't need fancy Bluetooth wireless earbuds — you just need a slightly longer range for your wired headphones.
Nothing ruins a workday like dumping your coffee all over your keyboard. The latte might be a loss, but one of these cheap, colorful protectors will save your keyboard. (Other versions that fit different keyboard models are also available.)
We've included affiliate links into this article. Click here to learn what those are.