Beth and Howard Stern Love Cats. And They're Using Their Fortune to Save Them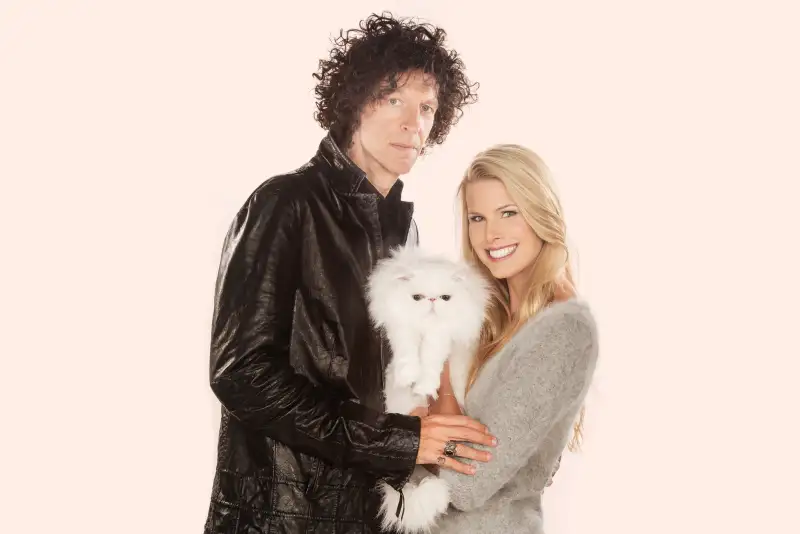 No matter where Beth and Howard Stern decide to sleep at night — their Long Island house, their New York City apartment, or their Palm Beach vacation home — they always have at least one cat to snuggle up with. Or more than a dozen.
Beth Stern, a former model, says she and her radio-show-host husband have saved at least 500 cats and kittens since 2013, when Beth adopted the couple's first litter just before they were about to be euthanized.
"It's a full-time job," Beth Stern told Money about caring for the array of furry critters at the makeshift shelters she's set up in her various homes. "Thank god my husband is still working, because there's just no break."
Yes, Howard Stern, typically known as Sirius XM's outspoken shock jock, spends much of his free time as the ultimate cat man — grooming them, socializing them, naming them and even cleaning their litter boxes. "He's really, really involved. I believe that I can say he loves it as much as I do." Beth Stern said of her husband of nearly a decade. "The kittens love his hair," she added.
The Sterns cat-fostering venture started four years ago after their beloved dog, Bianca, passed away. Beth — a longtime animal advocate who has been working with North Shore Animal League America, the world's largest no-kill shelter, for more than a decade — had stopped by a local high-kill shelter and couldn't help but feel sorry for all the cats trapped in cages.
"It's just overwhelming how many cats are there," she recalled thinking. "I feel like cats need help. We need to bring awareness to how great of a pet cats are."
Beth immediately knew they could help. They certainly had the money and the space — Howard was named Forbes' richest radio show host of 2016 and earned $90 million last year. Beth had been building her Instagram presence, where she now has more than 367,000 loyal cat lovers who help find her foster's homes. And they had Howard's popular show, during which he frequently mentions their cats.

"I remember being so sad. I got so attached to them," Beth Stern said. "I immediately went into the nursery and grabbed another litter of kittens and a mama cat and her babies."
And that quickly became her routine. Instagram has now become Beth's main mode of getting her foster cats (including cats with disabilities and senior kitties) into loving homes — sharing their stories and cataloging their daily routines with frequent updates to her feline-friendly following. Earlier this week, Stern had what she said was her "quickest adoption ever" when she brought a gray-striped kitten with blue eyes named Bailey to her Long Island home and hours later, was in a car bringing him to his new family.
Bailey got the same send off the Sterns give every single one of their fosters. Beth hand-delivers the cats to their new human parents — already spayed or neutered — with everything they would need to care for the cat including food, a litter box and the cats' favorite toys from their time with her. And Beth usually creates an Instagram account for each of them so people (Beth included) can follow their journey.
"We are fortunate that we can pay for everything," she said. "We give them everything they would need. It pretty much looks like my foster room once we give the kitten to their forever family." Beth wouldn't specify how much they spend on their rescue efforts, but she admitted it was "a lot." The ASPCA estimates that owning a cat, especially during the first year, costs around $1,000 a year — meaning the lowest estimate for the Stern's four-year venture in cat fostering is $500,000.
Aside from their five resident cats (including two blind cats and a kitten-loving Persian named Yoda suffering from a heart ailment), the Sterns currently have cats of all different ages including Mama Honey and her four "nuggets," half-a-dozen kittens (including some hurricane rescues), 6-year-old Jimmy, and her newest addition, 15-year-old Peanut.
"Even when the house is full, there's never a question, Howard tells me to just go get more if they need us. There was a time where all the bathrooms and guest rooms were full," Beth Stern said. The couple has three designated foster rooms, with even more cats currently living in their two spare bedrooms and bathrooms.
One of the latest addition to the Sterns' family is Angel Pie, a semi-feral tabby cat that recently joined their crew of 17 resident fosters.
This isn't the first time the Sterns have fostered a feral cat — they fostered two last year, named Fig and Dumpling. The two tabbies spent months in one of Stern's bathrooms, where she tried to connect with them using treats and toys. But it wasn't easy.

"There were times where I was just crying. Got my face scratched. I got bitten," Beth said. "One day, they just had a turn around. I was able to touch them. Then I heard a purr."
Fig and Dumpling eventually joined one of Beth's foster rooms and became friendly with some of her other fosters and resident kitties. They were adopted earlier this year by a cat-experienced couple. "It was the most exciting, rewarding experience turning feral cats into lap cats," Beth said. "They're lap cats now. Their owner can't even go to the bathroom in peace."
She's hopeful that Angel Pie will turn out similarly, but she knows it will be a challenge. Still, despite her chronic backache from scooping kitty litter and emotional nights when a kitten is sick or doesn't make it, it's cats like Fig and Dumpling that keep Beth and Howard Stern doing the hard work of saving so many animals.
"It's why I keep going," she said. "Kittens are the best therapy."
Correction: The original version of this story stated that Howard Stern's net worth was $90 million. He earned $90 million in 2016, according to Forbes.