Beto O'Rourke Has Raised More Money Than Any Senate Candidate in U.S. History. This Map Shows Where the Donations Are Coming From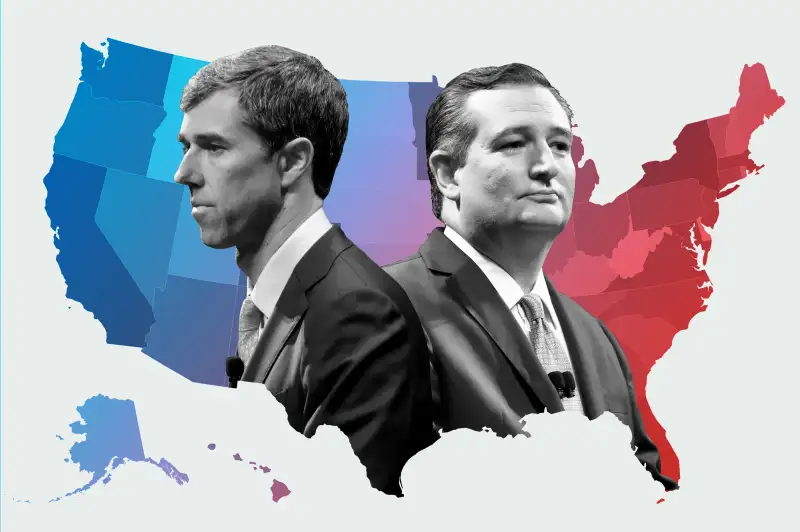 Photo illustration by Sarina Finkelstein for Money: Getty Images (2)
In the closely watched race to represent Texas in the U.S. Senate, Beto O'Rourke is giving Ted Cruz a run for his campaign money.
Democratic candidate O'Rourke has raised twice as many dollars as Republican incumbent Ted Cruz, and more than any other U.S. Senate candidate in history. He entered the race as the lesser known candidate and is representing the democratic party in a deep red state, but in the months leading up to next week's general election, O'Rourke has come out as the breadwinner in the most highly funded race in the 2018 midterm elections. According to the Center for Responsive Politics, the two candidates have raised a combined $100 million, with well over half of that amount coming from O'Rourke's donors.
So where are O'Rourke's biggest monetary supporters located? Of the $70 million raised by O'Rourke's campaign, about $25 million can be traced back to the donors (which includes individuals, companies, organizations, candidates, committees and PACs), thanks to itemized receipts posted by the Federal Elections Commission. Removing the $100,000 that came from individuals in the armed forces or those living outside 50 states and Washington D.C., here's where that money came from:
Unsurprisingly, donors in Texas sent a significant chunk of the $25 million. At $13 million, receipts from The Lone Star State added up to more than all of the other states' amounts combined. The states that delivered the next highest sums, California and New York, didn't even come close, contributing in the $2 million to $4 million range according to the filings.
A curiously large number of donations came from West Somerville, Mass. A closer look showed that it was because of the nonprofit organization ActBlue, which offers an online portal to help small-dollar donors contribute to Democratic causes and candidates. Donations done through an intermediary like ActBlue must be filed twice — once for the conduit and once for the actual donor — in the name of full disclosure. For the purpose of the map, Money used the latter in order to ensure that the contributions were accurately distributed to each state. But interesting to note that those line items listed under "ActBlue" added up to $19 million, meaning small-dollar donors accounted for a significant portion of O'Rourke's total raised — three-fourths of the $70 million, according to Dallas News.
That's not to take away from Massachusetts' share of the pie, of course. Even without ActBlue's help, the historically blue state's contributions amounted to $819,175; the fourth highest behind New York and ahead of Washington.
The smallest contributions to O'Rourke's campaign, meanwhile, came from the Dakotas and West Virginia, but these states weren't dropping a lot on his opponent either. As this map built on the same scale shows, almost all of the states that donated less than $10,000 to O'Rourke's campaign did the same for Cruz. Iowa, which sent $26,000 to Cruz and a little less than $10,000 to O'Rourke, was the exception.
Donors in Texas were responsible for most of Cruz's campaign money as well. In fact, in proportion to their respective itemized amounts, the $7 million Cruz received was more than what O'Rourke got from their home state.
Ultimately, dollars don't always translate to results: Cruz continues to poll ahead of his democratic challenger and Republican leaders aren't really sweating the fundraising numbers. Texas, after all, hasn't elected a democratic senator since 1970.