Here's How Much Bill Gates Is Worth—and How He Spends It All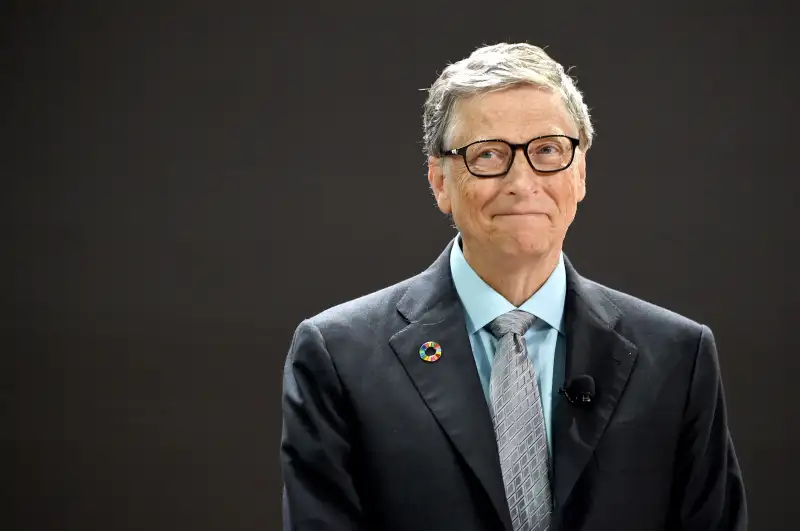 Jamie McCarthy—Getty Images for Bill & Melinda Gates Foundation
Bill Gates is no longer the richest person in the world, having been surpassed last year by Amazon's Jeff Bezos, whom Bloomberg reports has now made more money than Gates ever has.
But No. 2 isn't a bad place to be, especially when you're still worth about $94 billion.
Today, Gates leverages most of that wealth for philanthropy. He's a member of The Giving Pledge—a group of global megarich who have promised to give away the majority of their fortunes—and invests million in researching innovative treatments for diseases like Alzheimer's and dementia.
He also uses his wealth for projects like "Belmont," a smart city near Phoenix. Gates recently announced he's investing about $80 million in the 24,800-acre development.
Innovation, of course, is what pushed Gates to become the richest person in the world in the first place, as he led Microsoft to become one of the most successful tech companies of the second half of the 20th century.
Bill Gates and Microsoft Today
In 2000, Gates relinquished his role as CEO of Microsoft—the company he co-founded in his 20s with Paul Allen—to Steve Ballmer. Gates remained on as Microsoft's chairman.
Satya Nadella became CEO of Microsoft in 2014. Around the same time Gates announced that he would be stepping down as chairman to become a technology adviser for the company.
Gates remains an adviser today, almost exclusively focusing on product strategy, according to a recent Wall Street Journal interview. But Gates is mostly mum on his precise activities—his Twitter account rarely mentions developments at the company, focusing instead on his foundation's work in alleviating global poverty and illnesses.
Bill Gates' Home
Mike Siegel—The LIFE Images Collection/Getty Images
Gates lives in a home that's been dubbed Xanadu 2.0. It was built in the '90s and extensively documented in 1997 by U.S. News and World Report. Nestled on the banks of Lake Washington outside of Seattle, the original 44,000-square-foot property was purchased for $60 million, according to the Washington Post.
Among the property's features when it was completed:
A special pin that allowed the house's rooms to adapt to each guest's taste in music, movies, art, and temperature. If you moved from one room to another, the movie or song you were listening to would move with you. If you got a phone call, only phones in the room you were in would ring.
Centuries-old Douglas fir wood recovered from a nearby derelict lumber mill, "painstakingly sanded and refinished to a satin glow," according to U.S. News.
A grand staircase that's 92 feet long and 63 feet high.
A 60-foot swimming pool with an underwater music system.
A trampoline room with a 20-foot ceiling.
A library with two secret pivoting bookcases, one hiding a bar. The library is also home to Leonardo da Vinci's 16th-century notebook, the Codex Leicester, which Gates purchased for more than $30 million.
Inscribed on the base of the library's dome is a line from The Great Gatsby: "He had come a long way to this blue lawn, and his dream must have seemed so close that he could hardly fail to grasp it."
It is not known what, if any, renovations Gates has made to the house. According to a Zillow estimate, Xanadu 2.0 is worth about $172 million.
You can walk through his house thanks to a guided tour Gates put together:
Bill Gates and Cars
Gates loves Porsches. In fact, his infamous youthful mugshot is the result of being cited for driving a Porsche 911 recklessly in New Mexico.
"When Microsoft was based in Albuquerque, N.M., in its early years, he bought a Porsche 911 and used to race it in the desert; Paul Allen had to bail him out of jail after one midnight escapade," author Walter Isaacson wrote in TIME in 1997.
Gates no longer has that particular Porsche.
But he loves Porsches so much that he successfully lobbied Congress to change a law that allowed him to drive Porsche's 959, which had been banned from the U.S. because of the German automaker's refusal to submit crash models to U.S. authorities.
According to USA Today, Gates still owns a "collection of sports cars" that has over the years included a Lexus, Ferrari, and at least one or two more Porsches.
The Bill and Melinda Gates Foundation
Today, Gates spends most of his time and resources on the foundation he set up in 2000 with his wife Melinda. At the end of 2016, it had assets worth $41 billion, according to financial records.
Most of the foundation's work occurs in underdeveloped countries, with the bulk of its resources spent on alleviating infectious diseases like malaria and tuberculosis. It also focuses on STD control, reproductive care, and family planning.
In a recent interview with TIME, Gates talked about the foundation's recent focus on preventing pandemics in poor countries.
"Of all the major bad things that could happen—a nuclear war, an asteroid, a gigantic earthquake—the one that's the most scary is a big epidemic, like a flu epidemic sweeping the world as it did in 1918," he said. "And so helping poor countries so they would detect it early—and they'd have the capacity to stop it when the numbers are very, very small—is advantageous to the entire world."
The Gates Foundation also dabbles in other investments. It has begun backing Ripple, a cryptocurrency seen as an alternative to Bitcoin. The foundation says it's helping Ripple and its developers create a new payments platform that can "help empower billions of new customers and drive massive economic growth in developing markets."
Ripple isn't the first time Gates has shown an interest in cryptocurrency. Back in 2014, Gates called Bitcoin exciting, adding that it's "better than currency in that you don't have to be physically in the same place and, of course, for large transactions, currency can get pretty inconvenient."