Here's Proof that Retailers Offer the Same Black Friday Deals Year After Year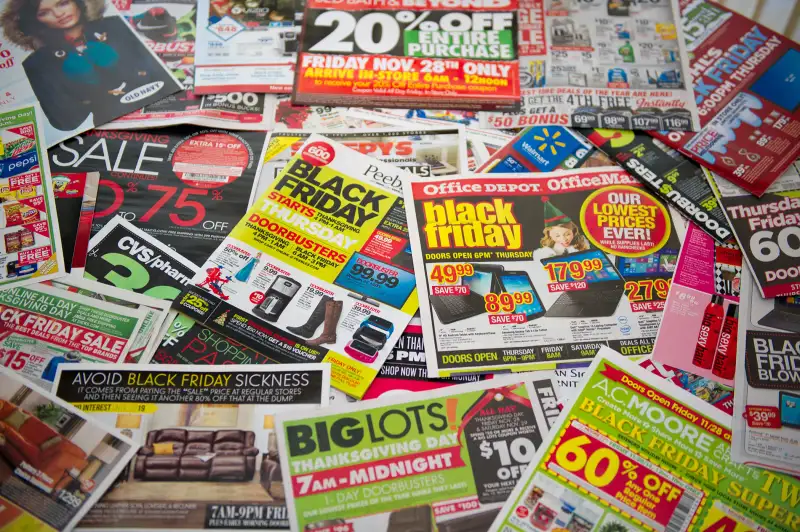 Robert Barnes—Getty Images
Industry observers have been tracking the decline of Black Friday for years. The dramatic increase in online shopping, combined with the broad expansion of holiday shopping promotions to include deals as early as September and store hours on Thanksgiving, are frequently blamed as reasons why fewer consumers go shopping on Black Friday and the four-day Thanksgiving weekend as a whole.
Another reason for the dwindling importance of Black Friday is that people think the deals simply aren't that amazing. In a poll conducted a year ago, 70% of shoppers agreed with the idea that Black Friday is meaningless because "there will be more sales throughout the holidays."
New research from the bargain-hunting site BradsDeals.com offers proof that, quite often, there isn't much special about the latest crop of Black Friday deals. The site, run by Brad Wilson, has been tracking deals for years, and this past week offered a look back at Black Friday brochures from retailers like Target, Walmart, Sears, and Toys R Us from the years 2012 to 2014. What the brochures show is that, year after year, many stores often roll out the same exact items at the nearly or exactly the same prices for the Black Friday period.
The revelation—which isn't a surprise to many shoppers, who have come to view Black Friday with skepticism and an understandable sense of déjà vu—obviously undermines the idea that Black Friday sales cannot be passed up because they are unique, one-time-only events.
BradsDeals showed that the Black Friday brochures from 2012, 2013, and 2014 for Target, for instance, had an eerie resemblance to each other. Not only were many of the items the same—with a very slight price difference here and there—but the layouts in the brochures were nearly identical too. The word "DOORBUSTER" is at the top of all three brochures, a kitchen mixer is in the upper left corner, and a spread showing a blender, crock pot, and a griddle is to the right.
The site found multiple repeat items (and prices) in Black Friday brochures for Walmart, Sears, Toys R Us, Bon-Ton, and Kohl's as well. The takeaway, according to BradsDeals, is that while genuinely extraordinary deals do pop up on Black Friday, "It's hard not to see Black Friday for what it is: a lot of hype about deals that often return again and again throughout the year." Use this as your excuse to sleep in and avoid the crowds on the day after Thanksgiving: "The realization that you can buy a discounted Keurig or Dyson vacuum or KitchenAid Stand Mixer nearly every month of the year is liberating."