6 Ways to Maximize Productivity on a Snow Day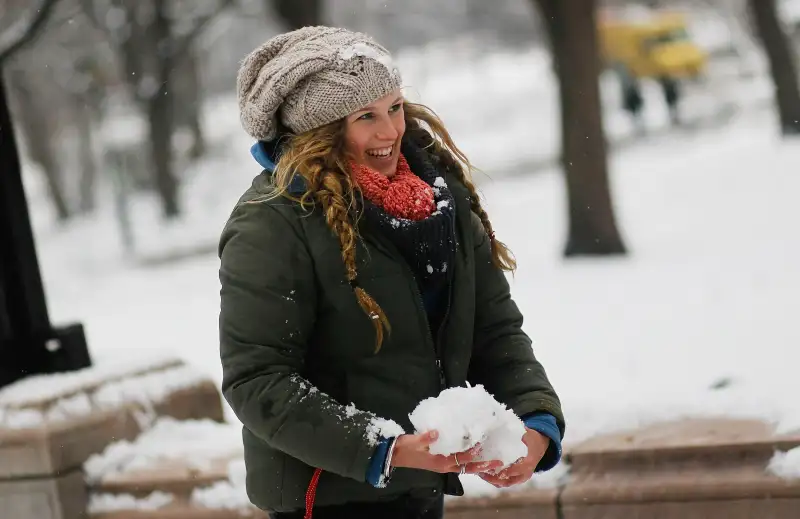 Chris Hondros—Getty Images
If you're a resident of the Mid-Atlantic or Northeast, you're probably already thinking about how you might be affected by the big snow storm that's already begun hitting the area.
Your office may be closed. Your kids might be home from school.
How do you stay productive when you're unexpectedly forced to work from home with the kids begging you to play with them? Use these strategies:
Postpone Powwows

The most pressing items are scheduled meetings that involve others. If you had a live meeting planned, notify attendees of the cancellation and work on rescheduling it.
Get Set Up in Advance
If you haven't left the office yet, do a sweep of your desk, and bring home with you any paperwork you'll need to continue to operate from home this afternoon or tomorrow. Particularly if you have important calls, make sure you have all of the material you need so that you aren't the one holding up progress.
If you haven't been set up to work remotely and don't have access to your files, you may have to work with IT and/or your boss to gain access—this takes time so do this early.
Do Some Task Triage
Already at home? If you're not used to working there, you may not have the best setup. You may not have all of the files you need; you may not have the best equipment; you may need to interact with colleagues who are not readily available.
Itemize what you had planned to do and categorize by what you can postpone for when you're back in the office, what you still can do from home, and what you can do but might need some preparation (e.g., help from IT in downloading a file).
Knowing what you can do, and by when, enables you to focus on feasible activities and gives you a heads-up on how your days will unfold when you return to the office.
Eliminate Distractions
Your kids' unbounded excitement over having a snow day can distract from calls that require quiet or deadlines that require focus.
You have a few options: Trade babysitting with a neighbor. Pay your older kid extra chore money for impromptu babysitting. Tap the electronic babysitter—extra TV or computer time—for when you need silence or uninterrupted blocks of concentration.
Take Advantages of the Perks
Even if you don't have the best setup, you still might be more productive overall.
You'll probably eat better, since you can fix a nutritious meal instead of rushing out for fast food. If meetings have been postponed, you now have blocks of time to catch up on another project. Even your break time can be productive, as you grab a snack with your kids or put in a load of laundry or do a quick home workout.
Start Planning for the Next Work-at-Home Emergency
If you find that you're ill-equipped to work from home, work with IT when you return to the office to improve for next time. Plan for remote access of files, invest in a faster laptop or mobile device, and know which activities and projects are equally effective when done remotely.
Caroline Ceniza-Levine is co-founder of SixFigureStart® career coaching. She has worked with professionals from American Express, Condé Nast, Gilt, Goldman Sachs, Google, McKinsey, and other leading firms. She's also a stand-up comic. This column appears weekly.
Read more from Caroline Ceniza-Levine: