How to Tell a Friend You Can't Afford to Be a Bridesmaid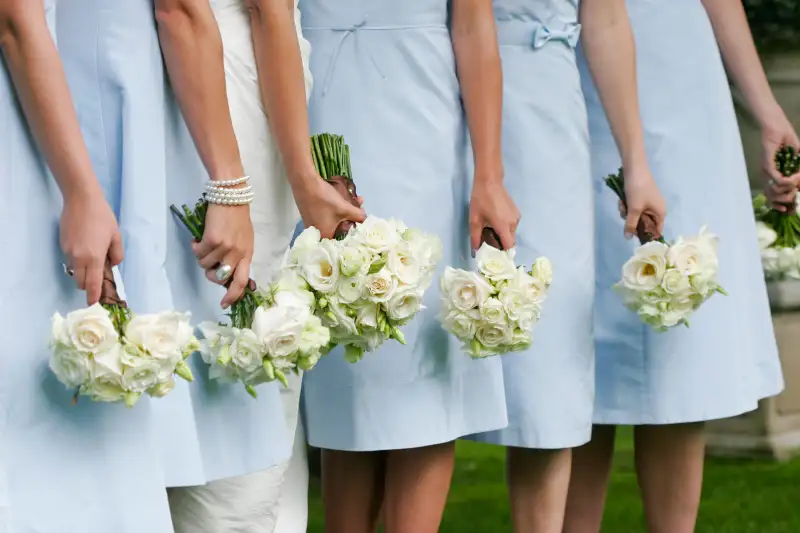 You couldn't be happier your best friend's going to tie the knot—but your stomach gets tied in a knot every time you think about how much it will cost to be in her bridal party.
In an ideal world, you'd have enough cash set aside to afford it, but being a bridesmaid is a pricey affair. Between dress, travel, gifts, hair and makeup, shower, and bachelorette party, you can expect to spend an average $1,695, according to a 2011 estimate by WeddingChannel.com (now part of The Knot).
You don't want to risk spending the big day fretting over finances, or worse, going into debt to make it to the wedding. If your budget's too tight to be a bridesmaid, you'll need to break it to the bride—in person, says Susan Bross, a financial counselor and coach who has been in this situation herself.
Cringing as you read this? Here's what to say to let your pal down gently:
YOU SAY: "I love you so much, and I can't tell you how much it means to me that you asked me to be one of your bridesmaids."
Carefully consider where and how you break this news to your friend, says Bross. You want to do it at a place and time where you can come off as calm and self-assured.
Then open by expressing gratitude and reinforcing how much your friend means to you, says Laurie Puhn, author of Instant Persuasion: How to Change Your Words to Change Your Life. In essence, you want to say, "I'm honored to be asked." This way, you're making sure she walks away knowing that your saying no has nothing to do with her—if you could afford to be in the wedding, you would.
YOU SAY: "I know you're working hard to plan this wedding, and I wish I could be there with you. But this year has been tough for me financially, and I don't think I can swing this. I hope you'll understand."

Be as honest as you feel comfortable being about what's holding you back from coming, whether you're climbing out of debt or trying to meet a savings goal.
"But make sure that what you're saying makes sense," says Puhn. "Recognize that she probably will be hurt if she sees you spending money on other things." In other words, don't splurge on a vacation three weeks later!
Also, stay away from any language that makes it seem like your friend's choices are what's keeping you from attending (e.g. "If only you weren't getting married in Aruba...).
Anyway, if your friend's wedding is in a particularly far-flung locale, she's probably already braced for no-shows. "A person having a destination wedding knows they don't have the right to be offended if someone can't come," says Puhn.
YOU SAY: "I wanted to tell you as soon as I could."
"It's easy to procrastinate this kind of conversation because it's uncomfortable," says Eric Dammann, a clinical psychologist and financial coach in New York City.
But by having it early in the process, you're showing that you understand the pressures your friend is under—planning a wedding is hard work!—and respect that she may need time to find an alternate person to fill your dancing shoes.
Plus, the sooner you say something, the sooner you'll feel better.
YOU SAY: "I'd really like to celebrate this big milestone in another way; maybe I could..."
End on a happy note by suggesting an alternative time to celebrate your pal's nuptials before or after the big day, says Dammann. "Create some other way to be a part of it."
Consider what you can afford: You might throw a shower in the bride's honor at your place, help plan the bachelorette events, or take her out to her favorite restaurant one-on-one.
Even combined with a thoughtful gift, you'll save hundreds of dollars over the cost of being a bridesmaid.