Capital One Launches Robo-Adviser, With Humans on the Phone
Money is not a client of any investment adviser featured on this page. The information provided on this page is for educational purposes only and is not intended as investment advice. Money does not offer advisory services.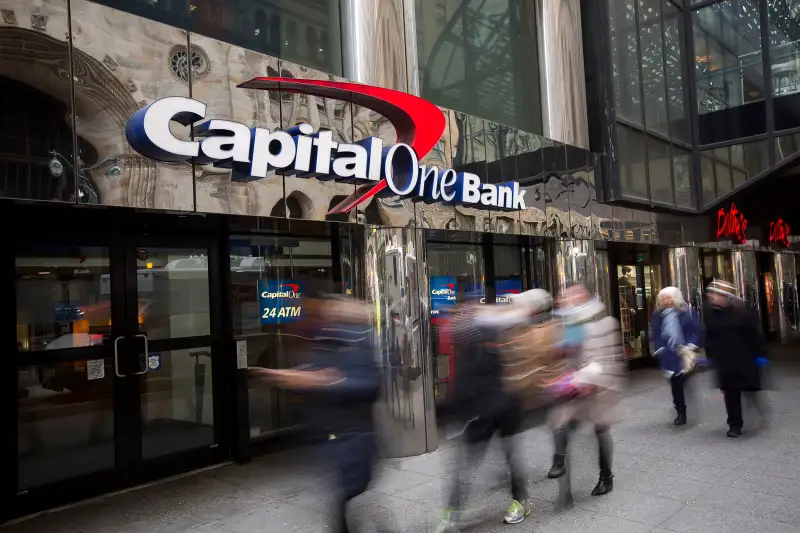 Michael Nagle—Bloomberg/Getty Images
Capital One is the latest financial company getting into the digital advice game, but also is the third big player to couple it with human advisers who talk to clients by phone.
Robo-adviser firms have popped up in recent years offering low-cost online investment guidance–seeking to supplant traditional, physical brokers (who charge commissions for buying funds and securities) and fee-only advisors (who typically take a slice of your portfolio, often 1% annually). The robos like to say they have no conflict of interest because a computer dispassionately picks your investments. The rap on digital advisers, though, is that they lack the personal insight into your every-day life.
Vanguard Investments, the huge mutual fund house, and Personal Capital, a robo that debuted five years ago, first sought to remedy this. They began offering human advisers that clients could consult to deal with real-life circumstances an algorithm couldn't: your losing your job, your demented parent, your autistic child, your dreams of buying a second home. Both, like Capital One, require a minimum investment.
Starting Friday, Capital One unveiled its new robo service. Customers with $25,0000 can sign up for an automated, algorithm-based portfolio management service. And they also get access to a living, breathing team of advisers, located in Wilmington, Del., where Capital One is based.
The service, called Advisor Connect, will link U.S. clients to certified financial planners on the phone. Capital One's participating advisers are compensated through a salary and bonuses "so they can completely sit on the same table with customers and really offer conflict-free advice," says Yvette Butler, president of Capital One Investing, says of the new hybrid advice program.
This digital platform has seven low-cost exchange-traded fund portfolios covering several asset classes—stocks, bonds, and cash—along with tools like automated monitoring and daily rebalancing, guided by algorithms. Capital One charges 0.9% to manage the assets annually.
Millennials, with their zest for technology and for avoiding high investing costs, have crowded into robo-advisers. But Capital One believes its service will appeal more to a slightly older group, whose finances are more complicated, which she calls "the millennial-minded." These investors want to start digitally first and are very concerned with transparency around pricing and fees.
Going forward, Capital One plans to roll out a version for customers who want to use the digital portfolio platform alone, without speaking to the physical advisers.
What's the difference between Capital One's program and those of Vanguard and Personal Capital? With Vanguard one distinction is where its investment products come from. Vanguard Personal Advisor Services offers only Vanguard funds, but Capital One chooses products from several places beyond its walls. "We are set up to be your adviser and adviser only, so we don't have any proprietary funds," Butler says. Also the Capital One program only requires half the initial investment that Vanguard does, $50,000.
Capital One's platform is most similar to Personal Capital, which launched in 2011. Its human advisers are available via phone, email, or live chat. And Personal Capital—which also requires a minimum $25,000 investment—charges slightly less than Capital One, 0.89% on the first $1 million, to manage assets.
Either way, it's likely that many more robo-advisers will supplement their computer-generated portfolios with the warm voices of real people.