What Cats Can Teach You About Investing in the Stock Market
Money is not a client of any investment adviser featured on this page. The information provided on this page is for educational purposes only and is not intended as investment advice. Money does not offer advisory services.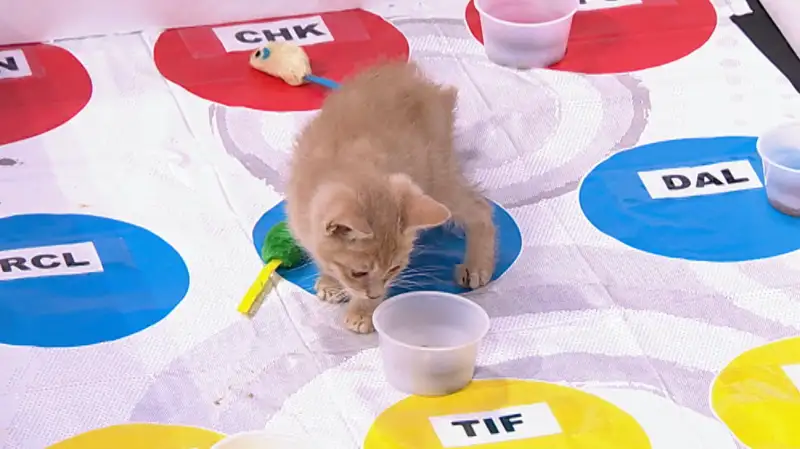 How do you talk about the market without having people fall asleep? Have cats trade stocks, of course.
This week Money used kittens provided by the Best Friends Animal Society to illustrate the complexities of the equity market and explain how difficult it is to pick and flip stocks without losing your shirt.
Feline siblings Macy and Mattox were given a set of 24 shares to choose from, representing some of the most recognizable, yet volatile companies in the S&P 500 index. Obviously, they couldn't tell us which stocks they wanted to buy or sell — they are only 3 months old, after all.
So treats, food, toys, and water were randomly placed on each spot on a Twister game board. Whenever a cat interacted with the bait, Money staffers Ian Salisbury or Megan Leonhardt would purchase the corresponding stock labeled on each dot on their behalf.
No real cash was used. Instead, both kittens started out with $100,000 in play money on TD Ameritrade's ThinkorSwim simulated trading platform.
Picks of the Litter
Over the course of the hour, the kittens "bought and sold" about 17 different stocks.
Macy seemed to favor more trendy, millennial-friendly names, even if some were trading at frothy valuations.
Overall, she ended up buying Amazon.com , Alphabet , Mattel , Charles Schwab , News Corp. , Caterpillar , and Allergan . Macy also bought and sold Netflix , and bought, sold, and repurchased Marathon Oil . Talk about finicky.
Mattox went a slightly different route, picking up several dividend-paying stocks along with shares of companies sporting lower price/earnings ratios than the broad market. Mattox bought: Verizon , Delta Airlines , Citigroup , DuPont , Royal Caribbean , Chesapeake Energy , and Gap . Mattox also bought and sold Tiffany & Co. .
Purr-formance
Macy ended the day with $99,919 (after starting out with an initial $100,000) and Mattox had $99,809.
This doesn't mean valuations don't matter. Research shows that the single biggest determinant of stock market returns over the long run — meaning 10 years or more — is the price/earnings ratio. However, our exercise took place over just a single hour, in which case anything can happen.
And while Macy technically "won," in the end, both kittens actually lost a combined total of almost $500. And that's just in an hour of trading.
And that's the big takeaway.
Feral Fees
The fact is, only about 13% of day traders are profitable in any given year, according to academic research. And less than 1% consistently turn a profit.
One of the big reasons for this is trading costs.
In our exercise, every time Ian or Megan entered a trade for Macy or Mattox, it cost $9.99 in commissions to execute, in addition to the value of the stocks bought or sold. So with 17 stocks and a few round-trip trades, our kittens racked up about $220 in flat-rate commissions. And that was just in an hour.
This is not to say equities are a bad bet. Historically, the S&P 500 total returns average about 9.5% per year—even when factoring in the bad years.
But generally speaking, the surest way to earn those types of returns is to put your money in a low-cost index fund that tracks the broad market — and just hang on for decades.
Watch the video below: