Here's Why Gas Prices Are Rising in 2019 — and How to Save Money Every Time You Fill Up the Tank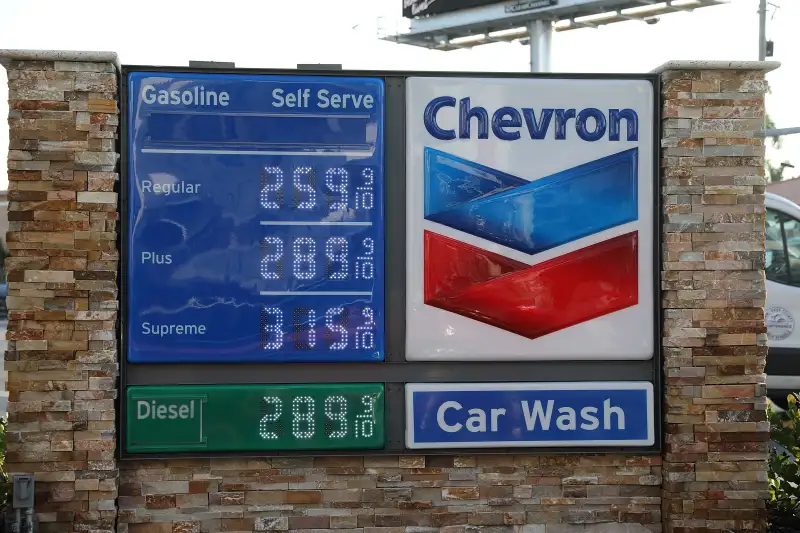 Drivers accustomed to cheap gas prices have been unpleasantly surprised by higher prices at the pump lately.
The biggest one-week rise in gas prices so far in 2019 just took place at gas stations around the country — an average price increase of $.06 per gallon of regular, according to the gas-tracking site and app GasBuddy. Over the past month, gas prices are up $.14 per gallon, climbing to a national average of $2.40 per AAA. Drivers in some states have seen gas prices soar recently: In one week's time, average gas prices have increased $.12 in Indiana and Iowa, $.13 in New Mexico, and $.15 in Minnesota.
Mind you, drivers are still enjoying very cheap gas prices in the grand scheme of things. As a AAA press release noted earlier this week, 80% of U.S. gas stations are posting gas prices at $2.50 or less per gallon.
The current national average may be higher than it was at this time of year in 2016 ($1.70) or 2017 ($2.30), but it's lower compared to late February 2018 ($2.53). And today's gas prices are dirt cheap compared to five or six years ago, when $3 a gallon was considered a bargain — and gas stations in several states were averaging over $4 a gallon.
Here's some background on why gas prices rise and fall, and some tips for saving money on gas every time you fill up at the pump.
Why Are Gas Prices Rising?
There is no one single explanation for why gas prices increase — right now, or in general.
The biggest reason that consumer gas prices rise or fall is that they are tied to the costs of wholesale oil, which is refined and turned into the gasoline drivers pump into their vehicles. When wholesale oil prices rise or fall, prices at gas stations follow, if not immediately and in a direct 1:1 ratio then slowly but surely.
The current price of WTI (West Texas Intermediate) crude oil is $55 per barrel, according to U.S. Energy Information Administration (EIA), and consumer gas prices are averaging $2.40. At the end of 2018, WTI crude oil prices were about $45 a barrel, and the average price of a gallon of regular in the U.S. was about $2.25. In 2012, when crude oil prices were over $100 per barrel, the average price of gasoline was closer to $4 per gallon. So as you can see, there's a clear correlation between oil prices and gas prices.
As for why wholesale oil prices rise and fall, that's a far more complicated issue, determined by factors including international trade agreements, pricing and output decisions made by major oil refineries, and basic supply and demand. Oil prices and gas prices alike tend to rise in spring and early summer, coinciding with the seasonal increase in demand by drivers heading on road trips and vacations.
Will gas prices go up or decrease going forward in 2019? Predicting whether gas prices will rise is as problematic as forecasting how the stock market will fare. But the EIA forecasts that WTI crude oil prices will rise gradually in the months ahead, climbing to average of $61 per barrel in 2019 and $65 per barrel for 2020. If that happens, drivers should expect higher gas prices ahead — not sharp or dramatic increases, but gradual ones.
In addition to the fluctuating oil prices, consumer gas prices can be impacted by state taxes and local refinery issues. For example, New Jersey gas prices have been increasing significantly as gas tax hikes have been instituted in the state. Gas prices in California are also often far higher than other states due to higher taxes, regulations, and periodic oil refinery problems.
Where to Find the Cheapest Gas Prices
No matter whether gas prices are high or low in the big picture, drivers always want to find the cheapest gas prices possible.
As with so many things, it pays to shop around. Some gas stations have lower prices than others, even when they're located in close proximity. Gas stations operated or affiliated with big retailers like Costco and Walmart regularly undercut the competition with cheap gas prices, to incentivize shoppers to swing by their stores.
Apps such as GasBuddy let drivers search by location for the cheapest gas prices, and though they're generally accurate the pricing information is often submitted by users so they can sometimes be off.
How to Save on Gas
Beyond gas price-tracking apps and shopping around, there are other ways for drivers to save on gas.
Choosing the right credit card to pay for gas can save you money every time you fill up. Some credit cards offer upwards of 5% cash back on gas at certain times of year. Other cards give 3% cash back on gas prices year-round. Credit cards and payment systems affiliated with gas stations themselves may also offer discounts: ExxonMobil customers can save $.12 per gallon for a limited time by opening a new credit card, or $.50 off per gallon on some gas by setting up a partner mobile app payment system.
Finally, many grocery store chains have rewards systems that give customers discounted gas prices too. At Stop and Shop and Giant Food, for example, rewards members can save up to $1.50 per gallon when filling up, with discounts doled out at $.10 per gallon for every $100 spent at the supermarket.