The Cheapest Way to Achieve Your Fitness Goals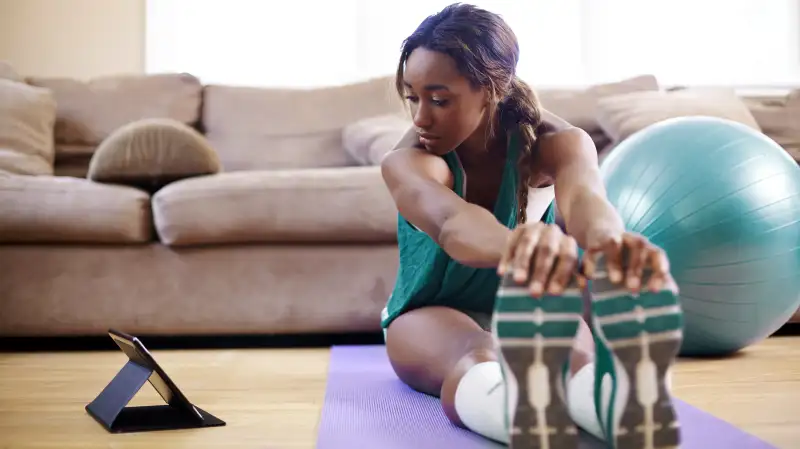 Kevin Kozicki—Getty Images/Image Source
This time of year, gyms try hard to woo those who made losing weight their number one New Year's resolution with promotional deals and the promise of "A New You for the New Year!"
But don't be too quick to sign a contract. Research shows that 67% of gym memberships go unused, and at an average of $58 a month, you could be burning more money than calories in 2015.
Here are a few inexpensive gym alternatives that can provide the guidance and motivation you need as you lunge your way towards your fitness goals:
Your Digital Personal Trainer
A few sessions with a personal trainer will keep you honest, but at a price.
While it may not be quite as personal, you can get similar encouragement through technology: There are tons of free apps out there to help you come up with workout routines, track your fitness goals and monitor your progress, says Sarah Krieger, registered dietician and spokesperson for the Academy of Nutrition and Dietetics. She suggested Johnson & Johnson's Official 7 Minute Workout, which also made Men's Fitness list of best fitness apps of 2014. "You can download it once and do it anywhere, even hotel rooms," she says.
Men's Fitness also liked apps like Six Pack Abs, CycleNav for bikers, and Strength Calc Natty Edition for weightlifters. Jessica Matthews, senior health and fitness expert for the American Council on Exercise, adds that calorie tracking apps like My Fitness Pal can also be great motivators, says Matthews. On that app, you can track your weight loss and body measurements, set goals for yourself, and get encouragement from friends who also use the tool.
Willing to spend a little bit of money? Wearables like FitBit ($60 to $250) and UP by Jawbone ($50 to $180) give you a more comprehensive analysis of your physical activity as well as monitoring your progress—which can really help you stick with a new regime, says Matthews.
Classes on Your Computer
Maybe you need a structured fitness program to keep you on track? You can replicate the experience of aerobics classes in your own home.
DVD series like P90X have become popular at-home workout options. However, such programs do typically require an initial investment of more than $100.
That's cheaper than a gym, but you may be able to do even better on price: Subscription streaming services like DailyBurn, YogaGlo or SpiroFIT offer a variety of workout options for $5 to $18 a month.
Or there's YouTube, which offers a lot of free exercise content.
Big names in the fitness world like Todd Durkin and Stacy McCarthy have their own channels, says Matthews, "and every major kind of fitness organization is putting out free content as well."
Web-based services are especially convenient, because they offer expert instruction wherever and whenever you have time for a few lunges. "As long as you have power, you have access to any kind of exercise in video form right there in your living room," Krieger says.
Equipment at a Discount
Who needs equipment? You have access to one of the greatest machines ever built—your body. Bodyweight exercises have actually been a trend in the fitness industry over the past few years, says Matthews.
Considered functional fitness, squats, lunges and pushups are great for beginners because they don't require equipment and can be modified based on your fitness level, Matthews adds.
But if you know you'd be more likely to work out if you had a full free-weight set, or machinery like a treadmill or elliptical, buying used will save you some money, Krieger advises.
Much like unused gym memberships, nearly two thirds of Americans haven't used their exercise equipment in six months or more. So at yard sales, resale stores, and sites like Craigslist and eBay, thrifty shoppers can find equipment that has been gathering dust in the neighbor's basement for a discounted price. Looking at Craigslist in Philadelphia recently, there were many treadmill options available for $200 or less.
The one thing Krieger definitely recommends investing in? A good pair of shoes that you feel comfortable walking a mile in. That's a good way to stay excited about getting up from your desk to burn a couple extra calories on your lunch break.
"We all are committed to our desk," she says, "but if you really can walk the stairs in any building or pick the parking space way in the back of the lot, it really is better for your health."
If you do decide to join a gym…
•Stay close to home. Remember that convenience is the key to a lasting change, so don't opt for the nice big gym across town with the great promotion if it's so far out of the way that you will never go to it.
•Read the fine print. Many gyms require you to sign a contract. Knowing the terms of your agreement, particularly the length of the contract, what is included in your payments and how to cancel your membership, is crucial.
•Shop around. Around the New Year, many gyms waive their initiation fee, says Matthews. And if they haven't, it's not too brazen to ask if they'd waive it just for you. With so many fitness options available at discounted prices this season, the gym might be willing to drop the fee if it means they win your business.
•Start with a free trial. Many gyms offer guest passes that allow you to get a feel for the facilities, plus help you determine if you will keep up your end of the I'm-going-to-the-gym-four-times-a-week resolution before you shell out the big bucks for a full membership.
More on resolutions: