'Chewbacca Mom' Has Gotten $420,000 Worth of Gifts Since Facebook Video Went Viral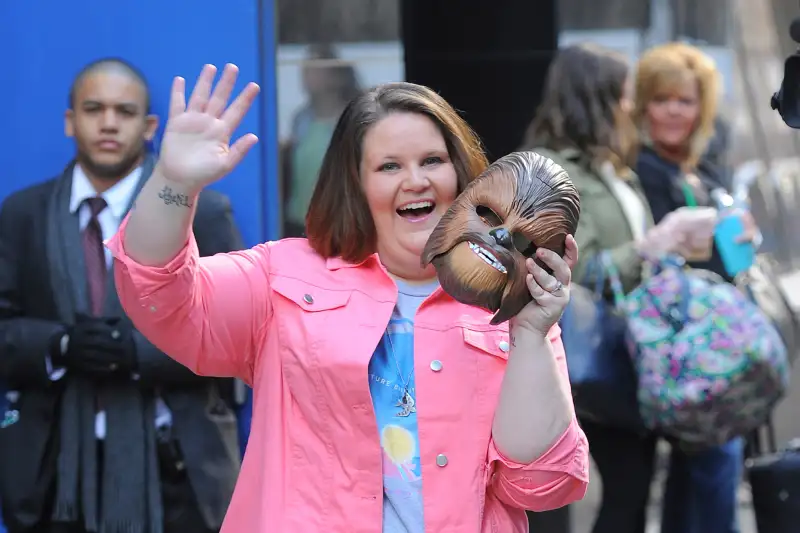 Josiah Kamau—BuzzFoto via Getty Images
If you haven't heard of "Chewbacca Mom," you're probably not on Facebook—and don't watch morning or late-night talk shows. Or leave the house much. "Chewbacca Mom" is of course Candace Payne, the Wookie-loving stay-at-home mom from Grand Prairie, Texas, whose claim to fame is the posting of a Facebook Live video in which she giggles joyfully and infectiously while wearing her new Chewbacca mask.
The video, posted on May 19, quickly became the most-watched Facebook Live video ever, and has been viewed more than 150 million times and counting. It's also been shared more than 3 million times.
The mask she wore was sold out in stores almost immediately, and Payne has been heralded as a hero for her celebration of simple joys. She's also been honored around the country as the IT MOM of the moment, with visits to talk shows and theme parks and free shwag almost everywhere she goes.
The benefits of being Chewbacca Mom and enjoying life to the fullest are "priceless," to quote the MasterCard ads. But we were curious and did some back-of-the-envelope math anyway, to come up with ballpark estimates for all the money that's been spent on Payne and her family during their moment in the spotlight. For a little perspective, let's pause and consider that everything below came as a result of mom making an impulse-shopping purchase and then posting a silly video about it on a whim.
Gifts from Kohl's: $3,000
Kohl's got plenty of free publicity thanks to Payne mentioning in her video that she purchased her Chewbacca mask there. And Kohl's returned the favor by showing up at Payne's home with a collection of gifts, including dozens of toys, $2,500 in gift cards, and (of course) Chewbacca masks for her whole family so no one has to share.
Travel, Talk Show Visits: $7,500
Last week Payne traipsed around the country on a whirlwind tour in which she hit New York City for an appearance on "Good Morning America," out to Los Angeles to hang out with J.J. Abrams and James Corden on "The Late Late Show," and onward to San Francisco for visits to Lucasfilm Studios and Facebook headquarters. Adding up rough estimates for all of flights, hotels, and VIP tours involved, plus assorted gifts along the way (Hasbro chipped in with a $2,500 gift certificate and more toys), and it comes to about $7,500.
Walt Disney World Vacation: $7,500
Payne's whole family was treated to a free vacation to Walt Disney World over Memorial Day weekend, highlighted by a visit to Disney's Hollywood Studios theme park and an up-close meet-and-greet with Chewbacca himself, complete with prerequisite selfies. Our ballpark estimate for the trip, based on last-minute bookings for flights and hotels over the holiday weekend, plus food and theme park passes for a family of four, is $7,500.
Fan Expo Dallas VIP Treatment: $2,000
During one of Payne's talk show appearances, host James Corden told Chewbacca Mom that she would soon get to meet the "real" Chewbacca. Peter Mayhew, the actor inside the Chewbacca costume in the original Star Wars films, invited Payne and her family to attend the Fan Expo Dallas convention on June 3 to 5, with VIP passes for everyone (they normally cost $419 apiece plus fees). According to the Fort-Worth Star-Telegram, Payne will be posing for selfies at the convention with anyone who pays $20, and a portion of the proceeds goes to the Oaks Fellowship "All-In," a Christian ministry initiative.
College Scholarships: $400,000
The strangest of the gifts (so far) handed over to Payne must be the full college scholarships provided to her and her family from Southeastern University, "a Christ-centered institution of higher learning" in central Florida. "Candace has inspired us and others with her joy, and we want her and her family to experience some of that same joy through this gift," Dr. Kent Ingle, president of the college, said.
Tuition and fees cost about $12,000 per semester right now, and if all four members of Payne's family attended and completed degrees in eight semesters, it would come to $96,000 per person, or $384,000 total. We're rounding that up to $400,000, assuming that tuition will be more expensive by the time Payne's kids are old enough for college.