This Tech Giant Is Giving $50 Million to Fight Homelessness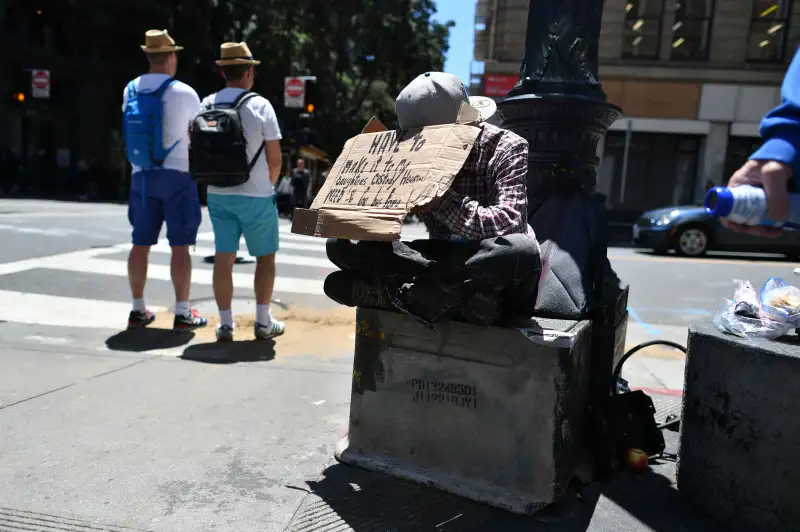 JOSH EDELSON—AFP/Getty Images
SAN FRANCISCO (AP) — Internet gear maker Cisco Systems Inc. announced Monday that it will donate $50 million over five years to address the growing problem of homelessness in California's Santa Clara County and is encouraging other Silicon Valley companies to make similar efforts.
In a blog post, Chief Executive Chuck Robbins said people in the San Francisco Bay Area know homelessness has reached a crisis level, costing the county where many tech companies are based $520 million per year.
"Though homelessness seems intractable, I believe that it is a solvable issue," Robbins wrote. "I also feel very strongly that we have an opportunity — and a responsibility — to do something about it."
Northern California's booming economy has been fueled by the tech sector. But the influx of workers coupled with decades of under-building has led to a historic shortage of affordable housing throughout the San Francisco Bay Area. Homelessness is now pervasive throughout Silicon Valley.
The median rent in the San Jose metro area is $3,500 a month, but the median wage is $12 an hour in food service and $19 an hour in health care support, an amount that won't even cover housing costs. The minimum annual salary needed to live comfortably in San Jose is $87,000, according to a study by personal finance website GoBankingRates.
Cisco's donation will go to Destination: Home, a public-private partnership that focuses on getting housing for the homeless as the first step in addressing other problems related to health, addiction, family estrangement and joblessness. In addition to financing housing, the funding will also help improve data collection about homelessness services so money is spent more efficiently.
Ray Bramson, chief impact officer for Destination: Home, said the leadership shown by Cisco and its CEO is what the community needs to see from the major technology companies that call Silicon Valley home.
"We've always known that tech could be a good partner," Bramson said. "We're hoping that by Cisco really stepping up and giving us this support we're going to see other great organizations in our valley step up. ... No one agency, no one organization can really do it alone."
Cisco's donation is believed to be among the largest of its kind in the region.
The tech company last year pledged $10 million to Housing Trust Silicon Valley's TECH fund, on the condition that it would be matched by others. LinkedIn matched $10 million.