Tennis Prodigy Coco Gauff Could Earn Millions After Her Historic Wimbledon Run — and She's Only 15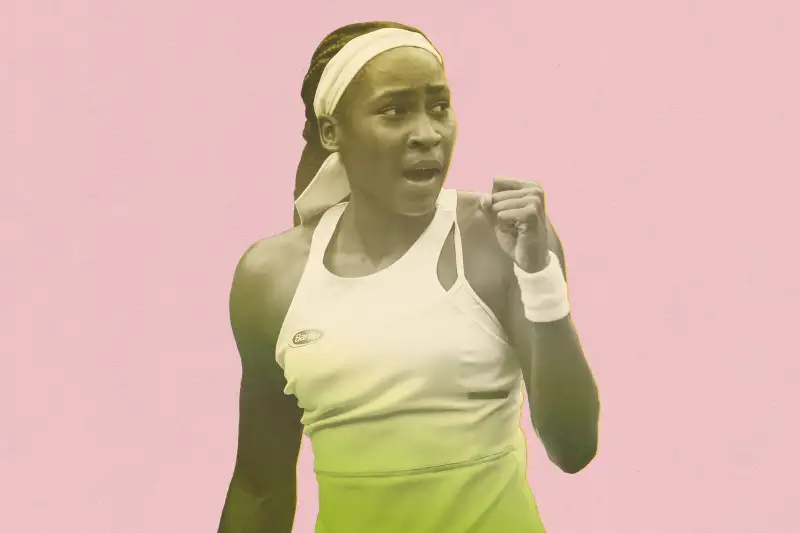 Photo Illustration by Lixia Guo for Money; Getty Images
Cori "Coco" Gauff has had a swift rise to tennis superstardom. And it could turn out to be extremely lucrative.
The 15-year-old American stunned the world — not to mention tennis fans — when she beat Venus Williams in the first round of the Wimbledon tournament last week. She then celebrated a comeback win over Polona Hercog of Slovenia on day five of the championships.
Her wild debut run at Wimbledon came to an end, however, when she lost Monday in the fourth round to Romania's Simona Halep, 27, in a 6-3, 6-3 result.
"I learned a lot," Gauff said, showcasing a maturity that belies her age (she's younger than many of the players in the junior competition at Wimbledon). "I learned how to play in front of a big crowd. I learned what it was like to be under pressure. I learned a lot and I'm really thankful for this experience."
But her road to making a name for herself, and cashing in on endorsement deals among other monetary opportunities, is just beginning.
First, she has the prize money from Wimbledon to collect, and it's no chump change. Even prior to playing in 2019 Wimbledon in London, according to Forbes, Gauff made $61,101 on the court this year. After her defeat at the hands of former world No. 1 Hercog, she still earned about $223,500 between singles and mixed doubles at the tournament.
But the bigger money for her may lie off the court. Gauff, the youngest player to make it to the second week of Wimbledon since 1991, has already inked endorsement deals with athletic apparel company New Balance, tennis racket manufacturer Head, and pasta maker Barilla.
Gauff will make at least $1 million in retainers off these deals in 2019, according to Forbes. That hefty sum doesn't take into account other possible deals she could make by year's end thanks to her newfound fame. (Meanwhile, she has one obligation her competitors don't have to worry about: high school. Gauff completed a science test before qualifying for Wimbledon.)
There are some drawbacks. She'll face heavy taxes on both her tournament winnings (subject to UK tax laws) and her endorsement checks. And while her future seems bright, she is (again) very young, and hasn't yet proven herself as a consistent player.
But if continues her rise, the potential upsides are great. The UK's The Sunday Times reports that if she goes on to become a Grand Slam-winning professional tennis player, she could be earning as much as £100 million (the equivalent of $124,627,500) a year.
"Without doubt she has the potential to be the highest-paid sportswoman ever, and it has been a crown waiting for someone to grab hold of for the last 10 years," Nigel Currie, industry expert and former joint chairman of the European Sponsorship Association, told the publication.
It's not an unreasonable expectation. Gauff, who grew up in Florida and comes from an athletic family, has been impressing tennis obsessives for years. While according to her father she initially got into tennis because "she liked the skirts," she doesn't hesitate when laying out her ambitions.
"I want to be the greatest of all time," she told ESPN when she was only 12 years old.
To get there, Gauff would do well to emulate the paths of those who came before her. Serena Williams, whom Gauff says is her idol, was reportedly the world's highest-paid female athlete in the past two years, making $18 million off the court in 2018 from a slate of endorsements.
Roger Federer signed his own deal with Barilla last year reportedly worth as much as $40 million. He's praised Gauff after her win against Venus Williams, and she's racked up other notable admirers, including Michelle Obama and Serena herself, who said, "I think she's definitely on a different level, so I think she's totally capable and ready, to be honest."
Meanwhile, Naomi Osaka, who made waves last year by beating Serena at the U.S. Open to become the reigning singles champion, may be an especially useful model. The 21-year-old Japanese native recently signed a clothing deal with Nike, switching from Adidas, that could pay an estimated $8.5 million.
Gauff may well be on her way to bringing in similar coin. The trailblazing female tennis legend Billie Jean King made it clear on Twitter that she thinks the teenager is bound for great things.
"Your journey is far from over," King said. "Looking forward to watching your future successes on the court and off."