How This Pro Lacrosse Player Became the Sport's First 'Million-Dollar Man' and Launched His Own League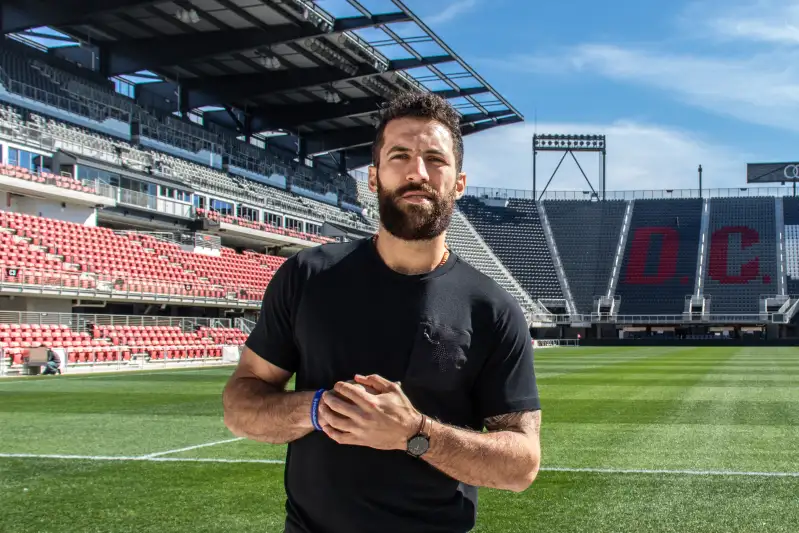 Copyright 2017 Sam Brettschneider All Rights Reserved; Courtesy of Premier Lacrosse League
Paul Rabil is an outlier in lacrosse, to say the least.
"I would say, yes, it was against the norm," Rabil, 33, politely acknowledges of his career so far in an interview with Money.
He's being slightly modest. The professional lacrosse player, who's been widely considered the best in the sport for years and just launched his own league known as the Premier Lacrosse League (or PLL) with his brother Mike Rabil in June, has hit milestones the average athlete can only fantasize about. Now he hopes to transform how the public watches — and thinks about — a sport once relegated to New England prep schools.
How Paul Rabil hit seven figures
The hulking 6'3", 220-pound midfielder has become known as lacrosse's first "million-dollar man." After graduating a lacrosse superstar from Johns Hopkins University in 2008 and while playing for various teams in both Major League Lacrosse and the National Lacrosse League (he's now carrying his stick for PLL), he hit seven figures in career earnings. (He even once notched a world-record 111-MPH shot.)
That's all the more impressive since he made the majority of that money off the field. Pro lacrosse, as a so-called "non-core" sport, notoriously doesn't pay well. MLL salaries reportedly range from about $10,000 to $25,000, while the average NLL salary is around $15,000. Players naturally look for ways to pull coin elsewhere. Rabil took that idea to another level.
"I was the No. 1 draft pick, but my rookie wage was $6,000," Rabil says of his meager earnings in MLL. "I was aware of the circumstances surrounding pro lacrosse, so I took a job."
Actually, he took several. The Maryland native worked as an investment sales analyst at a real estate company in Washington, DC. He and his brother also launched a line of gyms as franchisees for Snap Fitness. But he was still itching for something more lucrative.
"I was at a crossroads where I realized that pro lacrosse wasn't hitting the mainstream airwaves, though the opportunity to communicate with our audience was unlike any other time via social media," Rabil says. With an interest in marketing, he started selling himself with accounts on Facebook, YouTube, and the then-new Twitter and Instagram. They took off. (He now has about 350,000 followers on Instagram.)
"That led to me getting my first endorsement deal, which was with Under Armour, and then I got an endorsement with Red Bull. Those two cash injections," among other deals he's made with big brands like New Balance, he says, "gave me runway to leave my job in real estate and focus full-time on professional lacrosse and entrepreneurship."
The 'frugal' road to moguldom
Courtesy of Premier Lacrosse League
Unlike many pro athletes who suddenly see a flood of dollars coming their way, Rabil didn't go out and spend it on flashy cars. Instead, he explains, he "re-invested a lot of it" into projects like the gyms he and Mike opened. Rabil also started instructional clinics and has put his own money toward startups including Whistle Sports and Muzik. "We grew up in a pretty blue-collar household, and our parents instilled a lot of frugality into how we go about our day-to-day, so that's something that I've carried on as an operator.
"I think at an early age it dawned on me that if I were lucky enough to find a career as a pro athlete, I needed to be mindful of any short-term earnings and try to extend them into longer-term opportunities," Rabil continues, adding that when he does splurge, it tends to be on travel (he's on the road half the week) and nutrition, "which can become expensive."
His biggest bet yet may be PLL, which competes with other pro lacrosse leagues that already get little attention on TV. Harnessing his digital-savvy experience and Mike's business and consulting background, they're taking inspiration from everywhere possible in the industry — major leagues, individual sports, even WWE — to develop an audience lacrosse hasn't yet seen.
"We think we have the right strategy and recipe," Mike says.
"Paul puts his whole self into everything. I became frustrated as an older brother with how much effort he was putting in and how low the returns were," Mike adds of PLL's founding. "It was more opportunistic than anything else. It was about building something better and rewarding the people who have invested in lacrosse."
In fact, initially, PLL wasn't supposed to be a new league at all. "I said, 'Let's just go buy [MLL],'" Mike remembers. "We were never taken very seriously, so then we got to a place where we decided to build it on our own."
As for how Paul keeps expanding his empire while making unbelievable plays — that's a bit more complicated.
"I'm struggling," he laughs. "You keep a really diligent calendar and prioritize what I term non-negotiables: sufficient sleep, sufficient nutrition, and a sufficient and consistent workout routine. I know that if I can get those three in every day, I can allocate the rest of my bandwidth to other endeavors that I have interest in."
He encourages other up-and-coming athletes, especially ones who aren't cashing NFL-sized checks, to do the same.
"First, make sure you're putting in the work so you can perform at the highest level. But then try to think outside of the box. Align new opportunities with your interests," he advises. "There are ways that athletes can generate income off the field in a way that has never been seen before."