Coins Cost More to Make Than They're Worth — and the U.S. Mint Is Looking for Solutions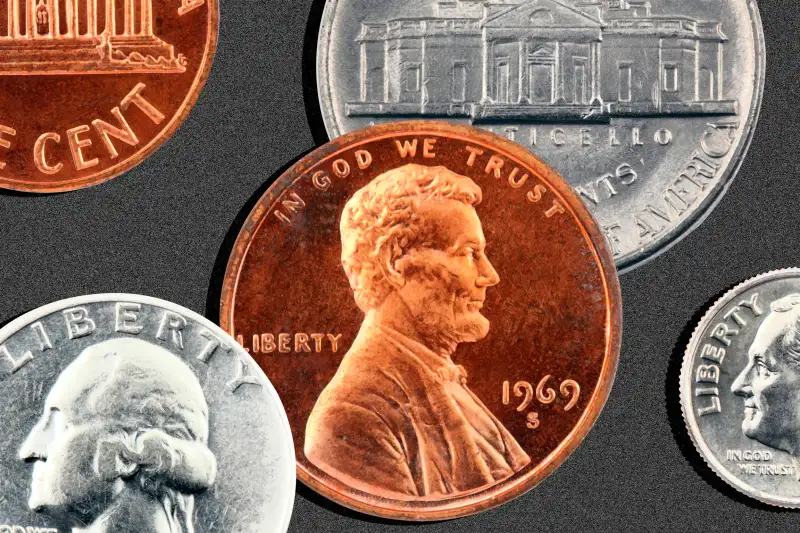 The cost of making coins has gone through the roof lately — and the U.S. Mint wants to use a cheaper metal composition for nickels, dimes and quarters to address the problem.
Here's the hangup: Making a nickel costs more than double what it's worth. As of last year, every nickel cost 10.4 cents to make, up 40.2% from 7.4 cents in 2020, according to a biennial mint report published last week.
Dimes and quarters are worth more than they cost, but the margins for both have shrunk significantly over the past two years. The cost to make a dime increased from 3.7 cents in 2020 to 5 cents in 2022 — a 34.9% increase. Meanwhile, the cost to make a quarter went from 8.6 cents to 11.1 cents — a 28.7% increase.
A new blend of metals could reduce coin costs
The mint's report proposes that the agency switch to producing nickels, dimes and quarters with a different composition of metals in order to save money.
Despite their name, nickels haven't been made solely of nickel in decades. Instead, nickels, dimes and quarters are coated with a nickel-copper mixture, which mostly covers an all-copper inside layer. By using more copper and less nickel — a 80/20 ratio instead of 75/25 — the mint says it can bring costs down.
Based on 2022 volumes, the mint estimates the savings would add up to about $12 million.
It would take about a year to make the switch if the agency gets approval from Congress, according to the report.
Testing has been completed, and the mint says there would be minimal impact, if any, to the public. Coins made with an 80/20 composition would still work at vending machines, for instance.
Beyond the nickel-copper composition change, the mint is also conducting research on other "alternative metal" options that could make it cheaper to produce coins.
For example, it's testing the possibility of a copper-plated steel penny — but so far it looks like that option could be more expensive than the current penny, which cost 2.7 cents to make in 2022.
The next step
A bipartisan bill reintroduced in the Senate Thursday would give the mint the authority to switch to using cheaper metal contents for making coins. It's sponsored by Sen. Margaret Hassan, D-N.H., and Sen. Joni Ernst, R-Iowa.
The bill is a renewed attempt to give the mint this authority after a previous version stalled out in the Senate despite being passed in the House with overwhelming bipartisan support in December 2020.
Ernst told CNBC it makes no sense how much it costs to make coins, especially dimes: "Only Washington could lose money making money," she said.
More from Money:
8 Best Gold IRA Companies of 2023
Dollar Scholar Asks: Why Can't the Government Just Print More Money?