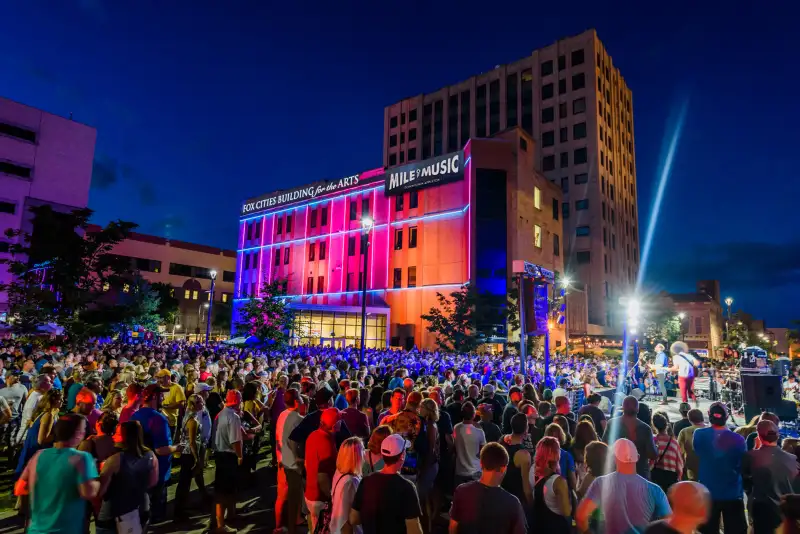 Graham Washatka/Courtesy of the Town of Appleton
| | |
| --- | --- |
| AT A GLANCE | |
| Population | 75,144 |
| Median Home Price | $130,000 |
| Property Tax | $3,105 |
| Unemployment rate | 4% |
| Commute time | 16 minutes |
Appleton residents take pride in their town's rich history. Settled in 1847 and incorporated in 1857, this Midwest city became a pioneer in transportation in 1866 by becoming the first site in the U.S. to operate a commercially successful electric streetcar company. Lawrence University—a small liberal arts college founded here in 1847—also puts Appleton on the map, since it's the second coeducational institution in the country. Yet the city also has a cultural claim to fame: legendary escape artist Harry Houdini grew up here.
People move to Appleton for the affordable housing, low crime, and family-friendly activities. The median sales price of a single-family home is just $183,000. The city has one of the lowest violent crime rates in the state. And downtown Appleton boasts a children's museum, the Fox Cities Performing Arts Center (a popular pit stop for comedians, musicians, and Broadway touring companies), and 3-day annual Mile of Music Festival that features over 200 Americana artists.
Nonetheless, Wisconsin winters are long and cold, with 30-degree temperatures stretching into April earlier this year. The town lacks diversity. (Appleton's population is 88% white.) And the city's job growth—a meager 1.3% in June—is below the national average.