Best (and Worst) Airline Baggage Fees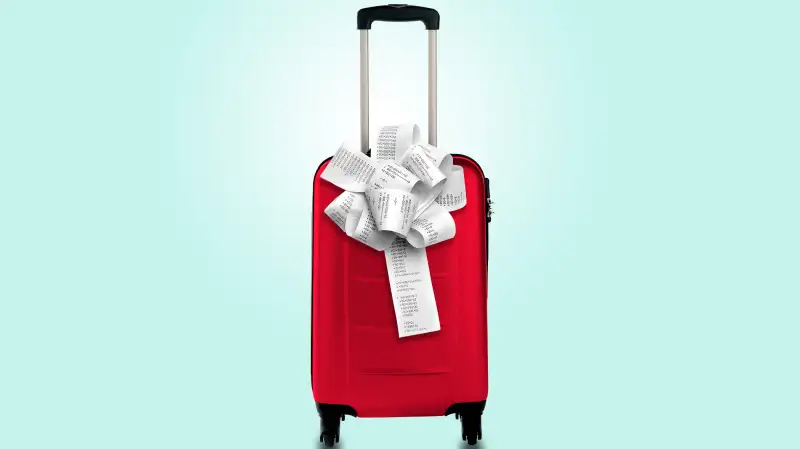 Photo illustration by Sarina Finkelstein for Money; Getty Images (2)
Planning to check a bag on your next trip? Expect to tack an extra $50 onto the price of your ticket, or $200 for a family of four. The median fee for your first checked bag is now $25, and $35 for your second checked bag, according to a Money survey.
A decade ago most travelers didn't have to worry about these charges, especially on the big legacy carriers like American, Delta, and United. But times have changed. Here are the standard fees for checking bags at the ticket counter for U.S. domestic flights:
Unsurprisingly, Spirit has the highest baggage fees, with some additional complications. Prices shown are for checking bags at the ticket counter, but you can pay $10 to $20 less if you commit to checking bags ahead of time—or pay $100 if you check at the gate. Fees also vary depending your dates of travel and route. Members of the $9 Fare Club get a discount. And don't forget: Spirit charges for carry-on bags too. You can bring one small item on the plane for free; additional carry-ons cost $55 at the ticket counter (but $10 to $20 less if you decide ahead of time). Check the exact prices for your desired route on Spirit's website before you book your flight.
Spirit media relations manager Stephen Schuler says since the airline offers such low fares, Spirit customers pay less overall, even after taking baggage fees into account. "We believe customers should only have to pay for what they need, and many choose to travel lighter and save money on their trip," Schuler says.
The only airline with no baggage charge? Southwest—not coincidentally, Money's Best in Travel Awards Platinum winner for Best Airline. As other airlines have begun nickel-and-diming travelers for everything, Southwest has maintained its free checked bags policy. "You don't feel like you're getting slapped around," says Jason Clampet, cofounder of travel website Skift.
While most airlines ratchet up the fees the more bags you check, Money's Best in Travel Awards Gold winner, Alaska Airlines, charges $25 for the first bag, but only $25 for the next one. (Or get elite status on Alaska's award-winning frequent flier program, the Alaska Airlines Mileage Program, and pay nothing extra.)
Sadly, JetBlue is no longer the refuge it used to be for travelers trying to escape baggage fees. "They cornered the market early on and brought into the fold people who were bristling against the onslaught of these fees," says Gabe Saglie of Travelzoo. But over a year ago, JetBlue announced that it would start charging for checked bags on its cheapest seats, the so-called "Blue" tickets. Customers who pay extra for "Blue Plus" tickets can bring one checked bag for no additional charge but must pay $35 for the next bag. Customers who spring for "Blue Flex" tickets can bring two bags for no extra fees.
The good news? Unlock elite status on JetBlue's frequent flier program, TrueBlue—Money's Best in Travel Awards Platinum winner for Best Frequent Flier Program—and you can bring two checked bags for free.