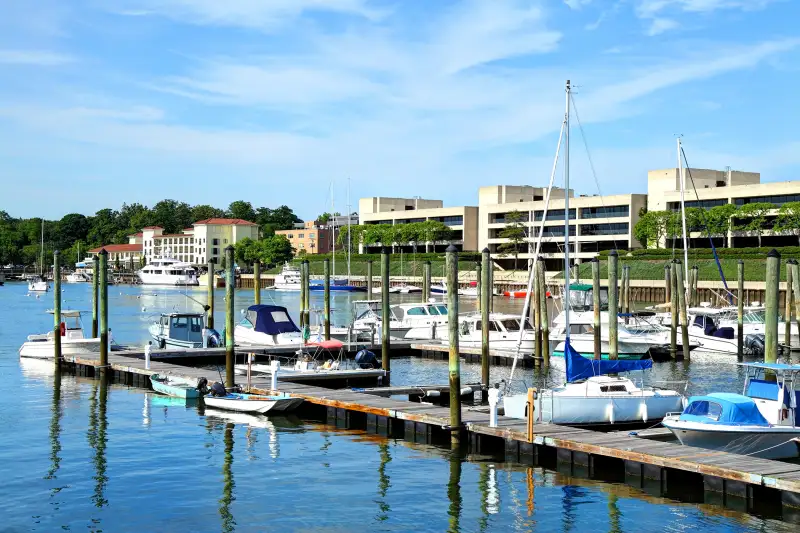 DenisTangneyJr—Getty Images/iStockphoto
| | |
| --- | --- |
| AT A GLANCE | |
| Population | 13,495 |
| Median Home Price | $953,500 |
| Property Tax | $14,135 |
| Unemployment rate | 5.5% |
| Commute time | 26 minutes |
Just 30 miles north of midtown Manhattan, and home to several hedge funds and financial firms, Greenwich offers residents plenty of employment opportunities. Those jobs also pay well: The median family income was $136,032 in 2014, up 21% since 2010. The downside: You need every bit of that paycheck since the median home price is within a whisker of $1 million.
Still, you get a lot for the money. Local schools are top-notch. Greenwich High School was ranked 10th in the state by U.S. News & World Report in 2015, and elementary and middle school students can apply to one of five magnet schools that specialize in certain subjects, such as science, technology, engineering, and mathematics or foreign languages.
Meanwhile, the cultural attractions of New York City are only an hour away by commuter rail or car. You can also find plenty to do in town. Babcock Preserve, for example, offers 300 acres of woodlands and hiking trails. During the summer, residents can sunbathe at Greenwich Point or take a ferry two miles across Long Island Sound to Island Beach. The town also hosts a number of events throughout the year, including an international film festival. Catch a sight of Will Arnett (who attended this year's festival) or some other Hollywood star and you may no longer care what you paid for your home.