27. Hoffman Estates, Ill.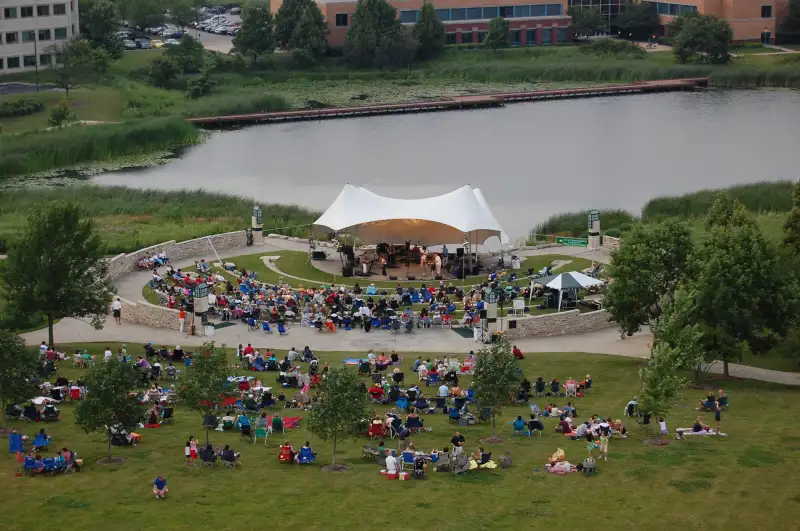 Courtesy of the Town of Hoffman Estates
| | |
| --- | --- |
| AT A GLANCE | |
| Population | 50,615 |
| Median Home Price | $220,000 |
| Property Tax | $5,718 |
| Unemployment rate | 6.4% |
| Commute time | 28 minutes |
Top-notch schools are the big draw for families moving to this northwest suburb of Chicago. In addition to offering more than 60 career and technical preparation courses, Hoffman Estates High School has a variety of extracurricular activities—including a water polo team, robotics club, and martial arts club. And, despite having more than 1,900 students, the high school still boasts a 14:1 student-teacher ratio.
Hoffman Estates also scores points for diversity. More than 20% of the population is Asian, roughly 14% is Hispanic or Latino, and 5% is African American. Many residents go shopping at Poplar Creek, cycling on the town's 26 miles of bike paths, or teeing off at one of the city's three 18-hole golf courses. People from neighboring towns head to Hoffman Estates for concerts, shows, and sports events at Sears Centre Arena, an 11,800-seat entertainment venue.
However, Cook County's median property tax rate is a steep 8.6%. Last year, the unemployment rate in Hoffman Estates was above than the national average at 6.1%. And AT&T has slowly shuttered its Midwest headquarters in Hoffman Estates over the past two years—moving roughly 3,000 jobs out of the city.