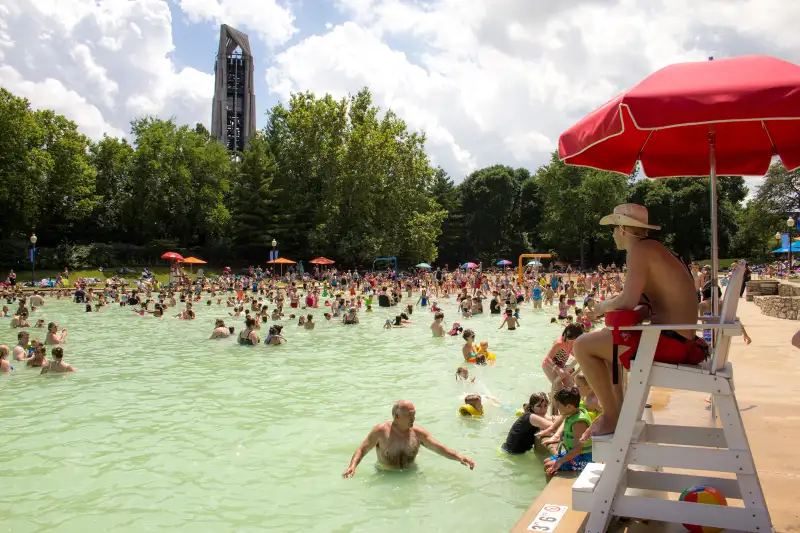 Courtesy of the Town of Naperville
why we love it
A windy city suburb that's got charm, and jobs, to spare.
| | |
| --- | --- |
| Population | 141,310 |
| Median Home Price | $350,000 |
| Property Tax | $8,253 |
| Unemployment rate | 5.1% |
| Commute time | 31 minutes |
A river runs through Naperville, and for most of its existence the DuPage was the lifeblood of this mill town. The river still plays a starring role, only it's been transformed into the Riverwalk, an 1.75-mile stretch of covered bridges, fountains, and public art. "We wanted easy access to Chicago, as well as shops and restaurants within walking distance,"says John Burns, a recent transplant from Wichita. "As soon as we saw downtown, we knew we wanted to live here."
Charm doesn't come cheap, however, and neither does a superb education (88% of Naperville Central High's 2015 graduating class went to college). The typical home sold for $350,000 in 2016, though that was down slightly year over year. Yet with a median household income of $122,600, the ratio of income to home prices is lower than in many upscale communities.
Quite a few of those high-paying jobs are right in town, at Edward Hospital (5,800 employees), Nicor Gas (2,000), and Nokia (1,800). Of course, plenty of locals commute to Chicago and beyond. "I drive about 40 minutes to work," says Burns, who works in Joliet, "but living in Naperville makes the commute worth it."