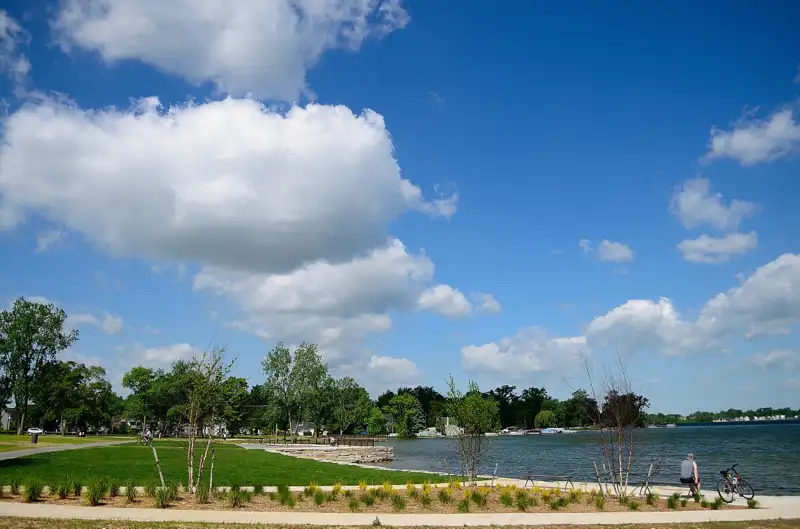 Courtesy of the Town of Novi
| | |
| --- | --- |
| AT A GLANCE | |
| Population | 57,940 |
| Median Home Price | $256,000 |
| Property Tax | $3,891 |
| Unemployment rate | 4.7% |
| Commute time | 26 minutes |
Seeking good jobs in a diverse environment? Look no further than Novi, a 32-square-mile suburb of metro Detroit. The city is home to 3,000 large and small business—1,000 of which are international companies, such as Harman International Industries, Japan's Toyota Boshoku America, Korea's Mando America, and India's Tata Technologies. And it continues to grown; the University of Michigan Center for Innovative Research dubbed Novi one of the state's best communities for entrepreneurship and business development.
The result is richly diverse hometown. With so many Japanese companies in the area, Novi has become Michigan's "Little Tokyo," featuring Japanese restaurants, grocers and an annual Japan Festival. Each August, 25,000 people attend India Day, the largest Indian cultural celebration in the midwest. And Novi's yearly Ethnic Taste and Tune Fest celebrates as many as 30 different cultures with food, exhibits and other displays. The schools in Novi offer five language instructions for students in grades 5 through 12. All told, 25 percent of Novi residents are non-white.
Novi's location in the metro Detroit area makes it a coveted place to live as well. It's situated at the convergence of three major expressways, making it easy to get everywhere from the airport to downtown Detroit. It's also a popular retail hub, home of Twelve Oaks Mall, the largest indoor shopping venue in the state. The cherry on top: The cost-of-living index in Novi is below average for mid-sized cities. Housing in the city is also relatively affordable, with median prices of $256,000 and property taxes of $3,891.