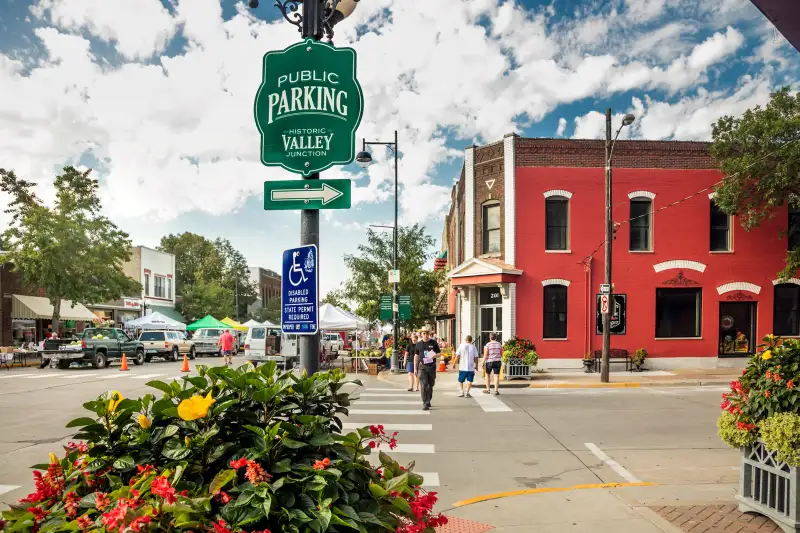 Photograpn by Ryan Donnell for Money
why we love it
As big companies amp up the jobs, hometown values still thrive.
| | |
| --- | --- |
| Population | 64,478 |
| Median Home Price | $187,500 |
| Property Tax | $3,565 |
| Unemployment rate | 3.9% |
| Commute time | 17 minutes |
Like young people everywhere, Des Moines natives Krista and Sahan Totagamuwa decided to move away from home after they got married to get a taste of life in the big city, in Milwaukee. Five years and two kids later they came home—well, close to home.
While looking for an affordable house near good schools, they detoured to West Des Moines, a separate municipality on the other side of the airport from the capital. Like an Iowa farm in the spring, West Des Moines had sprouted while they were away. The sleepy suburb had become a family-friendly city that's home to great shopping, a thriving arts community, and enough good jobs to field any number of dreams. "The growth here is insane," says Sahan, 37, an accountant at CliftonLarsonAllen, a professional services firm.
In the first five months of 2016 alone, West Des Moines has issued building permits for projects worth an estimated $527 million, including a new $430 million Microsoft data center. Wells Fargo already has 9,800 employees here, and Hy-Vee Food Corp. employs 2,600 workers in town.
Of course, many residents do leave the area to work, especially in Des Moines. The capital city, sometimes called "the Hartford of the Midwest," is home to more than 80 insurance companies, which account for 16% of the region's jobs. Even better, it's about a 10-minute drive away. The average commute time for all West Des Moines residents is 17 minutes, the lowest of any location on our top 10 list.
West Des Moines leads our list in another key category. The median home price in the first quarter of 2016 was only $187,500. Those affordable prices are very much in keeping with the city's small-town feel. Valley Junction, one of the main streets, is lined with galleries and antiques shops and is the setting for the annual arts festival, car show, Independence Day parade, and summertime farmers' market. Raccoon River Regional Park is the prime outdoor spot, with a 232-acre lake, fishing pier, nature lodge, softball fields, and dog park. For the more indoors-minded, the Jordan Creek Town Center has everything from an Apple Store to the Zombie Burger and Shake Lab. After all, Jordan Creek is the largest mall in the state.