Colleges Are Hiding Their Credit Card Deals With Banks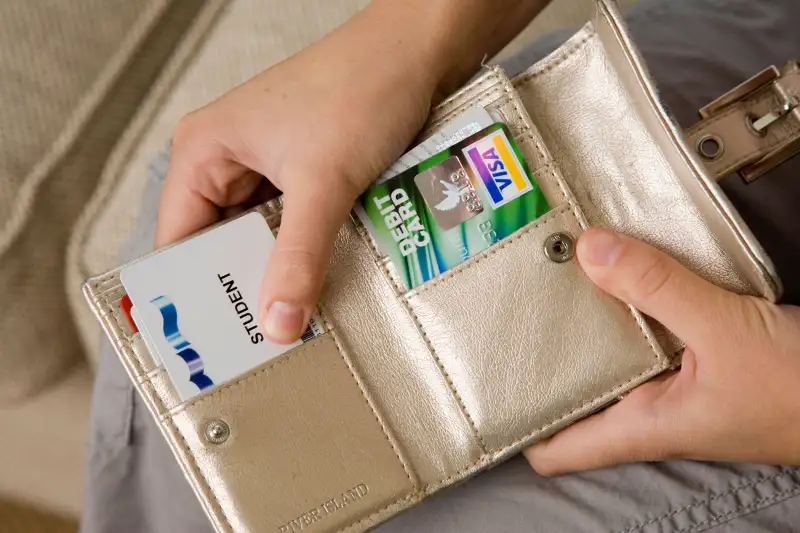 Colleges that team up with financial institutions to market credit cards to students are supposed to be upfront about their deals. But 85% of colleges in a recent investigation weren't, according to an annual report on campus credit cards released today by the Consumer Financial Protection Bureau.
The CFPB is sending warning letters to 17 colleges that it says didn't make marketing agreements available to the public, as required by law. The bureau declined to identify the schools, but did publish a copy of the letter it sent.
Hundreds of thousands of students attend colleges that have agreements to co-sponsor credit card accounts. Agreements can be made with a college or, increasingly, through a related organization, such as university alumni associations. Credit card companies get access to a new population of consumers, while colleges generally get a share of the revenue generated from the cards.
But research has found many of these credit card accounts (and similar agreements for debit accounts) have higher fees than students would get if they went outside the campus card.
Before the recession, credit card agreements were very common and mostly hidden from the public. The 2009 Credit Card Accountability, Responsibility, and Disclosure (CARD) Act aimed to change that. Colleges are now required to tell the CFPB the terms of their agreements and the compensation they receive from the financial institutions. They also must publicly disclose their agreements.

Since then, the number of agreements has dropped, from nearly 1,050 in 2009 to 272 at the end of 2014. The amount credit card companies paid to colleges for the agreements also fell dramatically in that period, from $84 million to $34 million.
The campus credit card market is dominated by Bank of America and its subsidiary, FIA Card Services. Even though the bank's agreements and accounts have declined significantly in recent years, Bank of America had more than 660,000 open college card accounts at the end of 2014, two-and-a-half times as many as the next bank.
When the bureau investigated whether colleges were complying with the CARD Act transparency requirements, it found some large holes. The bureau spot-checked 25 colleges chosen from a group with the largest number of credit card accounts. Four out of five didn't disclose their agreements on their website.
Of the 20 colleges that didn't publish their agreements on their websites, only three provided the agreements when they were requested. (Hence, the 17 schools receiving the warning letter today.) Even five of the colleges that published instructions for how to access the report didn't end up delivering it.
"These results raise very substantial concerns that colleges, although required by law to produce agreements, do not have adequate systems in place," the report says.

NEWSLETTER: COLLEGE_PLANNERSign up for COLLEGE_PLANNER and more View Sample
As college-promoted credit cards have grown less popular, debit and prepaid cards have grown tremendously common. More than 10 million students attend a campus that has a deal with a financial institution to promote debit or prepaid college cards, according to the CFPB.
Next fall, new rules will take effect that ban overdraft fees on debit card accounts used by colleges for financial aid disbursements and prohibit colleges from forcing students to open accounts with certain banks.
Every year, roughly $25 billion in federal grants and loans are given to students at colleges that have debit or prepaid card agreements with banks, the education department said in October when it announced the new rules.
Below are the colleges and college-related organizations that had the most open credit card accounts in 2014, along with how much they were paid by the credit card issuers. For a complete list of active college credit card agreements reported to the CFPB, read the full report.
| College/Organization | Credit card issuer | Issuer payments, 2014 | # of accounts, 2014 | # of accounts, 2013 |
| --- | --- | --- | --- | --- |
| Penn State Alumni Association | FIA Card Services, N.A. | $1,880,700 | 54,497 | 57,240 |
| Alumni Association of the University of Michigan | FIA Card Services, N.A. | $2,228,315 | 28,202 | 29,393 |
| Golden Key International Honour Society | FIA Card Services, N.A. | $935,449 | 25,917 | 27,953 |
| Association of Former Students of Texas A&M University | FIA Card Services, N.A. | $965,321 | 25,803 | 27,371 |
| Purdue Alumni Association | FIA Card Services, N.A. | $1,000,000 | 25,341 | 24,504 |
| The Ex Students Association of The University of Texas | FIA Card Services, N.A. | $1,011,000 | 23,630 | 25,080 |
| UCLA Alumni Association | FIA Card Services, N.A. | $539,049 | 23,623 | 23,719 |
| Indiana University Alumni Asociation | FIA Card Services, N.A. | $391,941 | 20,683 | 21,789 |
| University of Southern California | FIA Card Services, N.A. | $1,507,725 | 19,165 | 18,428 |
| California Alumni Association | FIA Card Services, N.A. | $161,157 | 17,172 | 16,910 |