How College Football Sacked the NBA and MLB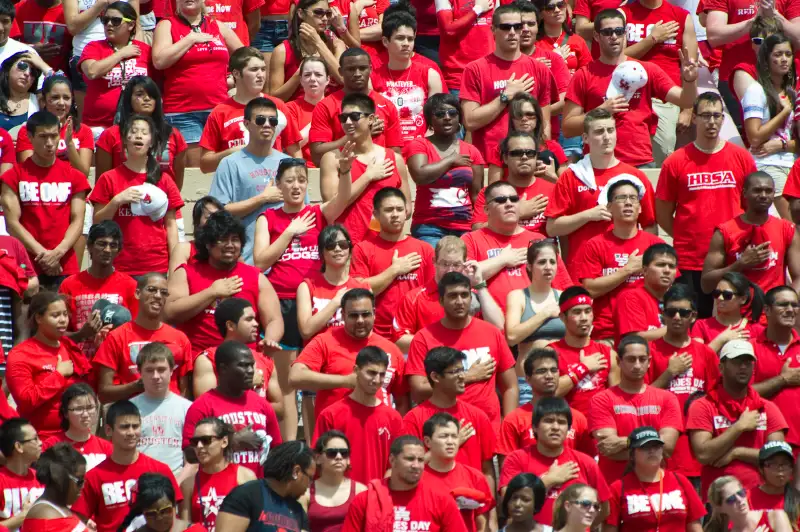 Want to know how rabid fans have become for college football?
Well, the season kicks off in earnest tonight when the South Carolina Gamecocks (ranked 9th in the country) take on the Texas A&M Aggies (ranked 21st).
The game will be played in Columbia, South Carolina, in front of 80,000 screaming fans — an amazing feat given that Columbia has a population of just 133,000. The Aggies, for their part, play in Kyle Field, which in 2015 will be able to hold almost every single College Station, Texas, resident.
Last year, the Gamecocks opened with a game against the University of North Carolina, and 3.7 million people across the country tuned in. That may not sound that impressive, but consider that Columbia is just the 77th largest television market in the U.S., behind cities like Omaha and Toledo.
There's no doubt about it. Americans love football.
More people watched the NFL Sunday Night pregame show last year than watched the Boston Red Sox win the World Series. In fact, professional football games comprised all but four of the 50 most-watched sporting events of 2013. The National Football League is the most popular spectator sport in America.
What's No. 2? Not the NBA, not Major League Baseball—but college football. And with college football introducing a new-fangled playoff system this year, expect America's infatuation to only grow.
Here are a few measures of its influence.
Ratings
The 2013 NBA finals featured perhaps the most popular athlete in the world, Lebron James, as his super team battled against the San Antonio Spurs for seven unforgettable games. An average of almost 18 million viewers saw James secure his second NBA title. A few months later, 15 million baseball fans saw the Red Sox win their third championship since 2004.
How many viewers watched Florida State beat Auburn in the 2014 BCS title game? Twenty-six million, per Nielsen ratings.
This isn't a one-off event. On average, 2.6 million people watched NCAA regular season football games last year, according to Nielsen. Take Saturday, October 5, 2013. Both the University of Georgia and Tennessee were enduring less than stellar seasons. Nevertheless, 5.6 million people tuned in to see the two Southeastern Conference schools play each another on CBS.
Viewer demand is only likely to increase. Starting this year, college football will institute a four-team playoff to decide the national champion, and rejiggered rules allow the biggest football programs more control over their finances. According to USA Today, these developments will lead to the biggest schools earning 71.5% of the $470 million annual television revenue for the playoff.
Baseball and basketball simply don't attract as many eyeballs. About 700,000 people watched an MLB regular season game on television in 2013, and 1.4 million watched a non-playoff NBA game in the 2012-13 season. (All are based on nationally televised games.)
The total attendance for 835 NCAA Division I football games was a little more than 38 million, with a per-game attendance of 46,000. The NBA, which has almost 400 more total games in its season, drew 21 million people, while the MLB attracted 30,500 per game. (Major League Baseball has almost three times as many games and brought in a total of 74 million fans.)
Reach
Part of college football's popularity might be its reach. While the NBA and MLB have 30 teams collected mostly around large metropolitan areas, college football programs exist where there are colleges – which is everywhere. Consider that New York, Chicago, Los Angeles and San Francisco have 15 professional baseball and basketball teams. That's a quarter of all the teams in only four cities.
Now look at NCAA football. The top five teams play in Tallahassee, Tuscaloosa, Eugene, Norman, and Columbus. While it's true that a number of the West Coast schools play in big cities (UCLA, Stanford, and the University of Washington), most of the big-time schools are the only game in town. If you live in Boise, Idaho, do you really care about anything else the way you care about Boise State Broncos football?
Riches
There is something a bit unsettling about college football's popularity, and corresponding affluence. A college football coach is the highest paid public employee in 27 states – including South Carolina and Texas. Alabama's Nick Saban made more than $5.5 million last year, despite the fact that his and every other team's players weren't paid anything. (Many were given athletic scholarships, but those can be taken away if a "student-athlete" becomes injured. Just for some perspective: the University of Texas's football program earned $82 million in profit last year.)
Plus, football is a dangerous game, and it's an open question whether an institution of higher learning should even be in the business of promoting a sport that causes severe head trauma. (Google: Owen Thomas.)
College football, though, is inexorably linked to American history. The first intercollegiate game took place four years after the end of the Civil War, and the college game itself was saved by then President Teddy Roosevelt.
Otherwise normal, hard-working Americans revert to 20-year-old fanatics every fall Saturday afternoon and cheer on their alma maters. Tonight's game in Columbia is just another page in the never-ending story of America's love with her second-favorite sport.