What a College's 'Official' Acceptance Rate May Be Hiding From You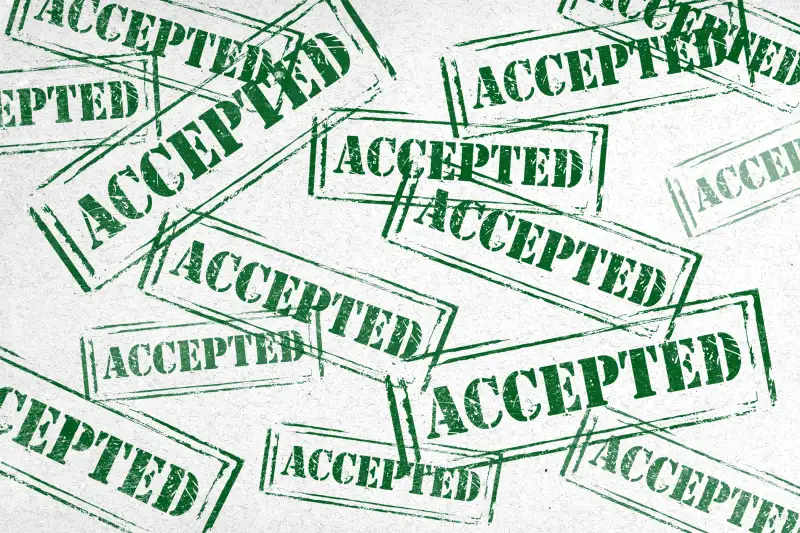 Photo illustration by Money; Getty Images (1)
This time each fall, thousands of high-achieving, hyper-involved high school seniors pore over the applications they'll submit to a crop of the country's top colleges.
It's a complicated, anxiety-inducing experience for a variety of reasons. But high among them is that students (and their parents) may be basing their expectations of acceptance or rejection on misleading admissions rates.
Most selective colleges—specifically, the 100 or so four-year schools that admit a third or less of their applicants—publicize one overall acceptance rate. On its face, that makes sense, and it's simple for families to grasp. The problem is that many students pin their hopes on that rate, even though it may conceal dramatic differences in the odds for different applicant pools.
Take, for example, Vanderbilt University, where the overall rate was 12% for the fall 2015 freshman class. Yet students either apply in an early pool or the regular pool, which have 24% and 8% acceptance rates, respectively. Nobody has a 12% chance, says Steve Frappier, director of college counseling at the Westminster Schools, a prep school in Atlanta.
"Knowing that helps families go in with eyes open," says Frappier, adding that students hear a 12% acceptance rate and think they have a close to 1-in-10 chance of being admitted.
The early-decision edge
The general advantage of applying early decision is an open secret. Colleges like to admit students they know will enroll, and that's exactly what early applicants are.

NEWSLETTER: COLLEGE_PLANNERSign up for COLLEGE_PLANNER and more View Sample
But just how much of an edge early decision provides is not such an open secret. Most colleges will reveal their early decision acceptance. Getting an idea of your relative chances if you apply in the general admissions round is harder.
At Swarthmore College, 35% of early decision applicants were admitted, compared to 10.7% of regular decision applicants. But the reverse can also be true. For example, at Texas Christian University, 44% of regular applicants were admitted, compared to 28.5% in early decision, based on statistics Frappier compiled by looking at the annual data reports colleges release.
Stanford University made headlines last spring when it announced its overall acceptance rate hit a record-setting low 4.7%, suggesting a regular admission rate even lower than that. But it's not the only elite school where the acceptance rate for general admission is likely to be under 10%. Northwestern University's general rate is 8%. And Colorado College's was just 6% for the Class of 2020—less than half its overall rate of 15%, and much lower than the acceptance rates for its two early rounds: 31% and 17%.
Colorado College is rare among colleges that offer early decision in posting all of its admission rates on its website for prospective students to see. Mark Hatch, the college's vice president for enrollment, has worked as a high school teacher and college counselor, and says he knows how hard a job they have advising students about their admissions chances.
"It's incredibly difficult for counselors to sort of peel back these layers with families," he says.
Read more: The Big Difference Between Applying for College Early Action vs. Early Decision
But even sharing all those rates doesn't tell the full story, Hatch says. He likes to explain it to parents using the story of the "excruciating muddy middle." When the college gets down to its final 800 applicants, there's no quantifiable difference between the academic preparation of those who get in and those who go to the wait list.
Those 800 represent just 10% of the college's applicant pool. If they'd applied early decision, they'd probably get in. If they'd applied during the non-binding early action round, 200 of them would get in. But in regular decision, the number drops to 50.
"The challenge is that 6.2% admit rate," Hatch says. "It sticks in your throat like a hairball."
To be fair, there are many colleges where the overall admit rate the college publishes isn't that far off from the general admit rate. Duke University's overall rate for the fall of 2015 was 11.8%, representing a 26.8% early decision rate and a 10.2% regular decision rate, based on Money calculations using Duke's admissions statistics. Rice University, Pomona College, and Carleton College's overall rates were also within one percentage point of their general decision rate, even though their early decision rates were significantly higher.
That's why Ronné Patrick Turner, vice provost for admissions and financial aid at Washington University in St. Louis, says she tells families to ask admissions officers as many questions about their individual circumstances as possible. Washington University publishes its early decision acceptance rate and overall average rate on its website, but not its regular decision rate. Patrick Turner says the regular decision rate isn't that far off from the university's overall rate (Money independently verified that for the fall of 2015 entering class).
But "don't assume it's the same at every institution," she says. "Ask the admissions officer."
It's not just early decision where there can be important differences for students applying in different categories. Summer or January admits usually have a higher acceptance rate than fall admits. At many colleges, men and woman are admitted at vastly different rates to build a student body that's balanced across gender. Some colleges, such as Georgetown University, require students to apply to specific academic programs.
Out-of-state students applying to certain public colleges face another challenge in figuring their odds. The University of North Carolina-Chapel Hill, for example, is limited by state law to admitting only 18% of the freshman class from out of state. To drive that point home with students, Frappier says that's space for roughly 350 male students and 400 female students, and you'll be competing for those slots with international students, recruited athletes, and students with family ties to the school.
How to get the facts you need
So what can families do to get more helpful admissions stats?
Frappier recommends asking colleges very direct questions about how the freshman class is built: What percentage of those applying early are admitted early, and what percentage of those applying through regular decision are admitted that way?
You should also ask about the college's academic priorities and the most in-demand majors. If you're undecided, Frappier says, don't throw yourself into the same academic program everyone else is declaring.
Most colleges have a protected category of applicants, such as athletes or legacies, so ask which admissions pool they're considered in, Hatch recommends. You should also ask about the admit rate for students who are deferred at early admission but get in during the regular round.
Be prepared for many school reps to say they don't have those numbers. In some cases, it may be that the admissions office truly doesn't share those statistics with its campus recruiters. But it's also possible that colleges want to, as Frappier put it, mask the brutality, or at least, the reality, of the regular round.
You can look up some of this information on your own by searching for a college's Common Data Set, which is updated each year and includes a ton of institutional information. You should be able to find it on the college's website—although it's often faster to Google the college's name plus "Common Data Set." Even with the data set, you'll have to do some math to figure your regular decision odds.
Pomona College, for example, says it received 8,099 applications for the freshman class that started in fall 2015 and accepted 833. Of, those, 1,157 were early applicants, and the college admitted 175 of them. That's all clearly stated in the document. But from there, you have to take the overall number who were admitted and subtract the group who were admitted early. So 833 minus 175 leaves a total of 658 seats that were filled in the regular decision round. If you then subtract the early decision applications from total applications, you learn that 6,942 students were vying for those 658 seats, for a regular decision admit rate of about 9.5%.