If Comcast Did This One Thing, So Much Customer Hate Would Vanish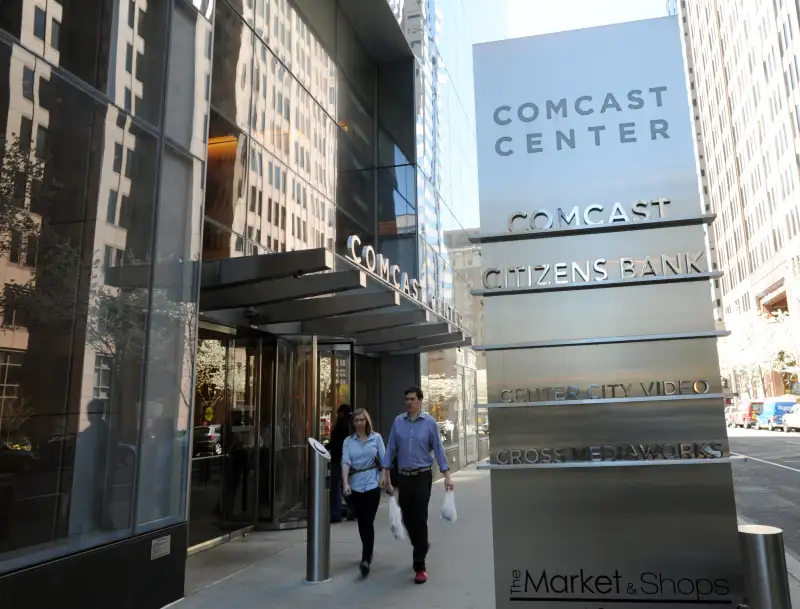 Bradley C. Bower—Bloomberg via Getty Images
In a recent post on LinkedIn (hat tip: Consumerist), Frank Eliason, a former digital care executive at Comcast and current employee of Citigroup, wrote at length about how "disappointed" he was in the company he once "had the privilege of working for."
"Over the years Comcast has provided some of the greatest customer service blunders the Internet has ever seen," he wrote. The unconscionable mistreatment of paying customers by Comcast reached a new low recently when the company apologized after it was revealed that one of its agents changed the billing name of a subscriber to "A**hole Brown."
"Incidents like these most often happen because of a culture within the company," Eliason noted. And even when they're not insulted and subjected to name-calling, "customers are tired of being treated poorly." He went on to offer five key steps Comcast must take "to come a little closer to winning over the public."
As someone who has written often about how and why people hate Comcast (and all pay TV and Internet providers), and why they're consistently given the worst customer satisfaction ratings of any industry, I'd make the case that one of these steps would reduce the hate far more than all the others combined. The recommendation is this:
People hate Comcast for many reasons—long waits and unhelpful service, inflexible bundles filled with channels you pay for but don't watch, a dizzying and ever-rising array of fees tacked onto bills—but the biggest, overarching gripe boils down to price. Customers not only feel like the service costs too much, but that the pricing system is absurd and unfair.
After all, this is a pricing system that punishes loyal, uncomplaining customers with bills that start low and then rise and rise—unless you complain and threaten to drop the service. In other words, pay TV providers "thank" their best and most loyal customers by giving them the worst possible terms.
Last fall, when Comcast announced it was putting an executive named Charlie Herrin in charge of improving the customer experience, there was no shortage of opinions as to what he should tackle first. In virtually all cases, analysts mentioned pricing prominently on the list of problems to fix.
PCMag called for retention bonuses for customers rather than the agents whose job it is to dissuade subscribers from cancelling. "Comcast's service is way overpriced, and customers need to be cut a break," the post stated. A Motley Fool post about why Comcast is America's most hated company stated plainly, "Comcast has suffered as cable television subscribers tire of overpaying for content that they're not watching." Still another Comcast-bashing post listed the "pricing system is absurd" as customers' top problem with the company.
Last summer, in a Consumer Reports survey about the possible Time Warner Cable-Comcast merger, three-quarters of those polled feared that prices would rise if the two hated pay TV providers combined. Two-thirds, meanwhile, felt that if and when they merged, there would even less incentive than there is now in what's a mostly noncompetitive marketplace.
Speaking of the way customers are treated, when you think about it, many of the reasons people hate Comcast's service come back to price as well. The anger directed at the dismal state of customer service is a function of price. The feeling among many customers is: We're paying good money to be treated poorly. It would be easier to stomach less-than-stellar service if we felt were being treated fairly in terms of pricing. Instead, the perception—OK, the reality—is that we're constantly being charged more, and rather than the service growing correspondingly better, it gets worse.
If Comcast made pricing fair, and customer service agents truly saw their role as providing service rather than keeping customer bills sky-high, it would be able to all but eliminate the possibility of another "A**hole" scandal. After all, the supposed reason a Comcast employee judged a customer named Ricardo Brown to be an "A**hole" was that he dared to call up and ask for a portion of his cable TV bill to be cut.
As things stand with Comcast's current pricing policies, which involve discounts early on, escalating prices down the road, and internal pressures on employees to keep customers paying top dollar, there's bound to be tension and bad feelings on both ends.
No wonder in any given Comcast employee-customer interaction today, one or both sides is bound to feel that the other is a total "a**hole."
Read next: The New FCC Definition of Broadband Could Change Everything for Comcast