What It Costs to Raise a U.S. Open Champion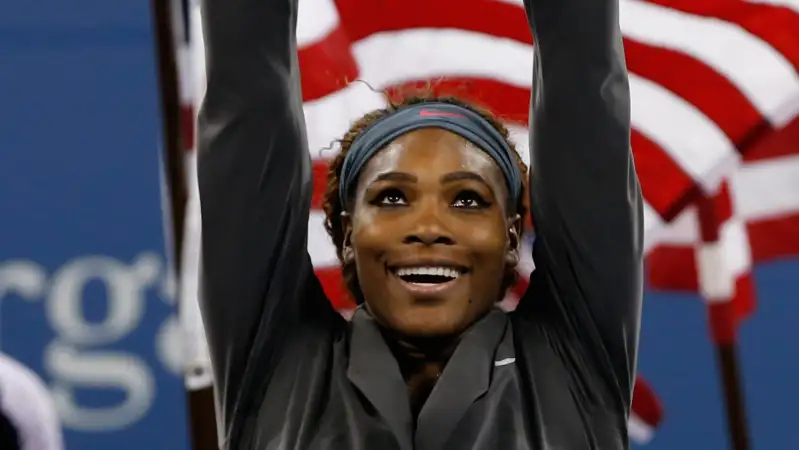 Serena Williams won her first U.S. Open at age 17 and her fifth at age 31, just last year. But can she defend her crown against the newest upstarts? It all starts on August 25, when Williams goes head-to-head with rising star Taylor Townsend. And 18-year-old Townsend won't be the only young talent to watch in Queens: 20-year-old Canadian Eugenie Bouchard is seeded no. 7, and 19-year-old Australian Nick Kyrgios will try to build on his surprise upset against Rafael Nadal at Wimbledon.
If those youthful feats fuel your kid's dream of tennis stardom, then get ready to open your wallet. In the United States, families of elite tennis players easily spend $30,000 a year so their kids can compete on the national level, says Tim Donovan, founder of Donovan Tennis Strategies, a college recruiting consulting group. That can start as early as age 11 or 12. At the high end, Donovan says, some parents spend $100,000 a year.
On what, you might ask. Here's the breakdown:
Court time. Practice makes perfect, but practice can be expensive, especially if you need to practice indoors in the winter. In Boston, where Donovan is based, court time costs about $45 an hour. In New York City, court time can run over $100 an hour.
Training. Figure $4,500 to $5,000 a year for private lessons, plus $7,000 to $8,000 for group lessons—in addition to the aforementioned court fees to practice on your own.
Tournaments. National tournament entrance fees run about $150. Plus, you have to travel to get there. Serious players will go to 20 tournaments a year. Donovan estimates that two-thirds of the tournaments might be a few hours away, but elite athletes will need to fly to national events six or seven times a year. Want to bring your coach with you? Add another $300 a day, plus expenses.
School. You've already racked up $30,000 in bills. But if your kid is really serious, you might also spring for a special tennis academy. Full-time boarding school tuition at Florida's IMG Academy costs $71,400 a year.
So what's the return on investment? While most parents don't expect to see their kids at Wimbledon, many still hope that tennis will open doors when it comes time to apply to college. But the reality is that athletic scholarships are few and far between. In 2011-2012, only 0.8% of undergrads won any kind of athletic scholarship, says Mark Kantrowitz, publisher of Edvisors.com.
Opportunities are particularly limited for boys. Donovan notes that because of Title IX—which requires that schools provide an equal number of scholarships for men and women—a Division I college with a football program might offer eight full tennis scholarships for women, but only half as many for men, because male scholarships need to go to the football players.
Bottom line: If you spend $30,000 a year hoping your tennis star will go to college for free, you'll probably be disappointed with your ROI.
"Recipients of athletic scholarships graduate with somewhat less debt than other students but not significantly so," says Kantrowitz. "The main benefit of athletic scholarships is providing access to higher-cost colleges without increasing costs, moreso than reducing the cost of a college education."
That's where Donovan comes in: For $3,500 to $10,000, Donovan Tennis Strategies provides different levels of assistance with the college application process. Oftentimes, Donovan's clients are able to pay full tuition but want additional help leveraging tennis to get their kids into better (and more expensive) schools.
The strategy can pay off. According to Donovan, recruited athletes have a 48% higher chance of admission, sometimes even with SAT scores that are more than 300 points lower than those of non-athletes. "The coach can go in and significantly advocate for somebody and change the outcome," he says.
So if you're a parent to a budding tennis star, can you foster his or her talent for less? The IMG Academy does offer scholarships to promising young athletes whose parents can't pay full freight, and the United States Tennis Association offers some grants and funding. But ultimately, players need to log hours on the court to get good, and that costs money.
"The more you're playing, the better you're going to be," Donovan says. "That's pretty well documented … and that adds up over time."