9 Smart Ways to Save Money at Costco — Every Time You Shop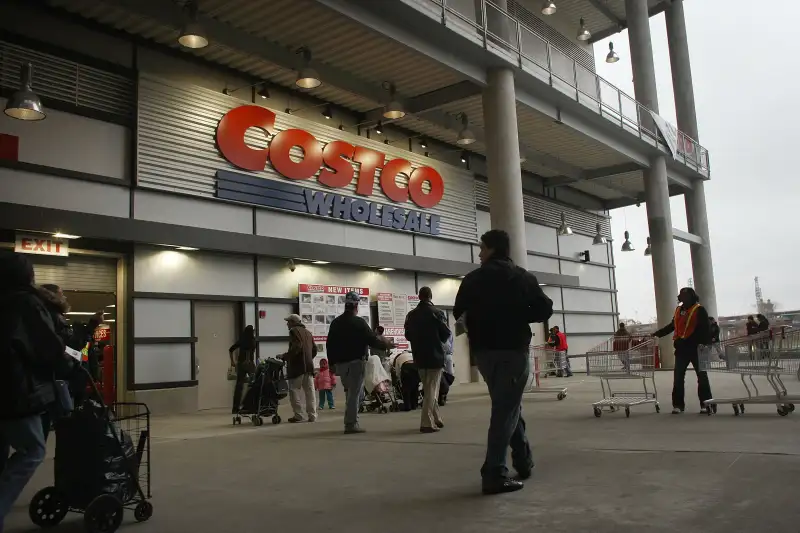 Spencer Platt—Getty Images
Costco has a staggering 93 million members around the world. They all essentially make the calculation that the Costco membership price is worth the cost because it provides access to special deals and saves them money over the long run. But how can you make sure you're maxing out every cent of savings the chain has to offer?
If you are a Costco member or are considering becoming one, there are ways to ensure that you get the absolute best value and save the most money possible. Here are our top tips for saving money when you shop at Costco.
Choose Your Costco Membership Carefully — Or Skip It
Individuals can choose between two Costco membership levels: $60 per year, for a "Gold Star" membership, or $120, for the "Gold Star Executive" level. Why pay the higher fee? You get 2% back on all Costco purchases throughout the year. For many shoppers, that 2% back winds up easily covering the difference in membership levels. The breakeven point is $3,000 a year, so if you'll spend more than that — roughly $60 a week — you'll save more by getting the upgraded membership.
Kevork Djansezian—Getty Images
If you're unsure of becoming a member, or want to try things out before committing, find a friend who is a member and arrange for them to buy a Costco cash card for you. Only members can buy these cards or reload them, but anyone can use them — at Costco stores, gas stations, and the Costco website.
Get Extra Cash Back With the Right Credit Card
Visa is the only credit card accepted at Costco. (You can also pay with cash, check, debit cards, and Costco cash cards.) If you're a big spender at Costco, it's worth signing up for a Visa card that gives cash back rewards for purchases there. The no-fee Costco Anywhere Visa is particularly generous with its incentives, which include 2% cash back on all Costco purchases — that's on top of the 2% you'd get with a Gold Star Executive membership — and 4% cash back when you gas up anywhere, including at stations operated by Costco.
SAUL LOEB—AFP/Getty Images
Focus on Household Staples
Costco has fairly low prices on most items — stores need to give shoppers a justification for paying their annual membership fee — but a few household staples are especially cheap. In particular milk, bread, and eggs are often much cheaper at Costco than at the nearby supermarket — even cheaper than Walmart and discount grocery stores.
There's a good reason why Costco keeps the prices so low on these products: Most shoppers need updated supplies of them once a week or so, and the bargain prices help serve as a magnet to boost store visits. If Costco only sold the bulk-size products it is famous for — and which can last for months, or even longer — there would be no reason for such frequent store visits.
PAUL J. RICHARDS—AFP/Getty Images
But Costco very much wants you to browse its stores often, so that you're tempted to make impulse purchases. So it maintains especially low prices on milk, eggs, and a few other household staple groceries. (At Costco locations with gas stations, the gas is cheap as well, for the same reason: Shoppers have an extra reason to stop by and, Costco hopes, wander store aisles and pick up a few things.)
Pick Up the Super-Cheap Costco Rotisserie Chicken
Another way Costco gets members into its stores more frequently: incredibly inexpensive food that makes for a quick and easy meal. A jumbo-size hot-dog-and-drink combo has been priced at $1.50 for decades at the Costco food court, which also sells cheap (and huge!) slices of pizza and tempting servings of ice cream and churros.
Perhaps Costco's best food deal of all, however, is the $4.99 rotisserie chicken, which comes warm, fully seasoned, and ready to feed your family that night at dinner.
Costco makes little profit on such items — it may even lose money on them — but again, they serve the important purpose of driving foot traffic into stores. The strategy works so well that some shoppers wind up picking up lunch or dinner several times a week at their local Costco.
Buy Alcohol — Even if You're Not a Member
Costco's low-price strategy extends to sales of beer, wine, and hard liquor. In fact, Costco is one of the biggest sellers of wine in the U.S., with consistently low prices for high-quality wines (including some big name brands).
GABRIEL BOUYS—AFP/Getty Images
Depending on where you live, you may even be able to buy alcohol at Costco without paying for a membership. In a dozen states — the list includes California, Connecticut, Michigan, Massachusetts, New York, and Texas — it is illegal to require a membership for alcohol purchases. So Costco stores have to sell to anyone of the proper age, even if they're not members.
Membership also isn't required if you want to have a hot dog, slice or pizza, or any other food or beverage at the Costco food court. Even non-members can feel free to grab an inexpensive lunch or a snack there at any time.
Look for the Kirkland Label
Virtually every major grocery seller has its own generic house brands that it sells exclusively — Market Pantry and Archer Foods at Target, Great Value at Walmart, and so on. These items tend to be highly profitable, because the stores don't have to pay a premium for all of the marketing that goes into nationally known brands.
At Costco, the house brand is Kirkland, and there are Kirkland Signature branded versions of countless products. The list includes coffee pods, trash bags, peanut butter, potato chips, maple syrup, wine, medications, toilet paper, dog food, apparel for men, women, and children, and more. There is even a Kirkland version of Nutella — known officially as a "hazelnut spread."
John Greim—© 2009 John Greim
According to Costco loyalists, in the vast majority of cases, Kirkland products feature the magical combination of solid quality and prices that are decent if not dirt cheap compared with their name brand equivalents.
In the rare situation when a Kirkland product is not a hit with Costco members, it quickly disappears from stores. Costco executive Richard Galenti explained to the Wall Street Journal that the company tries "to be agnostic" about Kirkland items. "We try it like any other brand," he said — and any product will be pulled from Costco stores if it doesn't sell well or if customers offer negative feedback about the quality.
Understand Costco Price Tag Codes
Target has coded price tags that may reveal how deeply an item is discounted, and Costco has a system too. Generally speaking, Costco's regular prices end in .99 (like $10.99 or $29.99).
Justin Sullivan—Getty Images
When an item has a price tag ending with a different number — like .97, .88, or .00 — that's an alert that Costco has probably discounted the product. Here are the Costco price tag codes that indicate special pricing:
• If a product's price ends in .97 (like $18.97) at Costco, it's on clearance sale.
• If a product's price ends in .00 or .88, the Costco obsessives at Costco.97 say it's a manager's special — it's been discounted, possibly only for a limited time, just in that location.
• If a Costco price tag features an asterisk, the product is not going to be restocked. If it's something you want, you should scoop it up because Costco is not going to replenish the supply once the current inventory sells out. (You'll find a lot of asterisks on the price tags of seasonal items.)
Use Costco Coupons
Costco does not accept manufacturer's coupons. It does, however, distribute its own coupons via mail once a month or so to members.
Costco coupons often deliver discounts on a wide variety of goods, including groceries, electronics, furniture, and seasonal items. Using them is an easy way to save even more money at Costco, assuming these are products you would be purchasing even if they weren't discounted below the regular price.
Don't Go Overboard
If there's a complaint shoppers have with Costco, it's probably that every member inevitably winds up buying something that seemed like a deal in the store but ultimately feel like poor value. This generally happens for one or two reasons: It is an impulse buy that is impractical or unnecessary; or it is a bulk-size item that takes up too much space in your house and languishes for months before being tossed out because it passed the expiration date or you just get sick of looking at it.
mark peterson—Corbis via Getty Images
In any store, it's wise to shop with caution and avoid impulse purchases. But at Costco, this advice takes on extra importance — because in most cases, whatever food you buy there will come in huge quantities, and you'll have to store it in your pantry or refrigerator for quite some time.
Or you'll just have to eat it all yourself to get rid of it. It could feel like a bad deal either way.