What the Costco and Chip Credit Card Debacles Say About Mobile Payments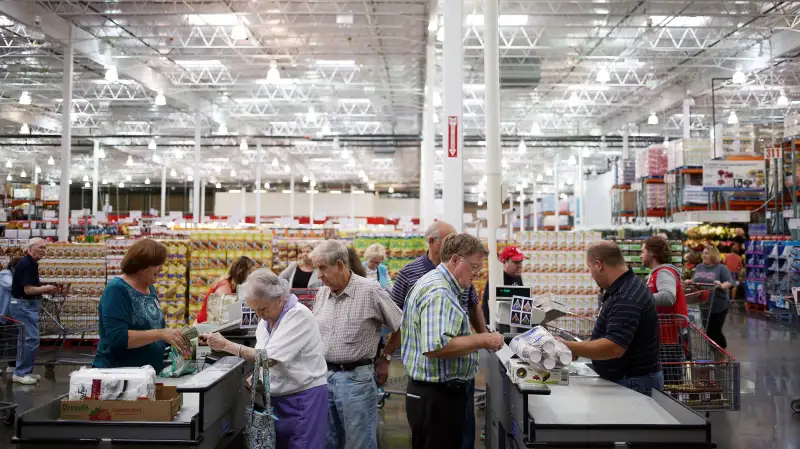 Luke Sharrett—Bloomberg via Getty Images
The new Costco credit card was supposed to make everybody happy.
Consumers were receiving a card with better rewards, while the behemoth wholesaler would save money by switching payment platforms, from American Express to Visa.
As soon the switch went into effect, though, Costco members reported problems with the card and vented their frustrations on social media. Cards weren't mailed on time, there were long delays on customer service lines, and in some cases cards couldn't be activated at all. Citi, the card's new issuer, has spent the past couple of weeks extinguishing fires.
Of course issues will arise whenever a switch of this nature takes place, and thanks to Facebook and Twitter, outrage is easier to see than in the past. Experts believe that this particular crisis will fade over time.
A spokesperson for Citi said the company has received more than 400,000 applications for the new card since the June 20th roll-out. "Due to this high-level of engagement, we have increased staffing at call centers and average call wait times have lessened significantly," the spokesperson said.
But given similar angst over the move to chip-enabled cards, while the much-heralded mobile payment revolution remains stuck in beta, you have to wonder if Americans will ever welcome a fundamental change to how they buy stuff.
Read Next: The Problem With Those Annoying Chip Cards
Citi's Costco Anywhere Visa card improved on its predecessor - Amex True Earnings - in a number of ways. Consumers now earn more cash back on gas, groceries and all other Costco, or Costco.com, purchases than they did before. If you spend $7,000 a year at the pump, or about $135 a week (not crazy for a two-car family), you'll save $130 more than with the old card.
Still, says NerdWallet credit expert Sean McQuay, Citi underestimated the complexity of the transition, which involved a new payment platform and a new issuer for 11 million vocal and loyal members. "Had this been a transition between banks for an airline co-brand card, like a United Airlines credit card, the banks would have plenty of time to work out the kinks as most consumers don't need to use that card more than a few times per year," says McQuay.
Nevertheless, the Costco kerfuffle follows the trying 10-month rollout of chip-enabled credit cards. Consumers began receiving new cards with an embedded computer chip because Mastercard and Visa wanted to reduce in-person counterfeit credit fraud. Merchants, meanwhile, had to buy new terminals capable of reading these new cards that, like their counterparts in Europe and elsewhere, are dipped rather than swiped.
That much larger switch has endured its own stumbles. As of April, only 30% to 40% of merchants had activated the new machines capable of reading chip cards, according to Mastercard, lagging behind expectations. While they believe nearly every card will have a chip by the end of 2017, consumers are complaining about the wait time involved. People aren't especially happy to dip, which is one reason nearly half of the biggest stores in the country don't require a chip card for all of their transactions, per CreditCardForum.com.
Like with Costco, consumers have no option other than being patient, and they will most likely adjust to waiting a touch longer for their transactions. "They will simply do what they need to do at the point of sale when paying with plastic," says Ben Woolsey ofCreditCardForum.com.
Read Next: Should You Get the Chase Freedom Unlimited Credit Card?
The real question is whether consumers will abandon their wallets altogether and embrace the idea of using their phones to pay for everything. This giant leap is the true game changer in the payment space, and could upend entire industries.
More than 90% of cell phones use either Android or iOS operating systems, according to Javelin, which means that the vast majority of people effectively already have a mobile wallet option - Apple or Android Pay. Whether or not there's an infrastructure in place that allows people to buy stuff with their phones, or even a demand to do so, remains to be seen. Last year only 0.2% of in-store purchases were made via mobile payment, according to eMarketer.
One benefit of the new terminals for chip credit cards is their ability to read payments from your phone using near field communication, or NFC. Javelin predicts mobile payments transactions will jump from under $4 billion in 2014 to over $50 billion by 2019.
Yet recent frustration over the Costco and EMV (Europay, Mastercard, Visa) transitions shows just how little appetite shoppers have for change. The consensus seems to be that the current standard means of payment ain't broke, so why bother trying to fix them?
"Despite the fact that EMV chips are a time-tested technology embedded in the familiar card format, the roll-out in the United States has been difficult and exasperating for consumers, due to widespread lack of understanding and spotty acceptance by merchants," says McQuay. "Making a full transition to mobile wallets will only be harder."
Read Next: Why the U.S. Lags the World in Mobile Payments
We're a large and diverse nation, and getting everyone to agree on an NFC standard, ensuring that smartphone batteries are up to the task, and changing shopping behavior involves negotiating a lot of moving parts.
So while you may read Big Think stories about how your wallet will soon be a relic of the past, remember that consumers are stubborn and people don't like change. So you'll probably be toting around a physical wallet for quite a while longer.