Why Costco May Never Raise Prices on $4.99 Chickens, $1.50 Hot Dogs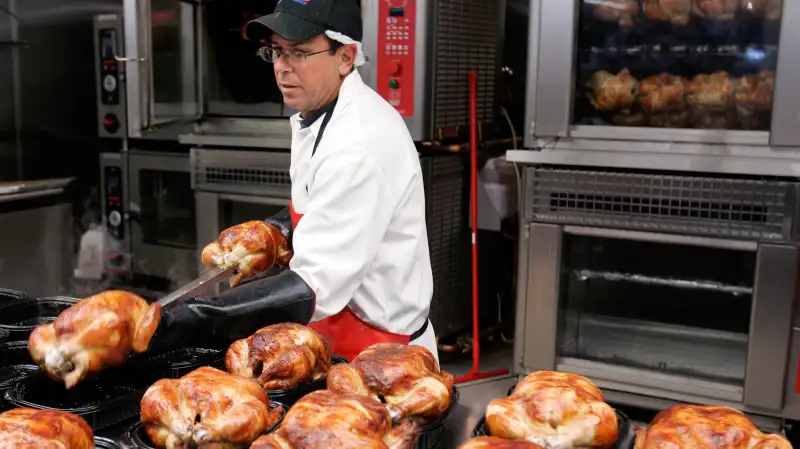 This week, Costco chief financial officer Richard Galanti was asked a deep, open-ended question in an earnings call with analysts. "What is your philosophy on chickens?" asked Meredith Adler, of Barclays.
Rather than prompting a chicken-or-egg discussion—a subject debated for centuries, dating back to the ancient Greek philosophers—the query was more rotisserie in nature. Specifically, Adler was wondering about Costco's cooked, takeout rotisserie chickens, which have been priced at $4.99 since ancient Greek times, or at least as far back as we can remember. What's puzzling to some is that rotisserie chickens cost less than uncooked chicken, and that Costco has consistently decided against raising prices on the item even though it easily could.
"I can only tell you what history has shown us: When others were raising their chicken prices from $4.99 to $5.99, we were willing to eat, if you will, $30 to $40 million a year in gross margin by keeping it at $4.99," Galanti said, as reported in the Seattle Times. "That's what we do for a living."
This is hardly the first time Costco's "cheap rotisserie chicken strategy" has been called into question. In another call with analysts in October 2013, Galanti gave essentially the same explanation for sticking with the $4.99 price point. "That's us," Galanti said. "That's what we do."
Costco sold an estimated 60 million rotisserie chickens in 2013, and 76 million of the birds in 2014. Obviously, it could take in tens of millions dollars more in profits by raising prices on the chickens, which many would see as bargains even if they were $1 or so more expensive. So what's holding Costco back?
In a nutshell, it's Costco's business philosophy that holds prices in check. The warehouse member club giant is stubbornly consistent about the $4.99 price of rotisserie chickens, just as it's stubborn about its jumbo hot dog and drink deal—which has remained set at $1.50 since the mid-1980s.
Costco reportedly sells more than four times the number of hot dogs sold at all Major League Baseball stadiums combined each year. According to a 2012 documentary on Costco, the chain sells in excess of 300 million hot dogs, pizza slices, and other ready-to-eat items annually.
Again, the company could easily make more on these items by raising prices. But it decides not to, because they are proven to drive traffic into stores. Costco locations generally aren't as convenient as the neighborhood supermarket or strip mall, so the retailer uses cheap ready-to-eat foods as an excuse for members to pop in on a regular, perhaps even daily, basis. Likewise, warehouse clubs like Costco keep prices for milk and gas especially low because, unlike most other things sold at these stores, consumers need them once a week or so.
By maintaining bargain prices on hot dogs, rotisserie chickens, milk, and such, Costco exponentially increases foot traffic in stores. It also helps shoppers justify the cost of their annual memberships. And, while the hungry shopper is swinging by for a quick, cheap bite or because it's 5 p.m. and he needs to grab a $4.99 chicken for the family dinner that night, he just might be tempted on the spur of the moment into buying a new TV, or grass seed, or vitamins, or a coffee maker, or any number of other items lining Costco's aisles.
This is why Costco's ready-to-eat foods are dirt cheap, and this is why they'll remain dirt cheap for the foreseeable future.