The Overlooked Reason It's so Hard to Buy a Home Right Now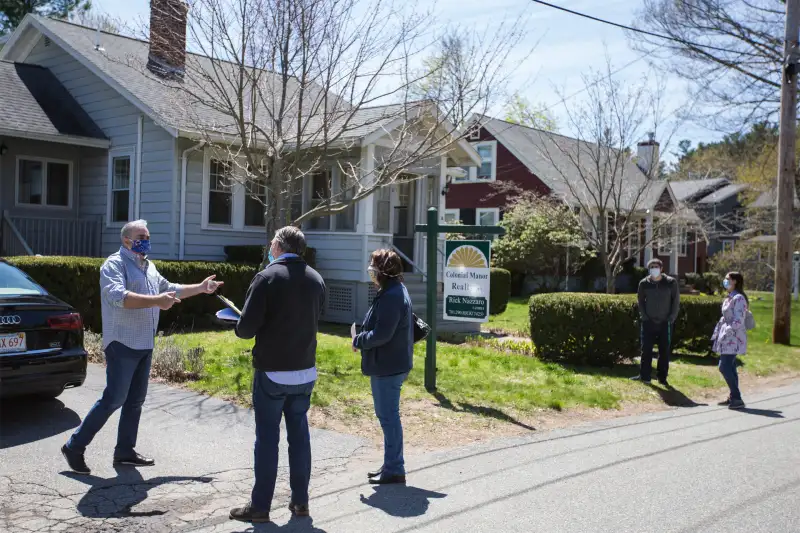 When Kristin and Justin Duke listed their Moneta, Virginia home in mid-April 2020, they'd been preparing to sell for some time. They'd redone the floors, repaired fences, touched up paint, and even landscaped, and they were ready to move to Florida to be closer to family and friends.
But as COVID-19 cases began to rise in their area, the Dukes started to rethink their plans.
"We got a great offer, but they had only done virtual tours and they would need to come do a physical tour, of course," Kristin says. "My husband and I both work from home and had been very, very careful. We didn't feel super comfortable with people we did not know coming into our house not knowing if they would follow safety procedures."
The couple was also nervous about the exposure of an inter-state move—especially to Florida, which has the second-highest number of confirmed COVID cases in the country.
The Dukes pulled their home off the market in mid-July. "It felt pretty devastating when we took it off the market," Kristin says. "We are super anxious to be able to move, but at the same time, it felt like the right thing to do—so sad and also right at the same time."
It's a common tale in today's environment: Homeowners either list their homes and pull back or they delay putting their homes up for sale altogether.
The trend is exacerbating an already inventory-strapped market—one that's facing surging homebuyer demand. According to Realtor.com, compared to a year earlier total housing inventory was down 36% in August, and new listings—or the number of homeowners actually putting their homes on the market—were down 12%. Meanwhile, according to the Mortgage Bankers Association, applications for purchase loans are up roughly 30% compared to this time last year.
The COVID-19 impact
The recent inventory decline is steep by any standard, but when you throw in the supply shortages already plaguing housing markets pre-pandemic, the situation looks even more dire.
"We started the year off between 3 and 4 million homes short," explains Danielle Hale, chief economist at Realtor.com. "That's a couple years' worth of new construction and about 75% to 80% of the number of existing homes that are typically sold in a year."
The pandemic only made things worse. Builders slowed construction in the early days of the crisis, and homeowners pulled back considerably due to concerns around exposure and financial uncertainty.
"Sellers do not want to risk infection," says Kristina Morales, a real estate agent in Houston. "The thought of having a lot of people walk through their home during this time has made many hesitate to put their home on the market. This is particularly true for those who have family members that are more vulnerable to the virus."
According to the Federal Reserve Bank of St. Louis, the nation currently has just a four-month supply of for-sale-homes—the lowest level seen in almost two decades. Around six months is considered healthy.
"The pandemic took a very dire situation and made it borderline catastrophic," says Ralph McLaughlin, chief economist at co-investing company Haus.
A changing job market
Unemployment has spiked since the pandemic began. Although many job losses have been at income levels that tend to rent, worry of potential layoffs and future pay cuts is keeping some homeowners on the sidelines.
"Sometimes sellers just don't feel comfortable moving in an environment full of uncertainty," says Yawar Charlie, a real estate agent with Compass in Los Angeles. "Will they have a job? Will the economy change? Even if I present them with a set of reliable facts about low-interest rates, high demand, high prices, if that doesn't align with how they're feeling a seller may just choose not to list."
Changes to labor mobility has cut both ways for the housing market. With many companies now operating remotely, jobs aren't as tied to geography as they once were. Much of the conversation has been about how young professionals—suddenly able to work from anywhere—are looking for homes in suburban or rural locations. However, the same dynamic means homeowners can make career changes without ever leaving their current property.
Take Mike and Ariel Marc-Aurele, for example. The couple was planning an early 2020 move to be closer to Mike's new job in New York City, but as coronavirus cases rose and his new gig looked less and less stable, the Marc-Aureles pivoted. They pulled their Windham, New Hampshire home off the market and started a new business right where they were.
"As we watched the news about the spreading pandemic, we just couldn't see ourselves going back to the New York area," Mike says. "In addition to fears about the virus in the crowded New York metro area, the prospects of the startup I had joined looked increasingly bleak, so I began looking at business ownership as a way to control my own destiny."
The two are now the proud owners of their own College Hunks Hauling Junk franchise—which Mike says has been "extremely busy" since its opening just six weeks ago. The company has seen a surge in moving-related services, and they're also helping customers remove debris from remodeling projects and donate unwanted items to Goodwill, Habitat for Humanity and other charitable organizations.
Less incentive to move
Homeownership tenure has been increasing for some time. According to ATTOM Data Solutions, the average homeowner stays put for over eight years now—an all-time high for the country. In some cities, tenures are even longer. (A handful of Connecticut towns clock in at 13-plus years).
Current conditions don't do much to change that. With low supply, many homeowners foresee challenges finding their next property. Here's how Karen Parnes, a real estate broker in Rockville, Maryland, explains it: "As a seller, there is a fear that with such low inventory, even if they sell their house at a great price, how easy will it be to find another in this competitive market?"
Meanwhile, record-low mortgage rates, which are drawing so many first-time buyers to the market, are having the opposite effect on people who already own.
"About two-thirds of all homebuyers are existing homeowners," says Odeta Kushi, deputy chief economist at title insurer First American. "When the supply dwindles, it becomes harder for them to find a better home and easier to simply refinance and renovate their existing home instead. This fear of not being able to find something better, the fact that selling and moving is—let's face it—a pain and costly, combined with the fact that one can refinance into an amazingly low rate … why move?"
With mortgage rates as low as they are, that temptation to refinance is real these days. According to Freddie Mac, rates on 30-year loans clocked in at just 2.91% last week, and data from analytics firm Black Knight shows that more than 18 million homeowners could reduce their rate by at least 0.75% through refinancing. That amounts to an average of $289 saved per month.
"Historically low rates are both a blessing and a curse," Kushi says. "While low mortgage rates help to reduce the monthly cost of a mortgage and increase your home buying power, existing owners who have refinanced into lower-rate mortgages are less incented to move."
Builders can step in to help
Fortunately, the lack of housing supply doesn't fall solely on homeowners' shoulders. Homebuilders can also aid the efforts—and according to recent data, it seems like that may be in the works.
"Builder confidence is rising," McLaughlin says. "They're starting more homes than they did at this time last year, so there's some cautiously optimistic news that maybe some of the inventory shortages that we've run into may start to alleviate themselves over the next six months."
Housing starts were up 22.6% in July, according to the Census Bureau. If the upward trend continues, it could mean a good boost in inventory come 2021. It currently takes about seven months for a start to be completed and ready for sale.
"It's especially important that builders ramp up activity," McLaughlin says. "If they don't, the chronic shortage is going to continue indefinitely."
More from Money:
5 Ways Your Finances Instantly Change When You Buy a House
A 'Middle Finger' to Struggling Families: How a New Fee Is About to Make Refinancing Your Mortgage a Lot More Expensive
When Will It Get Easier to Buy a Home? 8 Experts on the Nation's Housing Shortage