How to Stop Your Coworkers' Most Annoying Habit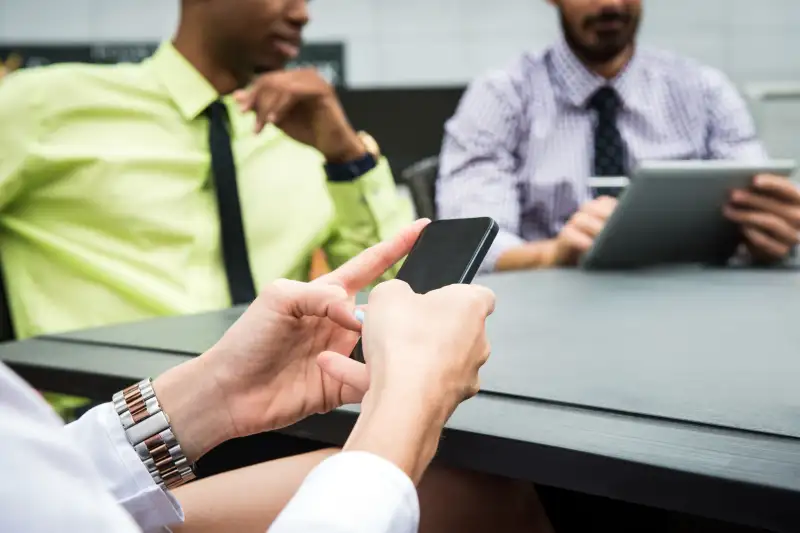 Q: My team was giving a presentation recently, and half the people in the room were checking their cell phones or texting at some point—even my boss. This happens all the time. What can I do to get people to pay attention?!
A: You can't control everyone, but by setting expectations up front, you'll at least get more people to keep their eyeballs on you.
If it's going to be a long meeting—say a two-hour presentation—let people know that there will be a 10 to 15 minute break during which they can check in with their offices or catch up on email, says Rachel Wagner, a corporate etiquette consultant and trainer. If the meeting will be short, say so, and let the people know that, in order to be as efficient as possible, you'll need their full attention for 30 minutes.
"Most people don't intend to be rude, but in today's workplace they are wired to compulsively check their phones," says Wagner. "If people know they won't be trapped for hours, they're less likely to check every few minutes."
Also, be strategic about how you set up the room. "The closer people are to the presenter, the less comfortable they'll be checking their phones," says Wagner. Arrange the seating in a U-shape so more people are closer to the front. And if it's a big audience, use a wireless microphone so you can walk around.
Even proximity to other people may deter smart phone use, says Wagner. "Get a good headcount, and don't leave room for extra chairs," she advises. "If there's a big gap in spacing, people can hide in the back."
If it's any comfort, you're not the only one irked by smart phone addicts. A recent survey by the University of Southern California's Marshall School of Business found that 76% of working professionals think it's inappropriate to read or write texts or email during a meeting.
That's good reason to make sure you practice what you preach—and put your own phone down when someone else is doing the talking.