Top 10 Things That Got Great Free Publicity from David Letterman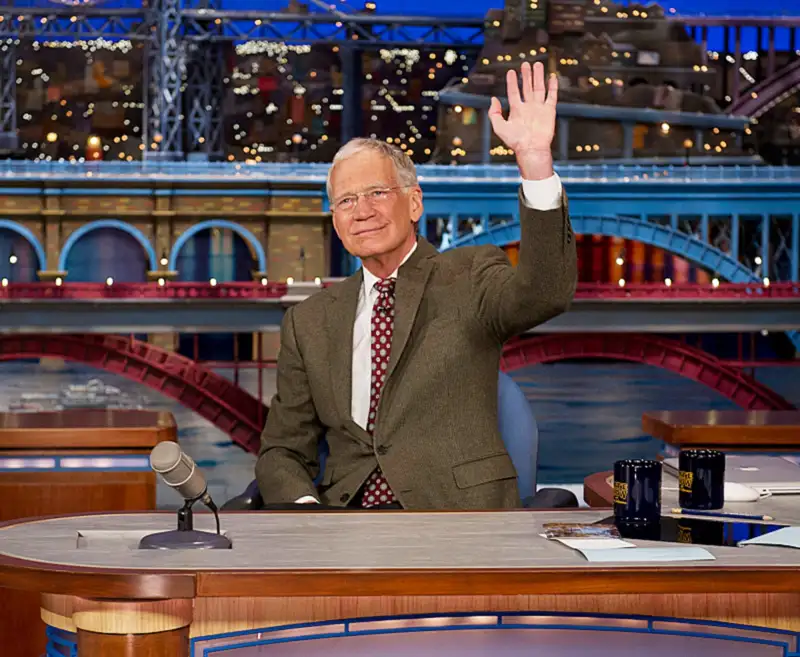 With David Letterman's final show set to air this week, we thought it would be appropriate to celebrate an oddball assortment of products, places, businesses, and brands that somehow benefited from their association with Letterman and his program—even when Dave was making fun of them.
10. Alka-Seltzer
In one classic bit from 1984, Dave put on a tank with compressed air and a suit covered in 3,400 Alka-Seltzer tablets. He was then hoisted into the air and dipped head-deep into a glass enclosure filled with water, which bubbled and fizzed excitedly. It was pure stupidity—and made for great, memorable TV. Letterman has also done silly tricks wearing suits covered in sponges and Velcro. He frequently warned the audience, "Don't try this at home."
9. Ham, Meats in General
The #1 item on David Letterman's very first Top Ten List—"Top Ten Words That Almost Rhyme With 'Peas,'" recorded in 1985—was "Meats." It's fitting because Letterman shows seem to have quite the love affair with meat, ham in particular. Dave has worn a meat helmet to entice a hawk into landing on his head, and there were meat-themed Top Ten lists and a running "Know Your Cuts of Meat" segment on the show. Canned hams were often awarded to audience members as prizes of quizzes and other contests.
8. Cabin Boy
Though some insist it's a cult classic, the 1994 film Cabin Boy received horrible reviews and was a flop at the box office. It would have likely been forgotten entirely were it not for a short cameo by David Letterman, who played the "Old Salt in the Fishing Village" and tried to sell a monkey to the title character, played by longstanding Letterman pal, writer and actor Chris Elliott. Most memorably, Letterman mocked his performance in a funny bit from the 1995 Oscars, which he hosted.
7. Tahlequah, Oklahoma
It was big news in 1992 when the Letterman show relocated its home office way from Lebanon, Pa., to Tahlequah. The town put up a highway billboard and hosted a "Stupid Parade" in celebration. It mattered little that there is no Letterman home office outside of its New York City studio. Every city that's served as the fictional home office—there have been 11 in total, including Milwaukee; Scottsdale; Oneonta, N.Y.; and current home office site Wahoo, Nebraska—has embraced the totally made-up honor.
6. Hello Deli
Tourists from all over know Manhattan's Hello Deli and owner Rupert Jee from their regular appearances on the Letterman show, which is taped next door. Customers can also order sandwiches like the "Alan Kalter" (the Late Show's announcer), the "Late Show Research," and simply the "Letterman." Here is Rupert Jee singing "Let It Go" from Frozen, the day after it won the Academy Award for Best Original Song:
https://www.youtube.com/watch?v=PzdIvxhnc2A
5. Delaware
If there's no such thing as bad publicity, then Delaware should be grateful for all the attention paid to it by David Letterman over the years. The state has served as a go-to punchline, featured in a mocking segment called "Get to Know Delaware" and on multiple Top Ten lists. Sample, from a Top Ten list of questions from the U.S. Citizenship Exam: "If all the good states are full, would you be willing to live in Delaware?"
4. Best Bagger Championship
Year after year, the winner of the National Grocery Association's Best Bagger Championship won a $10,000 check plus, in all likelihood, the opportunity to compete in a grocery bagging challenge against David Letterman on his show. Here's the 2015 champ's appearance:
https://www.youtube.com/watch?v=GBoAeVnk5V4&feature=youtu.be
3. Indianapolis 500
OK, so this is one of the most famous Formula One auto races on the planet. So it isn't exactly hurting for publicity. Still, the race, and Formula One racing in general, have benefited from an extra image boost thanks to the longstanding association with Indianapolis native Letterman, who was a goofball reporter at the Indy 500 in 1971 when he was just 24 years old and who has been a part owner of a race team for a decade. Countless racecar drivers have been on Letterman's shows over the years as well.
2. Ball State University
A self-professed slacker as a student, Letterman has periodically plugged his Muncie, Ind., alma mater, Ball State, where a building is now named after the talk show host. Letterman credits one of his professors, Darren Wible, with changing his life and setting him on the path to great success. Letterman even managed to bring Oprah Winfrey to the Ball State campus for an interview/lecture in front an audience that lasted nearly two hours. Here is Letterman praising one of his alma mater's recent successes:
https://www.youtube.com/watch?v=W69-rWODW24
1. Adidas
David Letterman will never be memorialized as a fashion icon. He may, however, be remembered as a guy who had quite a unique look. "His hair resembled an ill-fitting vintage leather motorcycle helmet. His front teeth had a massive gap that looked almost painted-on as a joke," Conan O'Brien, another talk show host who doesn't look the part of the traditional broadcaster, wrote recently for Entertainment Weekly. Perhaps most memorably, "He was wearing the requisite broadcaster's tie, but khaki pants and Adidas sneakers."