Betsy DeVos Is Telling States to Stop Cracking Down on Student Loan Companies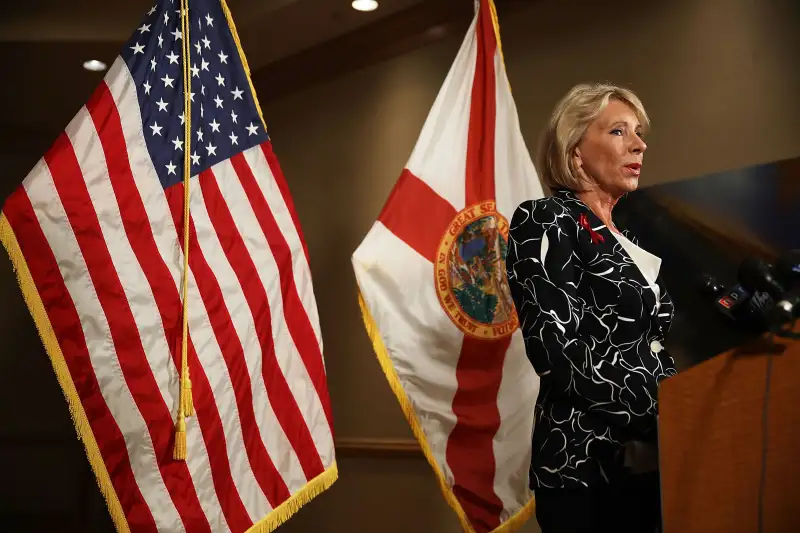 Education Secretary Betsy DeVos has stepped into a fight between student loan companies and state regulators -- and she's siding with the loan companies.
State attorneys general have led the charge to hold loan servicers accountable for practices that hurt consumers. The loan companies, by contrast, have argued that because they are hired directly by the U.S. government to manage loan repayment for roughly 40 million borrowers, they shouldn't be subject to additional state laws aimed at protecting those borrowers.
Now, in an announcement posted online Friday, the U.S. Department of Education has taken a side -- maintaining that state rules aimed at greater consumer protection undermine the federal government's goal to have a single, streamlined federal loan program.
The memo doesn't have any legal effect on current state laws, according to consumer advocates at the Center for Responsible Lending. But it is the latest move in an ongoing struggle between student loan servicers and state lawmakers.
Loan servicers basically serve as middlemen between you and your lender (in this case, the federal government). You likely associate their names—Navient, Nelnet, PHEAA, or MOHELA, for example—with your monthly student loan bill. Consumer and student advocates have been criticizing the behavior of servicers for years. Borrowers complain of lost paperwork, conflicting advice on repayment plans, payments applied to the wrong loans, and more.
Back in 2015, the Consumer Financial Protection Bureau reported that sloppy customer service practices had led to higher interest charges and late fees, longer repayment, and massive confusion for borrowers. More recently, the Bureau received 12,900 student loan complaints between September 2016 and August 2017 -- and 70% of them were related to servicing issues.
Regulators in a handful of states say that federal oversight hasn't been strict enough to rein in this bad behavior, and have launched their own investigations into the practices of student loan servicers. Twelve states and the District of Columbia also have either passed or introduced legislation that requires loan servicers to obtain licenses -- and therefore abide by a given set of guidelines -- to operate in their state, according to the National Council of Higher Education Resources, a trade group for lenders.
In Illinois, for example, the Student Loan Bill of Rights -- which survived a veto from the governor last fall -- will require servicers to employ specially trained staffers to advise struggling borrowers of their repayment plan options. Other state rules outline how quickly servicers must respond to borrower inquiries, or require them to alert a borrower whose account has been transferred to a new servicer (a common practice that borrowers often don't know about).
The loan servicers, for their part, say they already follow rules put in place by the federal government -- and that because they manage accounts across the country, complying with a myriad of additional state laws would be counterproductive, duplicative, and confusing.
NCHER, the lender trade group, said on Friday that while the group believes there are ways the federal loan system could be improved, the current collection of state laws is a "regulatory maze" that adds confusion for borrowers and additional costs for the federal government.
In October, a group of 25 state attorneys general sent a letter to DeVos, defending their right to "[protect] their residents from fraudulent and abusive practices" and asking her not to bow to pressure from industry groups that wanted the department to step in on their behalf. That group of state officials included Democratic attorneys general from Massachusetts, New York, and Connecticut, all of which have been at the forefront of pushing for better oversight of student loan servicers. But it also included attorneys general from some Republican states, including Texas, Tennessee, and Indiana.
Politico first reported on DeVos's plans to try to shield loan servicers from state regulations. The magazine also found, through a records request, that the Education Department has told the student loan companies not to respond directly to information requests from third parties -- including state regulators.
More than 11 million borrowers are several months behind on their loan payments, and the rate of new defaults has continued to increase despite the presence of income-driven repayment plans that should keep borrowers out of default. That's one reason consumer advocates say servicers must do better about informing borrowers about repayment options.
In the department's newly released memo, DeVos writes that existing federal protections already "ensure that borrowers receive exemplary customer service and are protected from substandard practices."
Consumer advocates disagree, with many immediately bashing the move from DeVos. The National Consumer Law Center described it as a "plan to protect servicers and debt collectors that lie to borrowers."
The Consumer Federation of America, meanwhile, says the department's interpretation doesn't hold up legally, and that state regulators should ignore it. (Some state lawmakers have already indicated they plan to.) Lawmakers have long held that the federal Higher Education Act doesn't override state laws that offer additional protections to borrowers, as long as those rules don't directly conflict with federal law, according to the statement from Christopher Peterson, a senior fellow at the Consumer Federation of America.
"Now the Trump Administration is attempting to trample states' authority and the best interests of student loan borrowers to pad the bottom line of debt collection businesses," their statement reads.